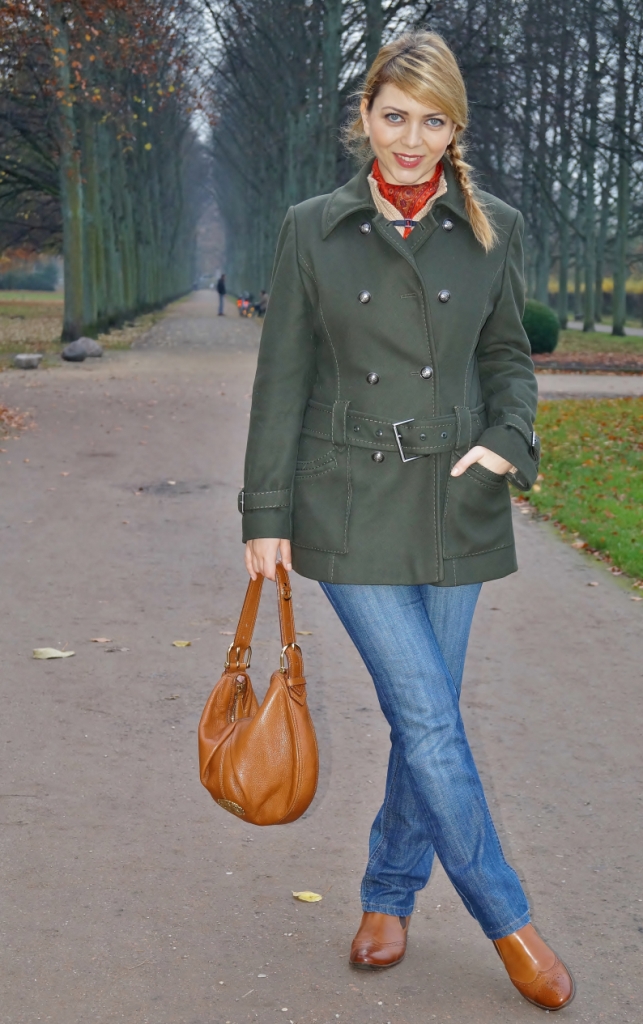 Heute habe ich verschollene Fotos aus unserem Spaziergang im Celler französischen Garten gefunden. Zwar sind sie aus dem vergangenen Herbst, aber das Wetter ist jetzt genau so wie damals, was mich an diese Zeiten erinnert hat. Heute schneite es sogar.
Damals war es ein spontaner Ausflug, also habe ich mich auf die Schnelle zu Recht gemacht. Die Haare entspannt zur Seite im Zopf gebunden, angemessen bequeme Kleidung für einen Parkspaziergang angezogen und den Regenschirm zum Glück nicht vergessen, da es zwischendurch nieselte. Ich trug einen Mantel im Military Look. Solche Art Mantel finde ich sehr schön, da sie durch ihre graden Linien der Figur schmeicheln. Im Garten steht ein schiefes Häuschen, das mich an Amsterdam, wo wir vor kurzem waren erinnerte. Im Zentrum Amsterdams sind alle Häuser schief. Ich frage mich bis jetzt, wie kann man in einem schiefen Haus wohnen. Rollen einem die Dinge vom Tisch nicht runter? :)
Jetzt zu Ostern, da die ersten Blumen schon blühen, muss es im Garten besonders schön sein. Und die schönen trendigen Frühlingsstücke findet ihr in meinen Posts "Pastellgelb und wie man es kombiniert" und "Jungle Look – exotischer Trend". Eine schöne Osterfeier!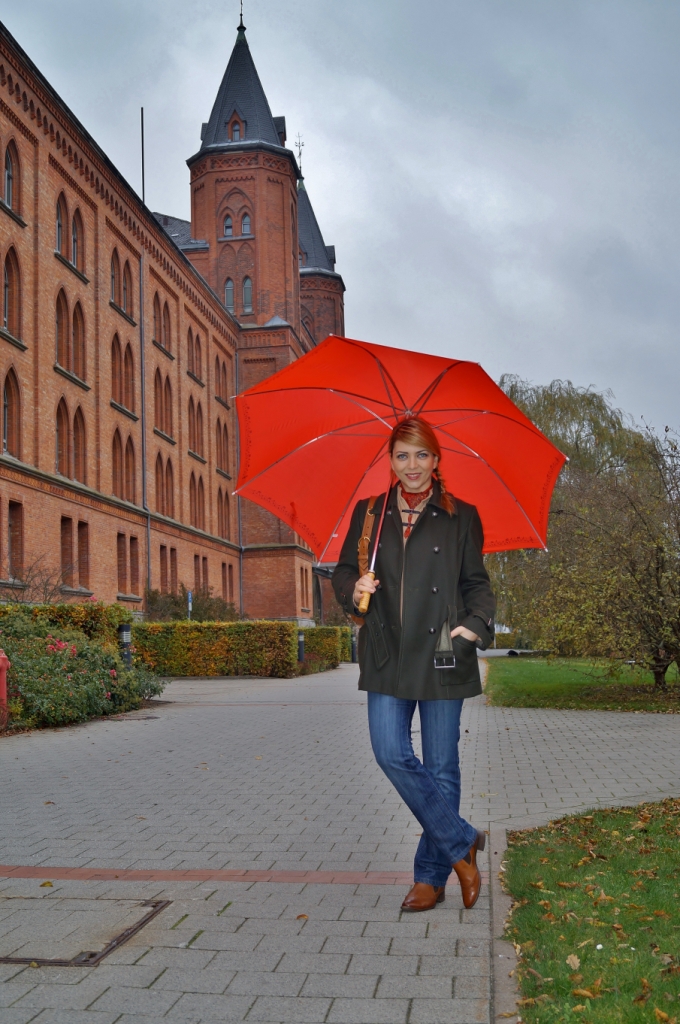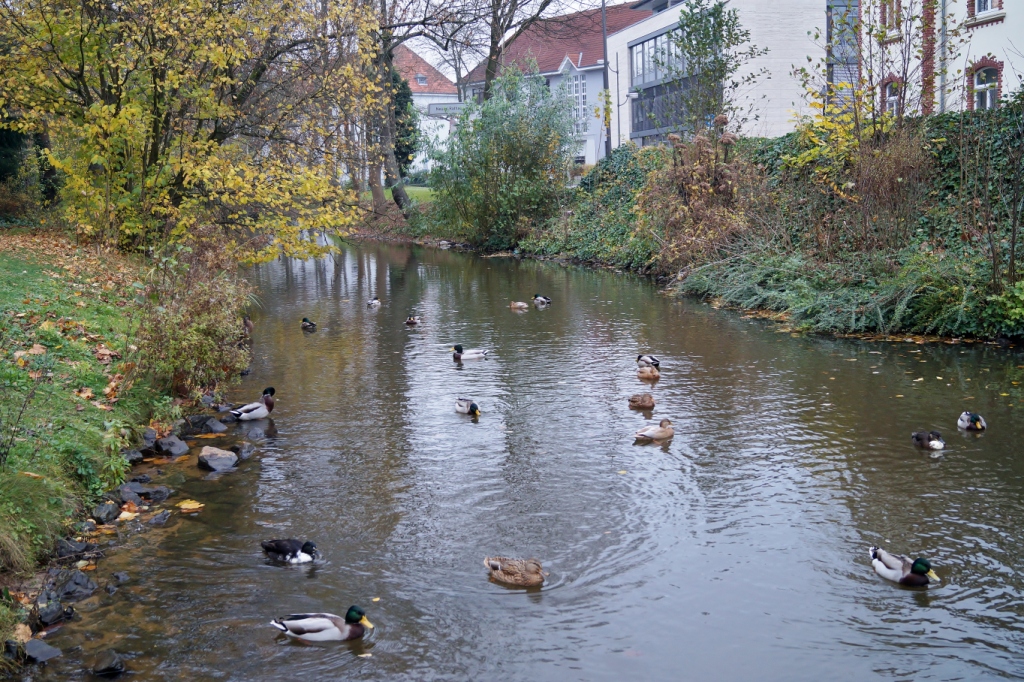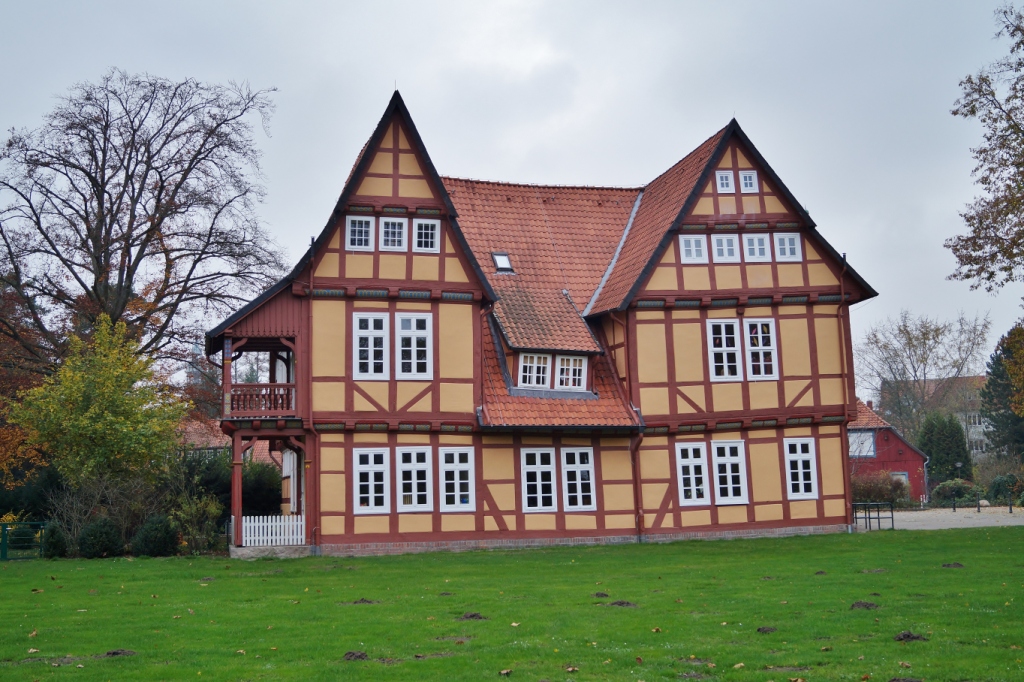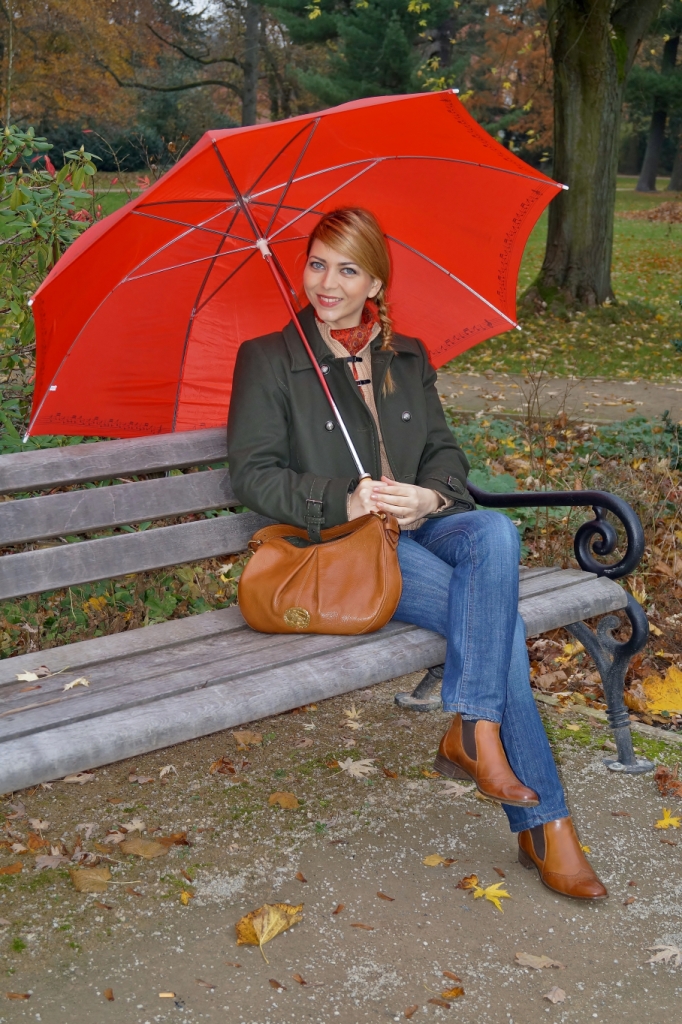 ENGLISH: The French Garden in Celle 
Today I found lost pictures of our walk in the Celler French Garden. Although they are from last autumn, but the weather is now as then, which reminded me of those times. Today it even snowed.
At that time it was a spontaneous outing, so I have made myself hastily ready. I got my hair tied into the side braid, dressed appropriately comfortable clothes for a walk in the park and luckily didn't forget my umbrella, because it was drizzling in between. I was wearing a coat in the military look. I find such kind of coats very beautiful, because they flatter with their straight lines of the figure. In the garden stands a crooked little house, which reminded me of Amsterdam, where we have been recently. In the center of Amsterdam all the houses are crooked. I ask myself till now, how can one live in a crooked house. Do the things not roll down from the table ? :)
Now at Easter, since the first flowers are already blooming, it must be especially beautiful in the garden. And the beautiful trendy spring pieces you can find in my posts "Pastel Yellow and How to Combine it" and "Jungle Look – Exotic Trend". Happy Easter!