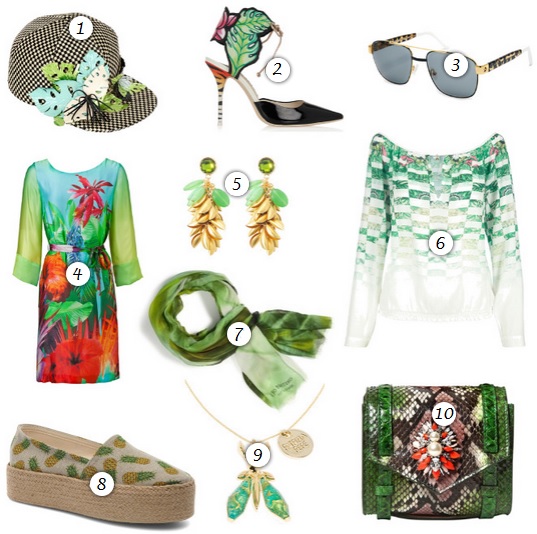 Einer der aktuellen Trends der kommenden Saison ist der Jungle Look – Print mit tropischem Regenwald, exotischen Blumen und allem was damit verbunden ist. Ein sehr schöner Trend, der dich deinen Sommer entspannter verbringen lässt. Und wie man ihn kombiniert? Am liebsten mit einem eintönigen Teil in der Farbe, die der Dschungelprint deines Kleidungsstück enthält. Ebenfalls lässt sich dieser Trend mit der Farbe Pastellgelb kombinieren (mehr zur Frühlingstrendfarbe in "Pastellgelb und wie man es kombiniert"). In der Kollage habe ich meine tropischen Favoriten zusammengestellt.
Gewebte "JUNGLE" Baseballkappe
Rousseau Jungle Sandalen aus bedrucktem Satin und Lackleder
Square Sunglasses with Print Detail – Jungle square honey
Tunikakleid mit opulenten Orchideen und strahlend blauem Himmel
Ohrringe Brynn Drop
Schulterfreies Oberteil mit Print – dschungelartige Motive
Print-Tuch aus einer leichten Seiden-Mischung
Espadrilles mit Ananas
Halskette mit Fly-Anhänger aus Harz
Shourouk Schultertasche
ENGLISH:

Jungle

Look –

E

xotic

T

rend
One of the current trends of the coming season is the jungle look – print with tropical rainforest, exotic flowers and everything associated with it. A very nice trend that helps you to spend your summer relaxed. And how to pair it? Preferably with a single-colored item in the color your jungle print garment contains. Also you can pair the jungle print with the trend color of pastel yellow (more about the spring trend color in "Pastel Yellow and How to Combine It"). In the collage I put together my tropical favorites.