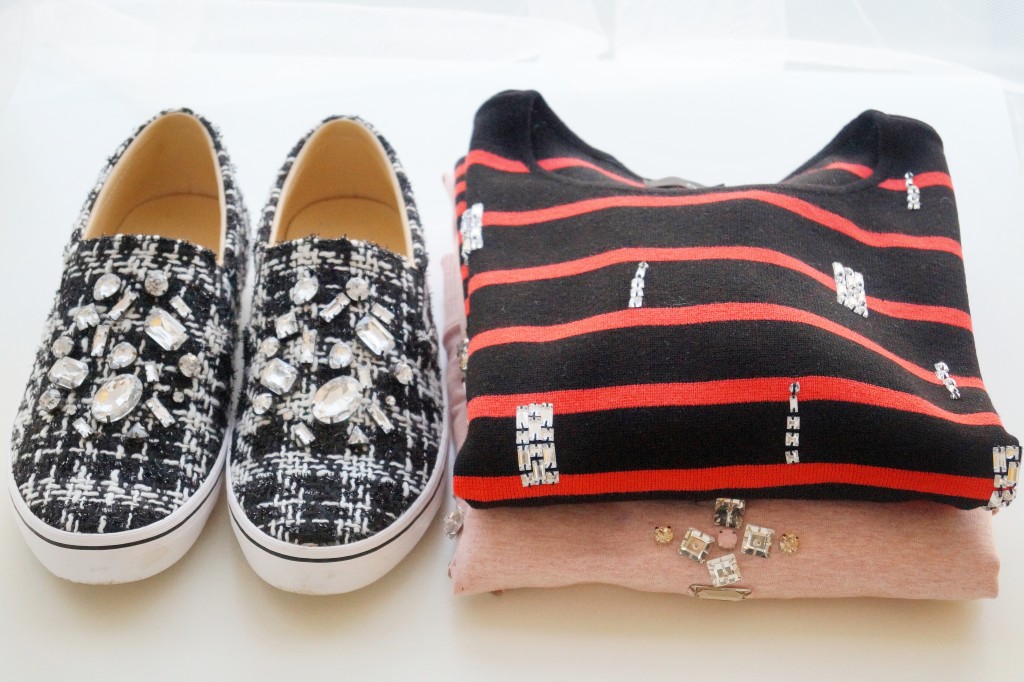 Die ersten Trends sind bereits erkannt und einer davon sind Kristalle und Steine. Sie werden an die Oberteile, Hosen, Taschen und sogar die Schuhe gebracht. Ich persönlich liebe Glanz und Glamour und Glitzesteine gehören einfach dazu. Ich versuche allerdings damit nicht zu übertreiben und trage dann nur ein Teil mit Steinchen, oder wenn schon mehrere, dann mit etwas Abstand voneinander. Ich habe für euch ein paar meiner mit Kristallen verzierten Favoriten ausgesucht. Wie findet ihr sie? Übrigens sind sie nicht nur in dieser Saison im Trend, sondern bleiben es auch für den Herbst-Winter 2015. Also könnt ihr beim Ausmisten eures Schrankes vorerst die Teile mit Steinen behalten.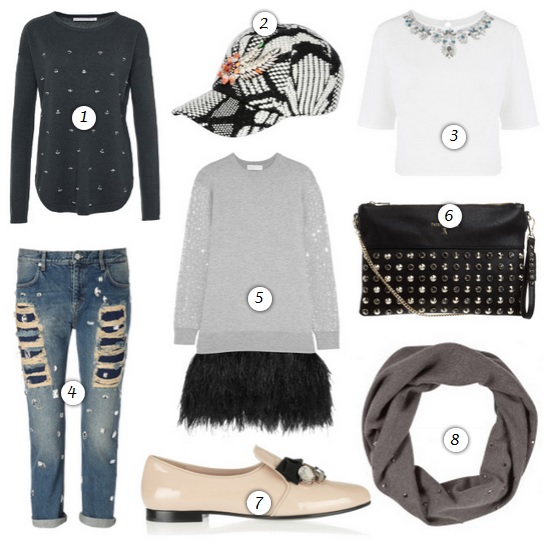 (1) Schumacher Pullover, (2) Shourouk Baseballkappe, (3) Warehouse T-Shirt, (4) ESCADA SPORT Jeans, (5) Michael Kors Kleid, (6) Patrizia Pepe Clutch, (7) Mio Miu Loafer, (8) Laurèl Loopschal
ENGLISH: Trend crystals and stones
The first trends are detected and one of them is crystals and stones. They are placed on tops, pants, bags and even shoes. I personally love glitz and glamor and glitter stones are simply a part of them. I just try not to overdo with stones and put on only one such item. If I wear more clothes with crystals, then with distance from each other. So I picked a couple of my favorite items decorated with crystals for you. How do you like them? By the way, glitter stones are in trend not only this season, but remain for the autumn-winter 2015. So, if you are going to muck out your wardrobe, you can retain the articles with stones.