Die Metropole Hamburg ist bekannt als die grünste Stadt Deutschlands, und auch für seinen Hafen. Der Blick auf diesen ist sehr begehrt. Es gibt mehrere Locations, von denen man einen zauberhaften Ausblick über Hamburg geniessen kann, und die nicht nur für die Anreisenden empfehlenswert sind, sondern auch für die in Hamburg Lebenden. Eine der Sehenswürdigkeiten Hamburgs, von wo man Hamburg umfassend betrachten kann, ist die Spitze der St. Michaelis Kirche. Ebenfalls empfehlenwert ist die Umgebung der Landungsbrücken. Diese Orte sind aber offen und können recht windig sein, vor allem bei dem berühmt-berüchtigten Hamburger "Schmuddelwetter". Wer es lieber gemütlich und warm hat, kann solche Lokale wie die Tower Bar im Hotel Hafen Hamburg, die 20up-Bar im Empire Riverside Hotel, das IndoChine oder die Restaurant-Bar Clouds aufsuchen, wo sich ein toller Überblick über den Hamburger Hafen bietet. Da wir gerne in Clouds auf der 23. Etage mit dem großartigen Blick auf Hamburg brunchen, wie bereits in "Festlicher Brunch in den Wolken" berichtet, nutze ich auch die Gelegenheit, noch eine Etage höher zu "klettern", um den freien Überblick auf die Stadt zu genießen, wie diesmal trotz Wind. Gut, dass ich meine flachen Schuhe trage – meine mit Steinen verzierten Lieblings- Kate Spade Slippers. Habt ihr auch eure Lieblingsorte?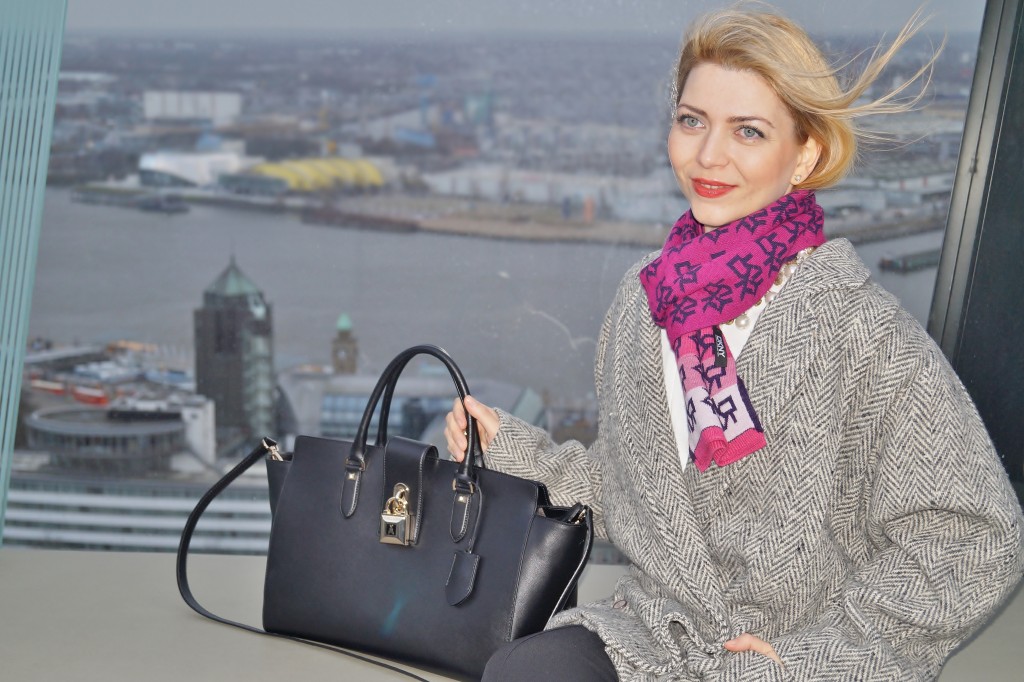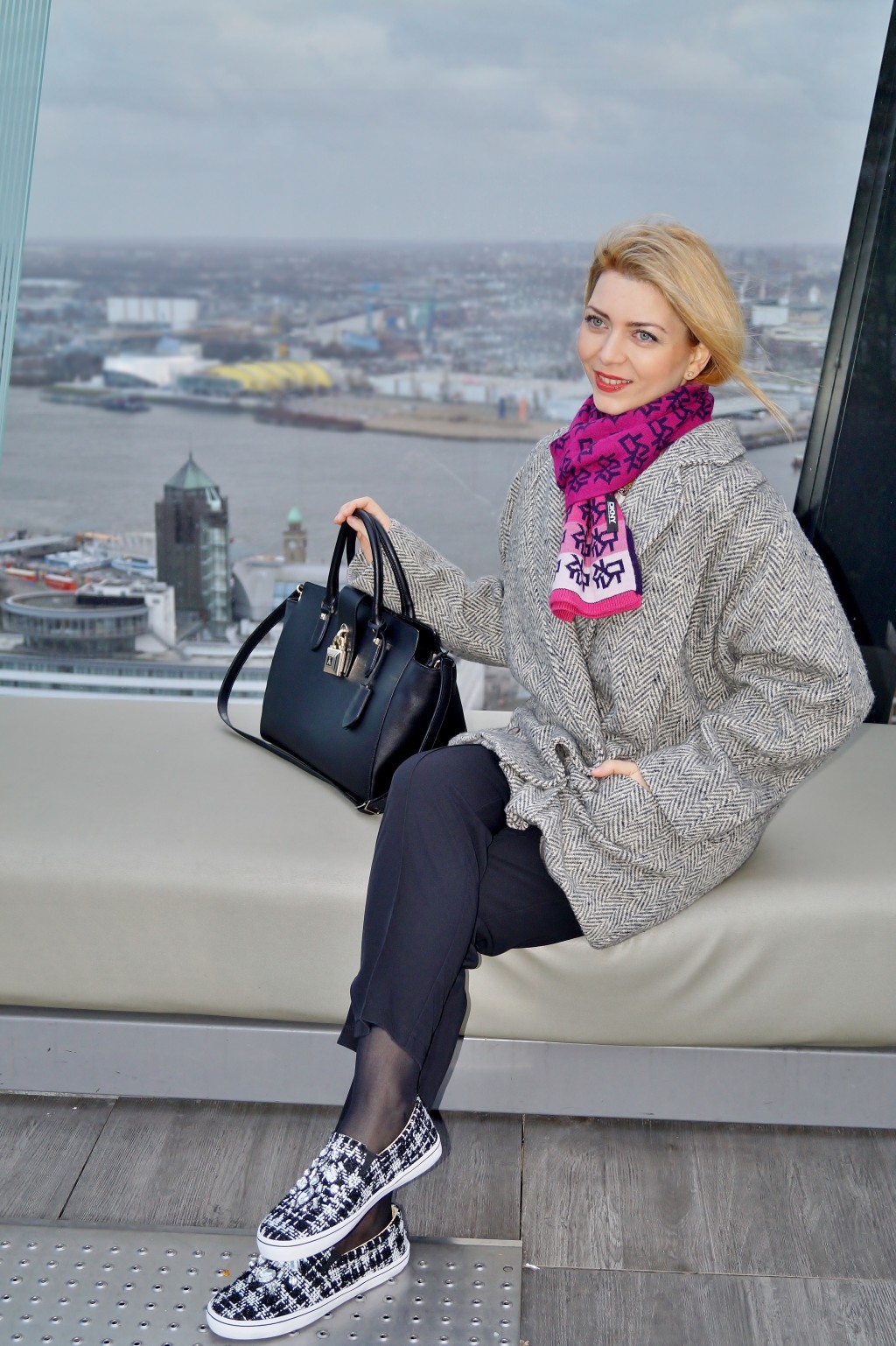 Patrizia Pepe Tasche, Kate Spade New York Slipper, Miss Selfridge Hose, Strenesse oversized Mantel, DKNY Schal
ENGLISH: Hamburg from Above with Wind
Hamburg is known as one of the greenest cities in Germany, and also for its harbor. The view of this is very popular. There are several places from where you can enjoy an enchanting view over Hamburg, and which are not only recommended for the travelers, but also for people living in Hamburg. One of the highlight spots of Hamburg, from where you can see the whole Hamburg, is the head of the St. Michaelis Church. Also recommendable is the area around the "Landungsbrücken". These places are open and can be quite windy, especially in the infamous Hamburger "bad weather". Those who prefer cozy and warm, can visit such places like the Tower Bar at the Hotel Hafen Hamburg, the 20up bar at the Empire Riverside Hotel, the IndoChine or restaurant-bar Clouds, where you can enjoy a great view of the port of Hamburg. As we like to have brunch in the Clouds on the 23rd floor with great view of Hamburg, as previously reported in "Festive Brunch in the Clouds", I also use the opportunity to "climb" one floor higher to get the open overview over the city despite the wind. Good thing I wear my flat shoes – my favorite decorated with stones Kate Spade slippers. Do you also have your favorite places?