Man erwartet spontan einen Besuch, so wie Thorsten und ich diese Woche, und hat keine Zeit etwas Großartiges zum Nachtisch zu backen, da berufstätig und sonst viel zu tun. Selbstverständlich kann man etwas bestellen oder aus dem Supermarket organisieren. Aber wie kann man die Gäste trotzdem noch mit eigenen Backkünsten beeindrucken? Da habe ich eine Lösung gefunden, und zwar schon vor langer Zeit auf einer der Müslipackungen – ein Rezept, dass ich bis heute verwende, jedesmal mit etwas eigener Note und Müsli-Variation. Also hatte ich wieder mal eine Gelegenheit, meine Lieblings- Müsli-Kekse zu backen. Sie sind meine Lieblingskekse, da sie sehr wenig Aufwand für die Zubereitung benötigen,  sehr aromatisch sind und  super schmecken. Damit ist dieses Rezept ein toller Ausweg auf die Schnelle die Gäste zu beeindrucken und die Liebsten zu verwöhnen.
Zubereitungszeit ca. 20-30 min.
Zutaten für ca. 30-40 Stück, abhängig von der gewünschten Größe:
150 g Frucht-Müsli (mit säuerlichen Trockenfrüchten, wie Himbeere, Erdbeere u. ä., sonst werden die Kekse meiner Meinung nach zu süß)
130 g Weizenmehl
70 g Speisestärke
1 TL Backpulver
150 g Butter (aufgeweicht)
200 g Zucker (ich gebe immer etwas weniger, da ich es nicht zu süß mag)
1 Ei
3 EL Naturjoghurt
Abgeriebene Schale von 1 unbehandelten Zitrone
Zubereitung:
Alle Zutaten in eine Schale geben und vermischen. Teig mit 2 Löffeln auf Backpapier auf dem Blech mit etwas Abstand verteilen und ca. 15 min. backen (160° Ober- und Unterhitze, 130° Umluft). Danach abkühlen lassen und fertig zum Verzehr. So schnell und kinderleicht kann es gehen!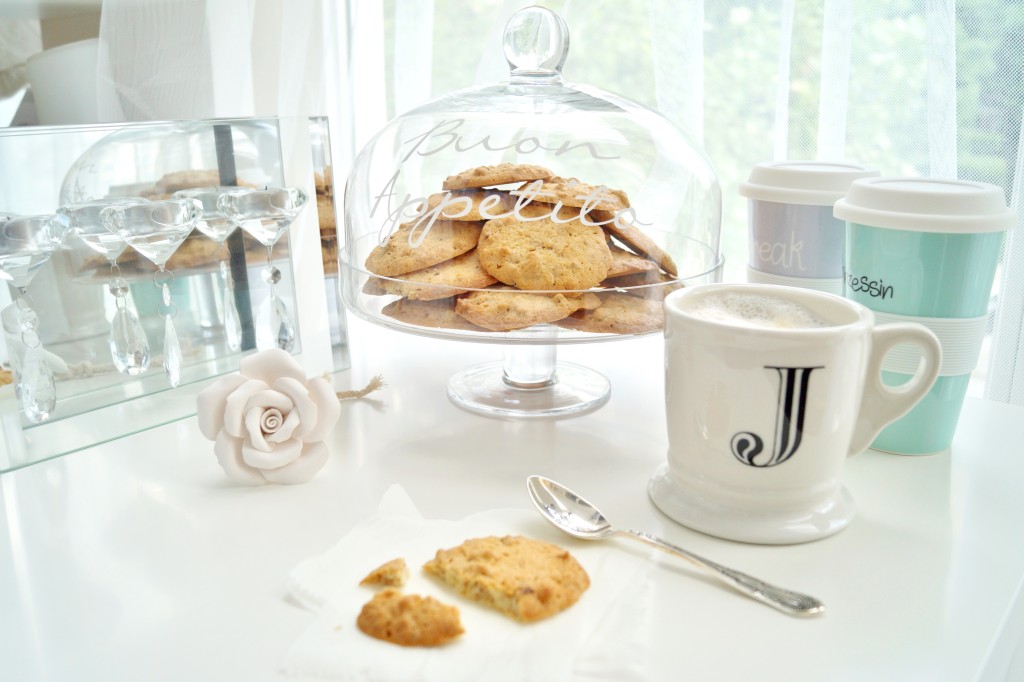 Cakestand mit Cloche, Ipuro Rosa, Anthropologie Becher, Coffee-to-Go Becher
ENGLISH: Recipe: Cereal Biscuits
A quick and easy recipe to impress your guests.
Ingredients:
150g fruit cereal (with a little sour dried fruits, such as raspberry, strawberry and similar. Otherwise, the biscuits will be, in my opinion, too sweet)
130 g wheat flour
70g cornflour
1 teaspoon baking powder
150 g butter (softened)
200 g sugar (I give a little less, since I do not like too sweet)
1 egg
3 tablespoons plain yogurt
Grated rind of 1 untreated lemon
Preparation:
Put all ingredients in a bowl and mix. Spread dough with 2 spoons on the baking paper on the plate with some distance and ca. 15 min. bake (160° conventional oven/Upper-and-Lower-Heat, 130 ° Fan Assisted Oven). Allow to cool and ready to consume. So quick and easy it can be!