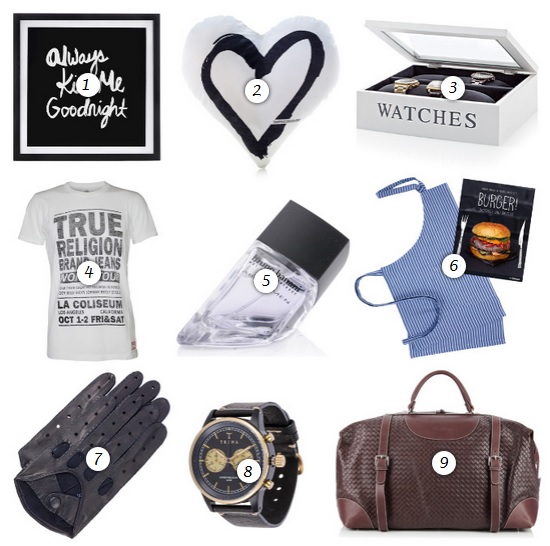 In meinem letzen Post "Be My Valentine" habe ich einige Geschenkevorschläge für den Valentinstag aufgeführt. Die Geschenke waren eher ein Vorschlag für die Herren, um uns Damen eine freundige Überraschung zu bereiten. Aber unsere liebsten Männer sollten auch nicht mit leeren Händen ausgehen. Also habe ich mir überlegt, wie der Valentinstag für ihn aussehen kann, und was einem Mann gefallen könnte. Somit habe ich ein paar tolle Artikel für die Herren ausgesucht. Aber eigentlich kann man mit einem Geschenk nichts falsch machen, denn es geht an diesem Tag nicht so sehr um die Geschenke selbst, sondern um die Aufmerksamkeit, die wir unseren Liebsten zeigen und sie fühlen lassen, dass wir an sie denken. Alles Gute zum Valentinstag!
(1) Gerahmter Druck, (2) Kissen mit Herzprint, (3) Uhrenbox, (4) True Religion Shirt, (5) Bruno Banani Herrenduft, (6) KISS THE COOK Geschenkset 'Burger', (7) Herren Handschuhe, (8) Triwa Uhr, (9) Weekender
ENGLISH: Valentine's Day for Him
In my last post "Be My Valentine" I've listed some gift suggestions for Valentine's Day. The gifts were more a suggestion for men to make a surprise for us ladies. But our beloved men should not go empty-handed. So I make some thoughts about how the Valentine's Day could be for him, what a man would like. Thus, I have selected some great items for men. But actually you can do nothing wrong with the gifts, because on this day it is not all about the gift itself, but about the attention. We show our beloved ones that we are thinking of them. Happy Valentine's Day!