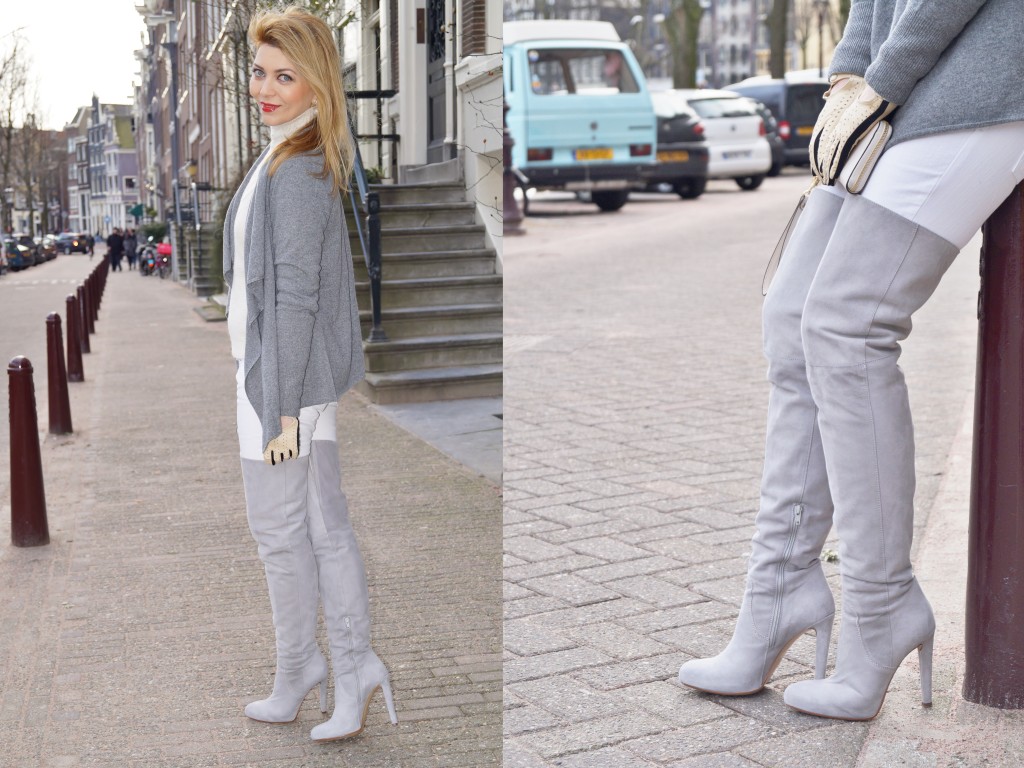 Overknee-Stiefel bleiben In! Eleganter und extravaganter als je zuvor, lassen die Modelle von verschiedenen Top-Designern eure Beine noch länger erscheinen. Dazu passen gut locker sitzende und hüftabdeckende Oberteile. Vor kurzem wurde ich von einer Leserin angeschrieben und um einen Rat gebeten. Sie mochte meine Mai Più Senza Overknees, die ich in Amsterdam hier und hier trage. Sie hat sich die Gleichen nur in blau bestellt. Allerdings haben die Stiefel ziemlich hohe Absätze und die Dame hatte vor kurzem eine OP am Knie überstanden. Also ging es mit dem Laufen auf den High Heels noch nicht so gut. Die Frage war, was soll sie tun? Ich glaube, der vernünftigste Rat wäre – Hauptsache bequem! Schöne Schuhe, die man nicht tragen kann, sind eine Verschwendung. Highheels sind natürlich chic, aber um sie zu tragen, solte man außerdem regelmäßig die Waden trainieren. Es gibt sehr schöne Overknees mit einem flachen Absatz oder einem bequemen Plateau. Vor allem Plateau wäre eine exzellente Alternative zu den hohen Absätze, wenn man unbedingt größer wirken will. Also habe ich ein paar Overknees-Vorschläge für verschiedene Bedürfnisse zusammengestellt.
High Heels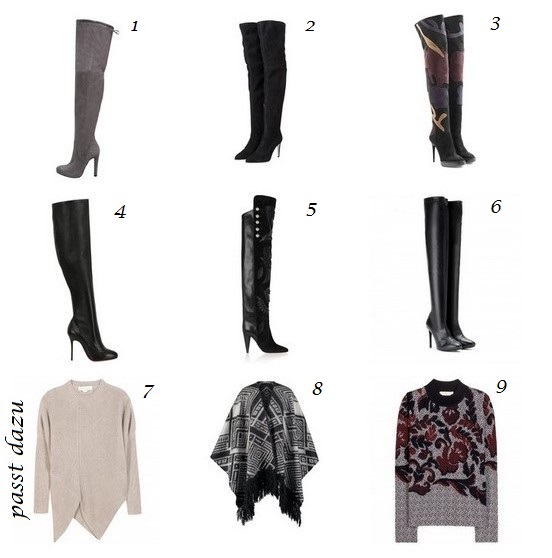 (1) Mai Piu Senza Overknees, (2) Sergio Rossi Overknee-Stiefel, (3) Burberry Prorsum Overknees aus Veloursleder mit Patchwork-Applikationen, (4) Christian Louboutin Overknees, (5) Isabel Marant Overknees aus Veloursleder und Leder, (6) Stella McCartney Overknee-Stiefel, (7) Stella McCartney Strickpullover aus Wolle, (8) Rich & Royal Cape, (9) Tory Burch Jacquard-Sweater
Kleiner Absatz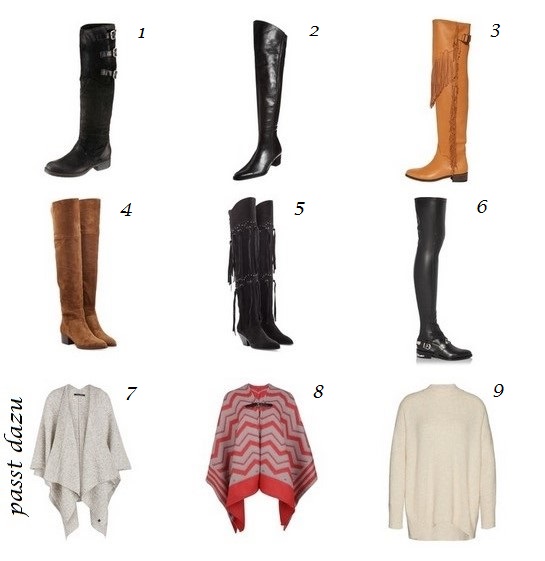 (1) Arizona Stiefel, (2) Pinto Di Blu Overknees, (3) See by Chloé Overknee Stiefel, (4) Chloé Overknees aus Veloursleder, (5) Giuseppe Zanotti Fransen-Overknees aus Veloursleder, (6) Toga verzierte Overknees aus Stretch-Leder, (7) Marc O'Polo Poncho, (8) Topshop Cape, (9) Rockamora Oversized Pullover
Plateau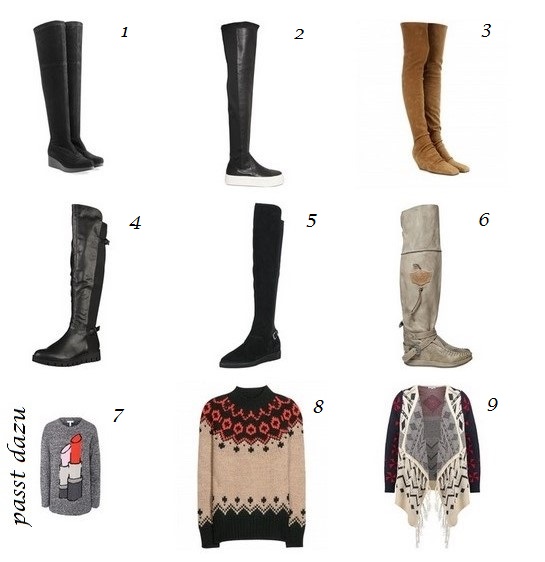 (1) Robert Clergerie Plateau-Overknees aus Veloursleder, (2) DKNY Overknee-Stiefel aus Stretch-Leder, (3) Rick Owens Overknee-Stiefel aus Veloursleder, (4) Tamaris Stiefel, (5) Heine Overknee, (6) EL VAQUERO Wedge-Stiefel aus Kamelleder, (7) Escada Sport Pullover Sinta, (8) Moncler Grenoble Strickpullover mit Alpakawolle, (9) Glamorous Strickjacke
ENGLISH: Aiming high with the boots!
Over-the-knee boots stay in! More elegant and extravagant than ever, the various models by the top designers let your legs appear even longer. They go great with loose-fitting and hip-covering tops. So I've compiled a few over knee boots suggestions for different needs.