Amsterdam ist herrlich mit seinen zahlreichen Brücken und kleinen Straßen, die alle einander ähneln, aber zugleich einen Wiedererkennungswert besitzen. Sehr charmant fand ich die vielen steilen Treppenanbauten an fast jeder Eingangstür. Die Häuser selbst genauso wie deren Türen und Treppenhäuser sind sehr schmal. Deswegen können die Gegenstände bei einem Umzug nur über die Fenster transportiert werden. Ich bin sehr gerne die Amsterdamer Straßen entlang gelaufen und habe deren architektonischen Besonderheiten betrachtet – meine Schwäche! Zwar habe ich keine Architektur studiert und kann fachlich die Gebäude nicht betrachten, trotzdem bewundere ich die Schönheit dieser komplexen und genau durchdachten Konstruktionen. Wie bei einem Outfit, das man auch sorgfältig aussucht und zusammenstellt. Ich wollte euch noch eine Option zeigen, wie ich die Overknees trage. Die Variante mit Trenchcoat habe ich euch bereits in "In Overknees und Trenchcoat durch Amsterdam" vorgeführt. Diesmal trage ich die Mai Più Senza Overknees zu weißen Mango Jeans, Ralph Lauren Rollkragenpullover und hüftlangen Best Connections Strickjacke. Ich finde, dass zu Overknees locker sitzende und hüftabdeckende Oberteile gut passen. Was denkt ihr?
PS: Ganz witzig fand ich auf einem meiner Fotos die Frau in der Tigermütze. Sehr gewagt!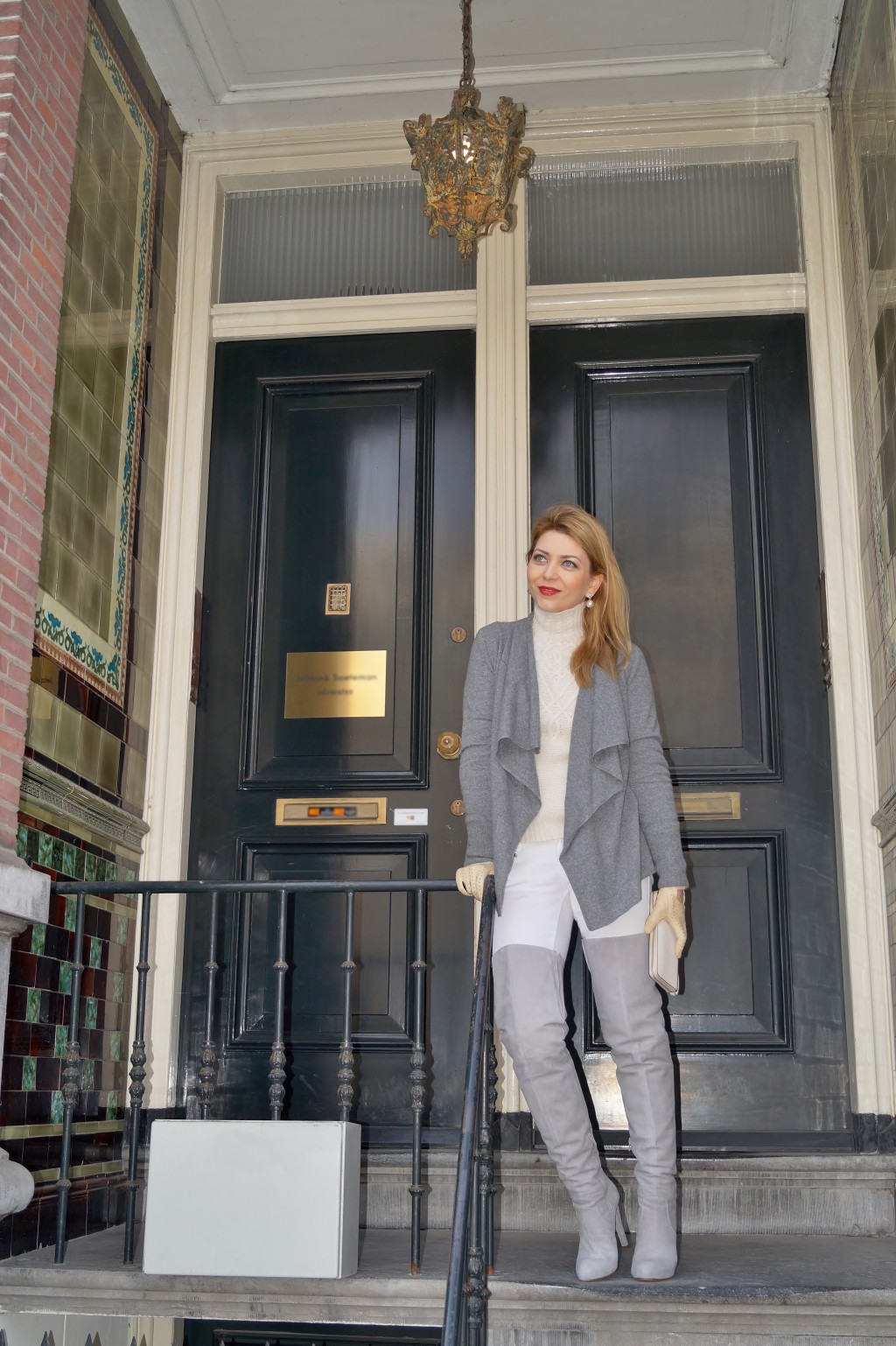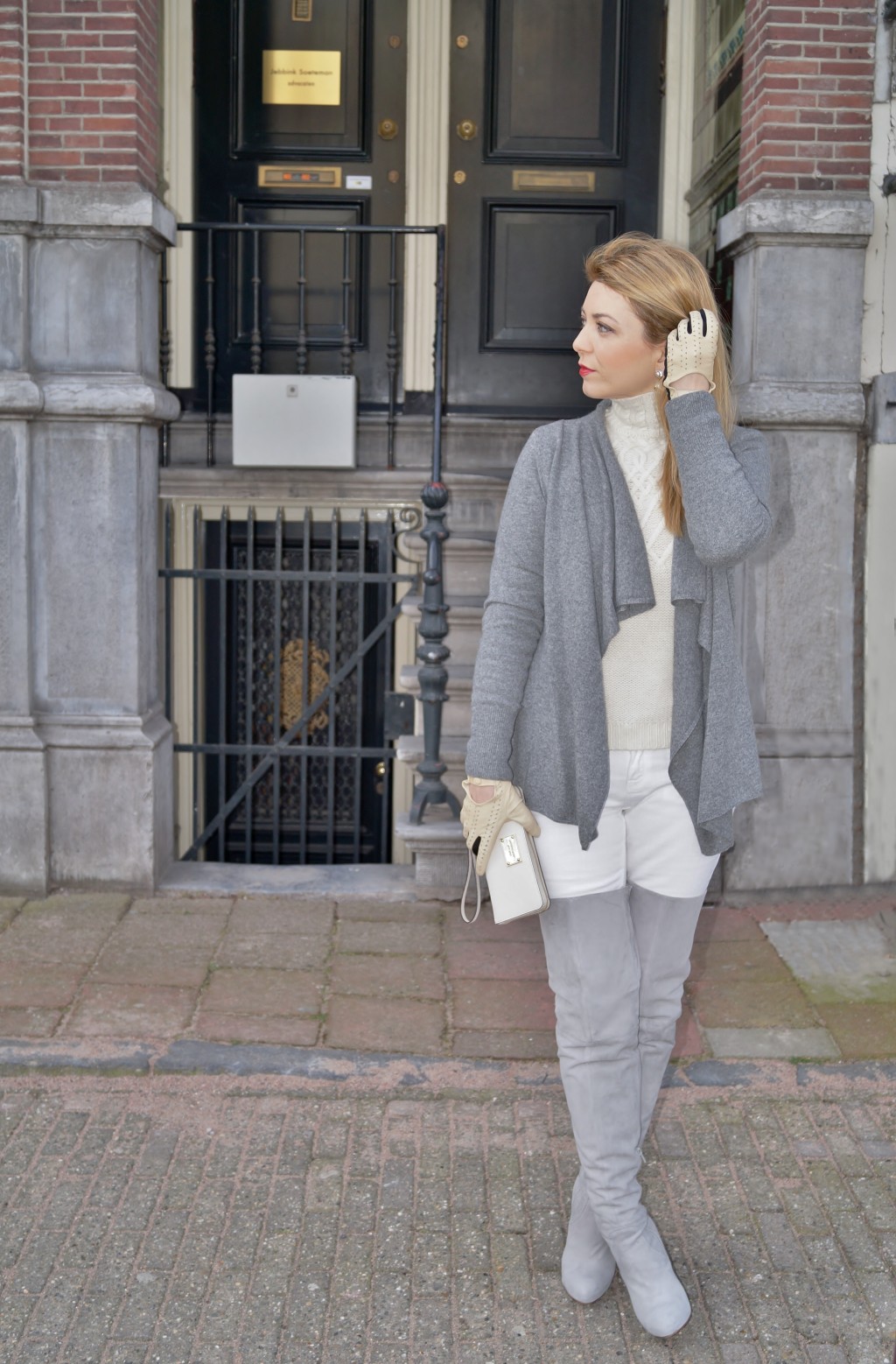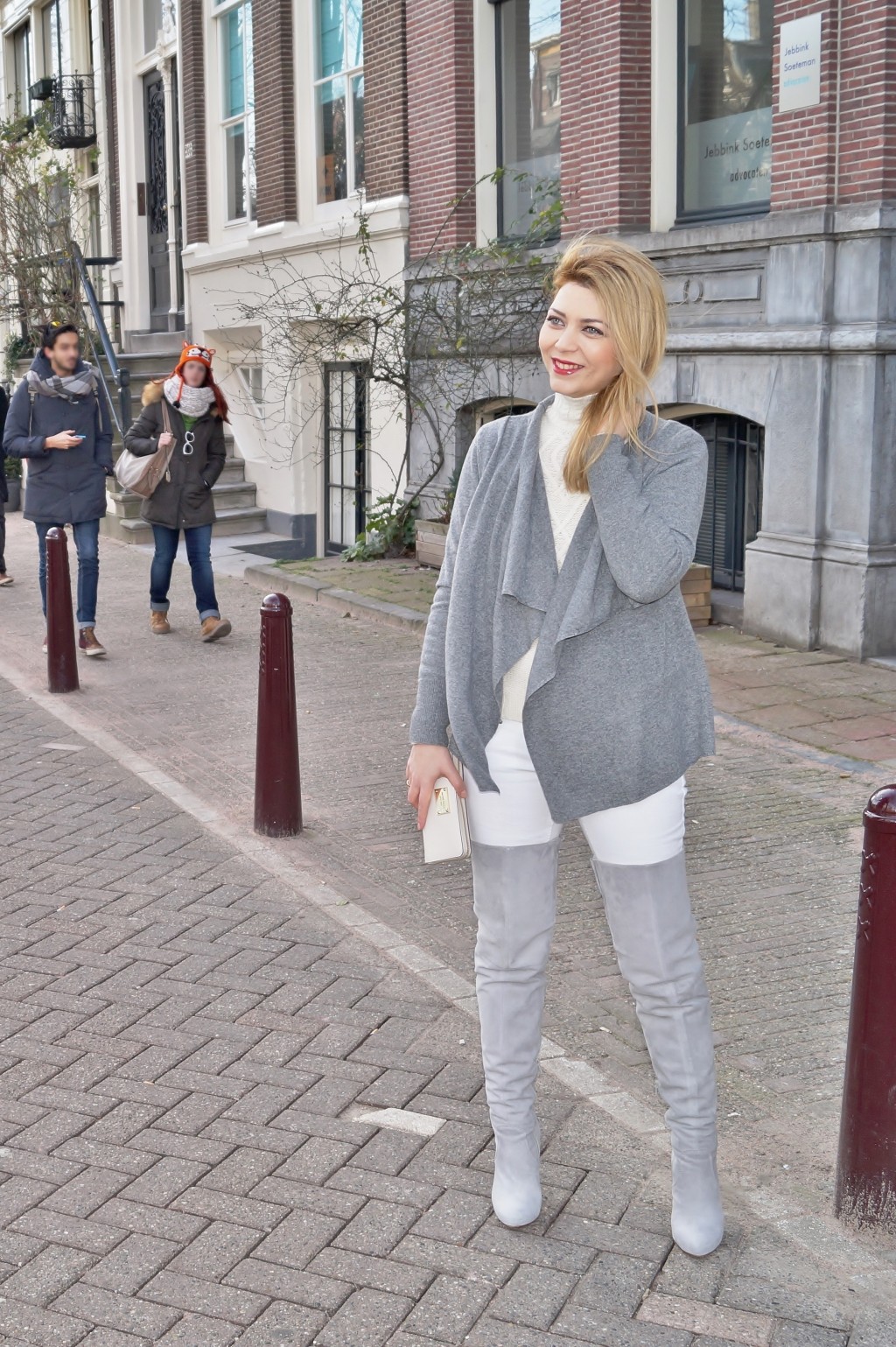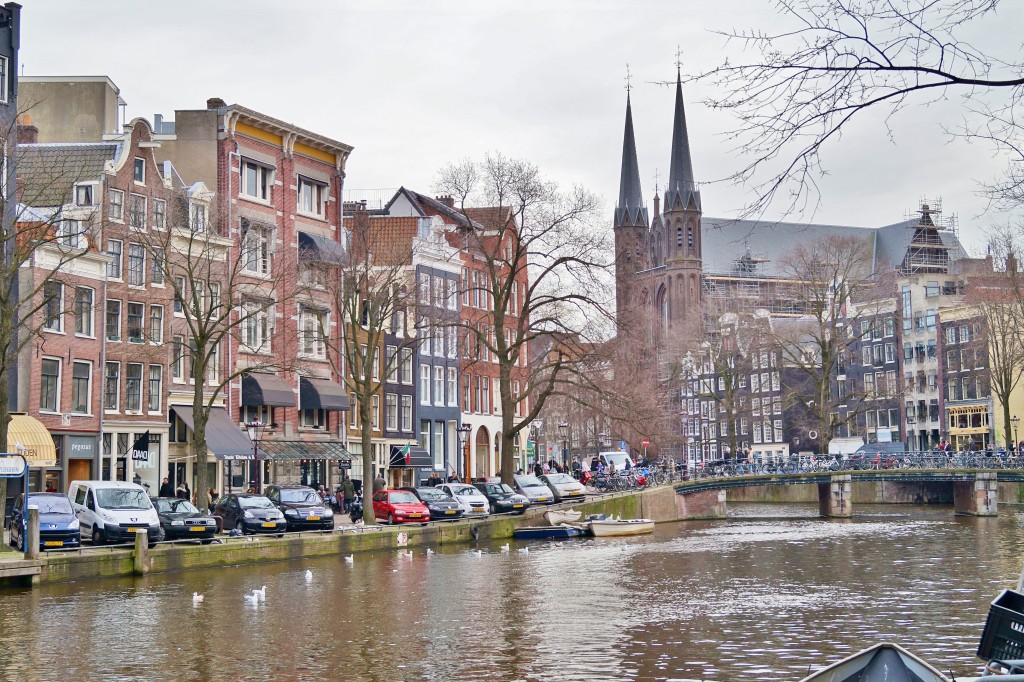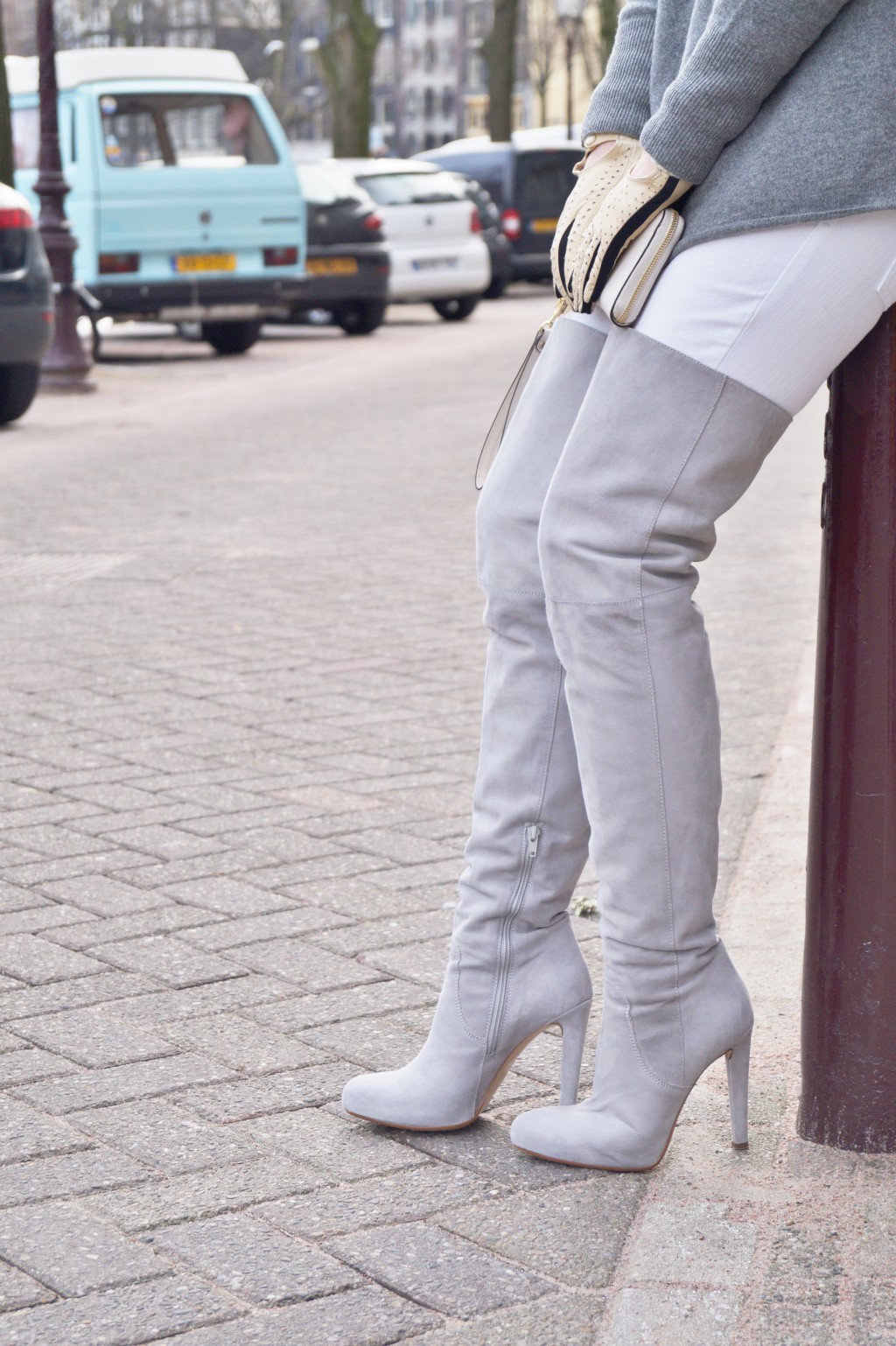 Mai Più Senza Overknees, Best Connections Strickjacke, Michael Kors Portemonnaie, Ralph Lauren Rollkragenpullover, Tory Burch, Zara Handschuhe, Mango Jeans
ENGLISH: Fashion and Architecture

Amsterdam is gorgeous with its many bridges and small streets, all resemble each other, but at the same time have a recall value. Very charming I found the many steep stairs attachments on almost every front door. The houses themselves as well as their doors and staircases are very narrow. Therefore, the furniture can be transported only through the window when moving. I liked to walk along the Amsterdam's streets and to take a look at houses with their architectural features – my weakness! Although I have not studied architecture with its professional terms, but I admire the beauty of this complex and carefully thought constructions of the buildings. It is like with an outfit that one chooses and compiles accurately. I would like to show you one more option, how I wear the overknees. The variant with trench coat I have already demonstrated you in my post "In Over-the-Knee Boots and Trench Coat through Amsterdam". This time I wear the over-the-knee boots to white jeans, a turtleneck and a hip-length cashmere cardigan. I find that loose-fitting tops and hip covering cardigans match well to over-the-knee boots. What do you think?
PS: Very funny I found the woman in the tiger hat in one of my photos. Very daring!