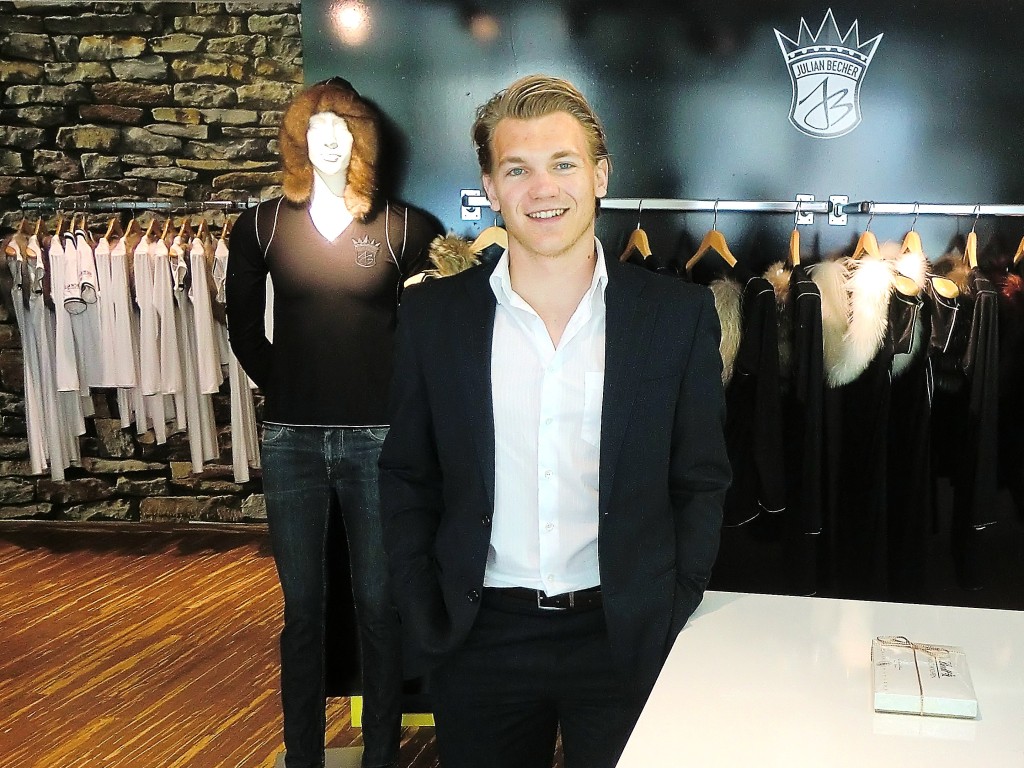 Julian Becher Exclusive Style is a Munich based luxus label that implements  something special and innovative.
From my earlier reports you know about my trip to Munich for the Fashion Show in May, but that was not all. I stayed there some more days and used the opportunity to see some city sights. One of the most important attractions for us girls is of course shopping! So I visited Julian Becher's Boutique in the famous Maximilian street. Julian was a Supermoto World Champion and now he became a designer.
I was very warmly welcomed by Julian, as well as all customers in his exclusive shop, with a glass of sparkling wine or water for choice. I could try on some items of Julian Becher Exclusive Style and was impressed by their comfortable and pleasant feeling on the skin. The high-quality materials for the collections are supplied from Switzerland, furs from Russia and the production takes place in Germany. Thus Julian combines cotton with fur and creates exclusivity in his collections.
My highlight is this polo shirt that I would most like to pair with a cap by Shourouk, heels by Valentino and a mini handbag by Chloé and off we go to Formula 1!
Русский: Юлиана Бехерa Эксклюзивный Стиль (Julian Becher Exclusive Style) – марка основанная в Мюнхене воплощает что-то особенное и инновационное.
Из моих предыдущих записок вы знаете о моей поездке в Мюнхен на показ мод в мае, но это еще не все. Ведь я осталась там еще на несколько дней и воспользовалась возможностью посмотреть на некоторые городские достопримечательности. Одна из самых важных достопримечательностей для нас девушек – это конечно же шопинг! Так что я посетила бутик Юлиана Бехера на знаменитой улице Максимилиана (Maximilianstraße). Юлиан был чемпионом мира по супермото, а теперь он стал дизайнером.
Юлиан принял меня в своем эксклюзивном магазине очень тепло и приветливо с бокалом шампанского и воды на мой выбор. Разумеется в его бутике все клиенты могут ожидать первоклассный сервис. Я примерила некоторые модели "Юлиана Бехерa Эксклюзивный Стиль" и былa в восторге от их комфортности и мягкости на ощупь. Высококачественные материалы для коллекций поставляются из Швейцарии, меха из России, а производство происходит в Германии. Таким образом Юлиан сочетает хлопок с мехом и придает эксклюзивность своим коллекциям.
Моей изюминкой оказалась футболка-поло, каторую я бы скомбинировала б с кепкой от Шурук (Shourouk), туфильками на каблукax от  Валентино (Valentino) и маленькой сумочкой от Хлои (Chloé) и мы готовы для Формулы1!