Reizvolle Spitze, Rüschen und opulente Details auf hochgeschlossenen Blusen sorgen in dieser Saison für jede Menge viktorianische Romantik! Hochgeschlossen heißt nicht gleich bieder, das haben Designer mit den aufregenden Silhouetten im viktorianischen Stil hiermit bewiesen! Die eleganten Blusen mit langen Ärmeln werden mit Ausgestellter- oder Lederhose, Pencil-Skirt, Heels oder eleganten Ankle Boots gestylt. Ich liebe diesen Stil!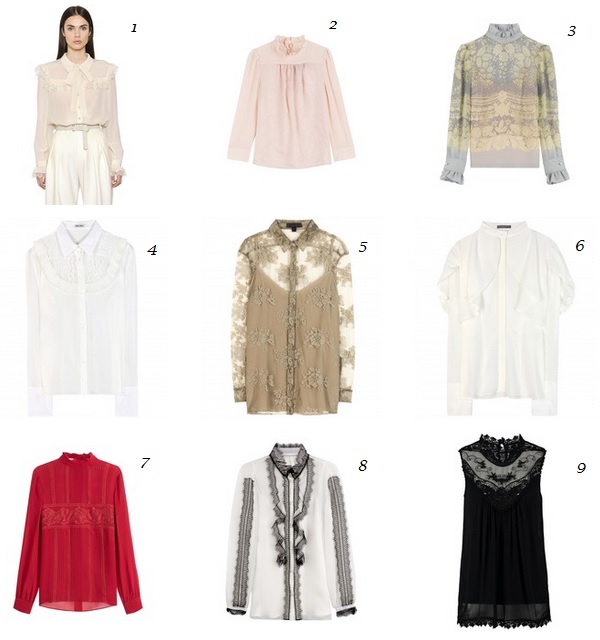 (1) Philosophy di Lorenzo Serafini Oberteil aus Seiden/Crepe de Chine, (2) Tara Jarmon Seidenbluse, (3) Philosophy di Lorenzo Serafini Print-Bluse aus Seide, (4) Miu Miu Seidenbluse, (5) Burberry Prorsum Bluse mit Spitze, (6) Alexander McQueen Layering-Bluse aus Seide, (7) Valentino Seidenbluse mit Spitze und Biesen, (8) Alberta Ferretti Seidenbluse mit Spitze, (9) Culture LAVENA Bluse
Englisch:

Victorian

Romance
Exhilarating lace, ruffles and opulent details on high-necked blouses make this season for a lot of Victorian romance! High-necked is not equal to stiff, the designers have hereby proved with exciting silhouettes in Victorian style! The elegant blouses with long sleeves are styled with wide-leg or leather pants, pencil skirt, heels or elegant ankle boots. I love this style!