Crop Tops sind seit dem Sommer 2013 im Trend, der auch an mir nicht vorbei gegangen ist! Kombinieren sollte man Crop-Tops mit einem Kleidungsstück mit einer hohen Taille, denn den Bauchnabel zu zeigen ist bei diesem Trend nicht angesagt. Außerdem wirken Crop-Tops mit einem verdeckten Bauch edel. Perfekt eignen sich dafür Midiröcke, wie ich in meinem Post "Goldene Rosen im Yu Garden Hamburg" trage, Coulottes, und sonst weitgeschnittene Silhouetten. Hier trage ich mein Crop-Top zu Low Waist Slim Fit Jeans. Also verdecke ich meinen Bauchnabel durch die Seidenbluse, die ich unter dem Crop-Top trage. Crop-Tops werden eher für Partys, Dinner oder Freizeit empfohlen. Ich finde, dass man sie auch im Büro tragen kann, allerdings eher auf eine edle Seidenbluse zu der eleganten Hose oder Rock. Also falls man ein Crop-Top fürs Büro anziehen will – einfach über der Bluse tragen. Damit sorgt man nicht für unnötige Aufregung!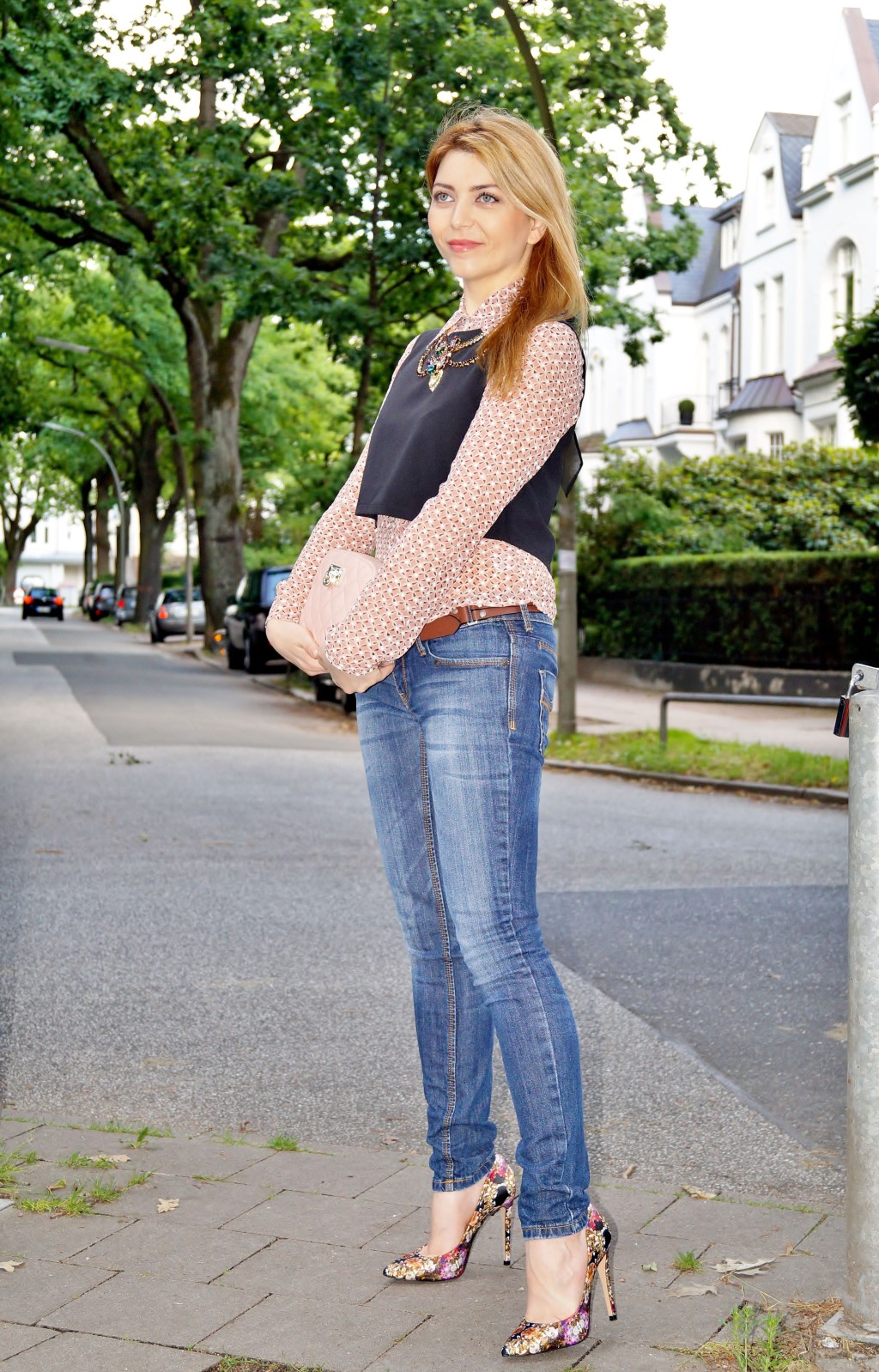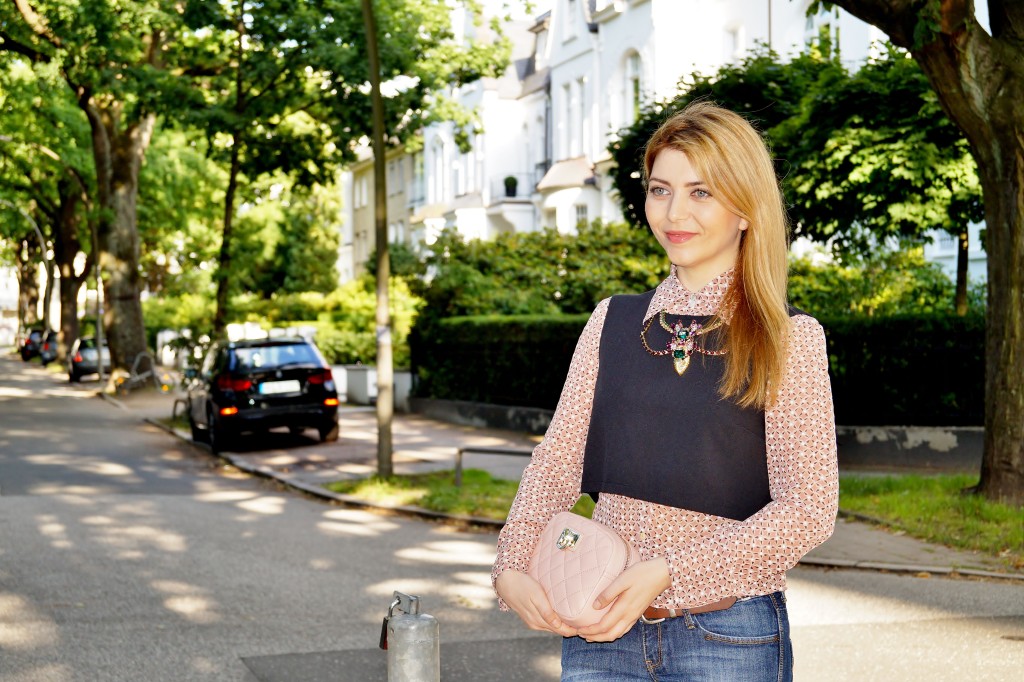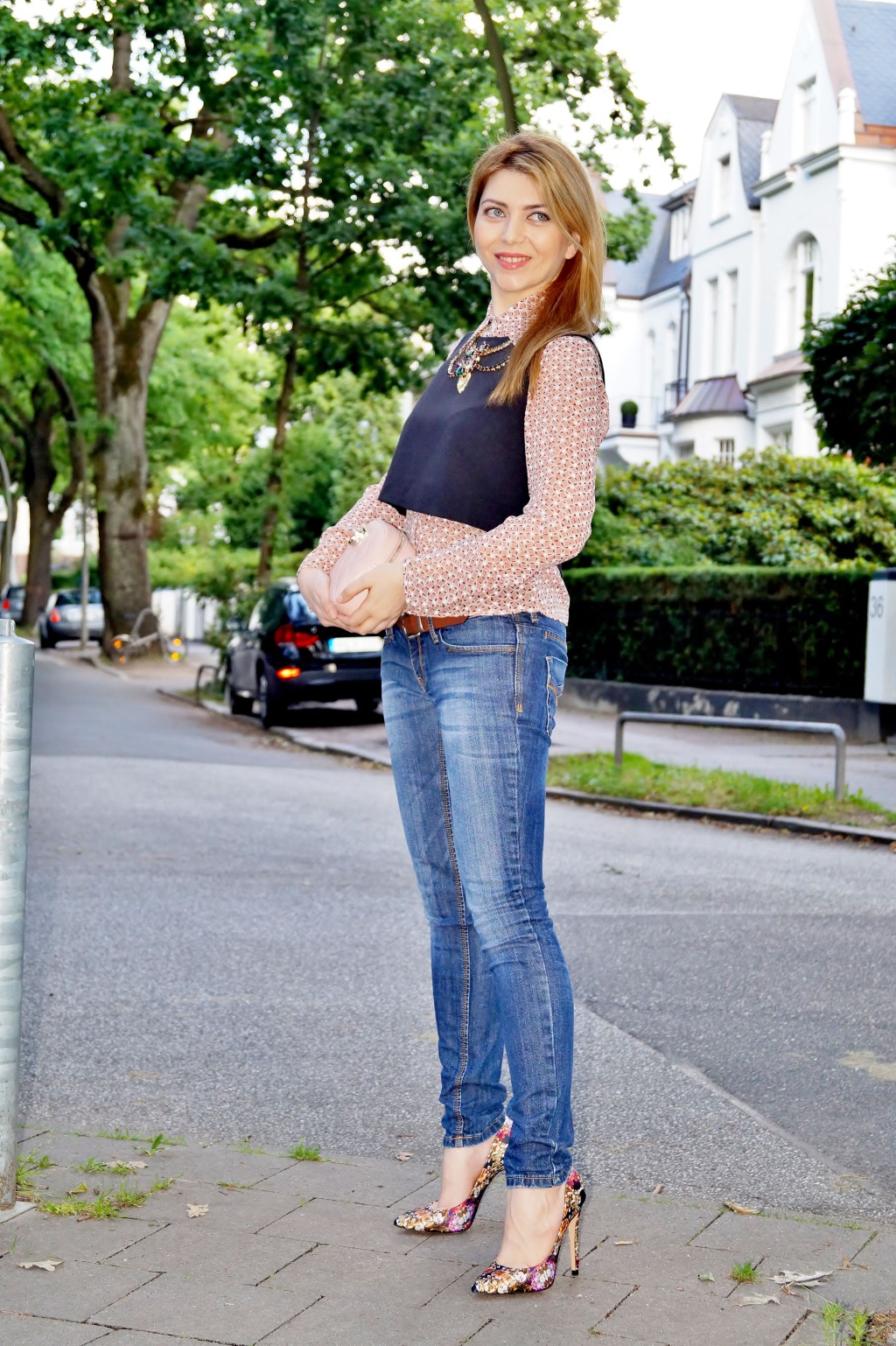 Ana Alcazar Crop Top, Dsquared2 Halskette Dean Bow, Schumacher Seidenbluse, Supertrash Pumps, DKNY Handtasche, Mango Jeans
ENGLISH: Crop Top Combination
Crop tops are trendy since summer 2013. They should be combined with a high waist cloths like midi skirts, as I wear in my post "Golden Roses in the Yu Garden Hamburg", culottes and other loose-fitting silhouettes. Crop tops look classy with a hidden tummy. Here I wear my crop top to low-waisted slim fit jeans. So I cover my tummy with the silk blouse that I wear under the crop top. Crop tops are recommended more for parties, dinners or leisure. I find that you can wear them in the office as well, but only with a noble silk blouse thereunder and to the elegant pants or skirt. So if you want to wear a crop top for the office – just put on the blouse first, in order not to provide the unnecessary excitement!