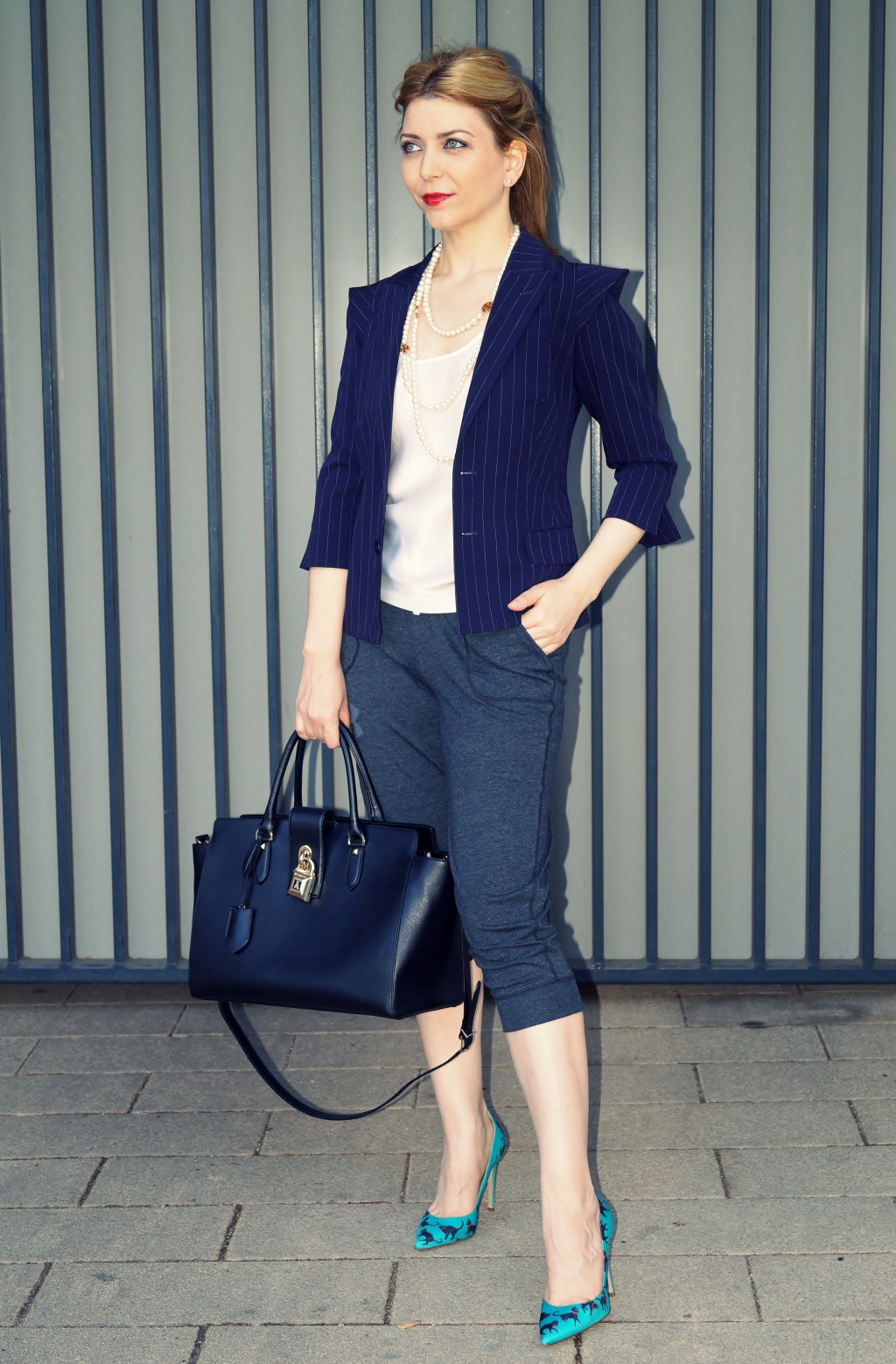 Ins Office – mal anders zu gehen ist eine wirkliche Herausforderung! Vor allem wenn es um für das Büro untypische Kleidungsstücke geht. Sweatpants werden mittlerweile nicht nur für deren eigentlichen Zweck Sport hergestellt, sondern auch als normale Alltags- oder Businesskleidung, wie hier die Hose von Rich & Royal. Solche Sweatpants haben einen sportlichen, aber zugleich etwas klassischeren Hosenschnitt. In Abhängigkeit von der Branche variiert sich die Strenge des Dresscodes für das Office. In einigen Branchen kann man sich mehr zum Ausdruck bringen und mit dem eigenem Outfit experimentieren, in anderen sollte man eher zur schlichteren, klassischen Büro-Kleidung greifen. Falls bei der Arbeit eine etwas modernere und entspanntere Atmosphäre herrscht, kann ich mir die Sweatpants in eleganter Variante in einer Kombination mit einem Blazer mit einem extravaganten Schnitt (allerdings beides in den klassischen Business-Farben Grau, Blau, Schwarz) und mit High Heels gut vorstellen.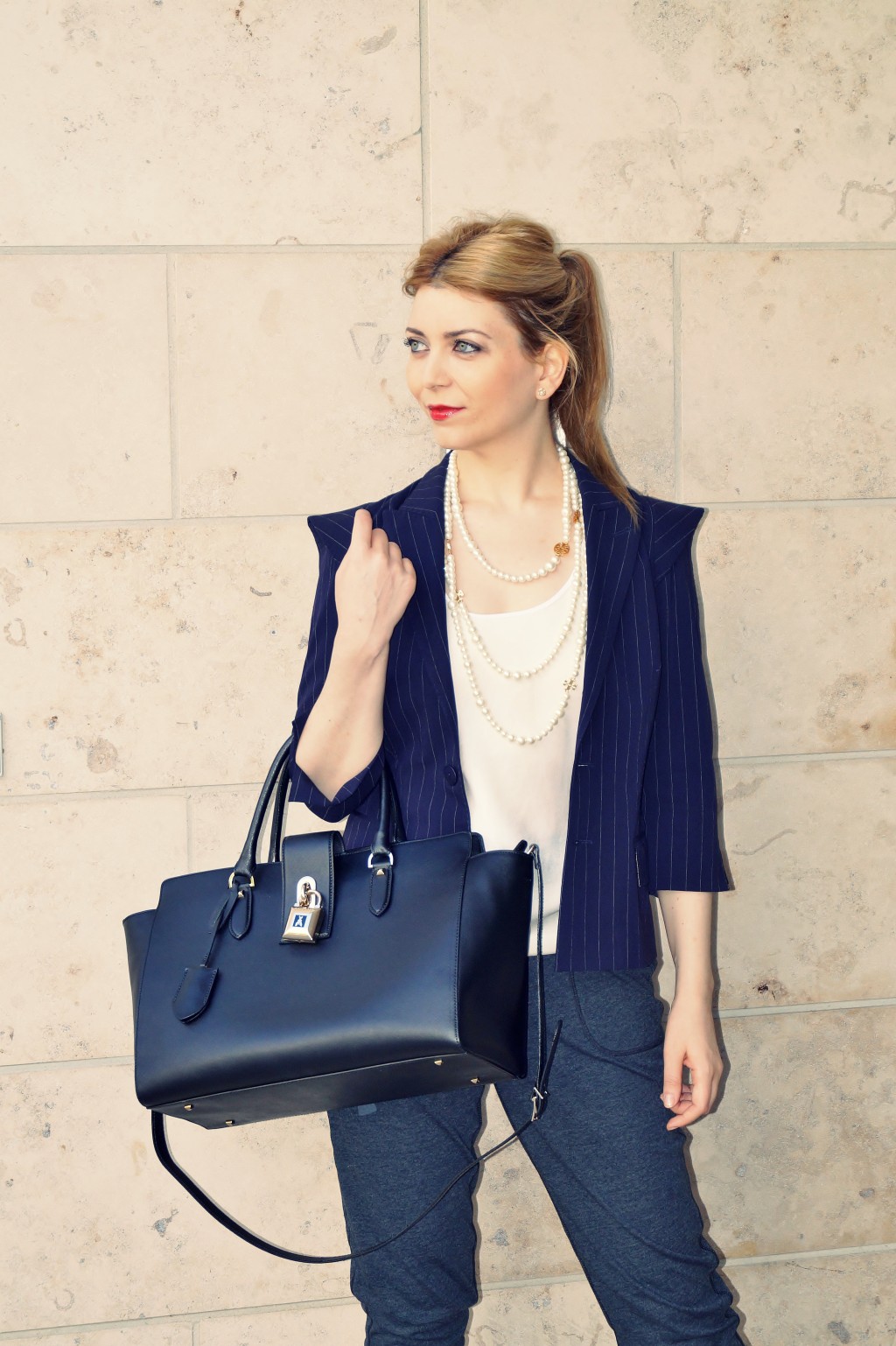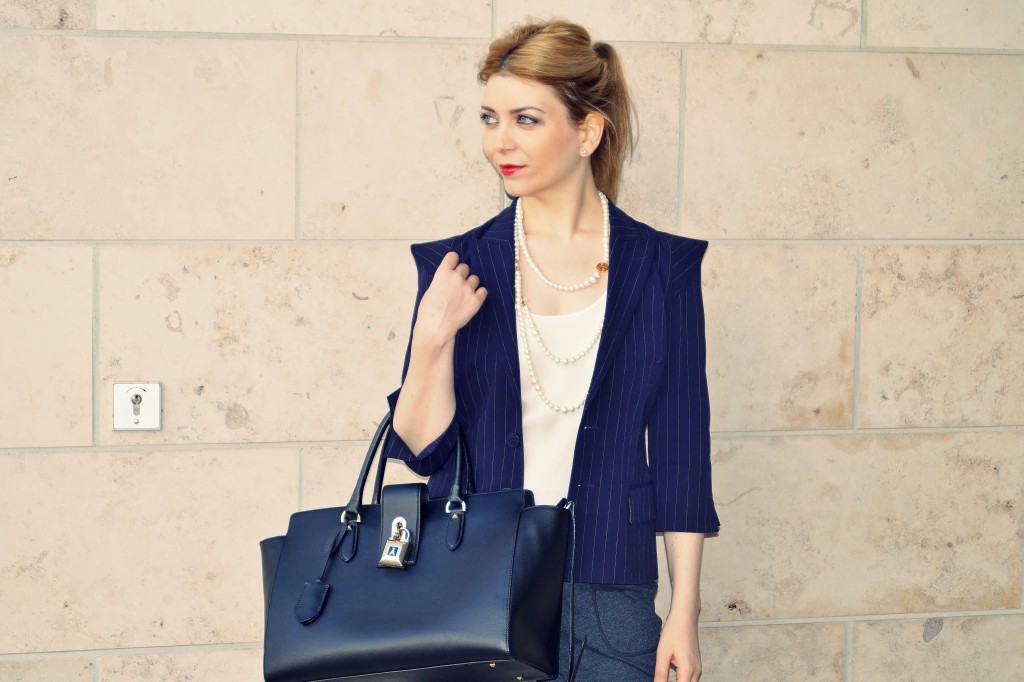 Patrizia Pepe Tasche, Strenesse Seidentop, Tory Burch Perlenkette, Jean Paul Gaultier Blazer, Camilla Elphick Pumps
Get the Look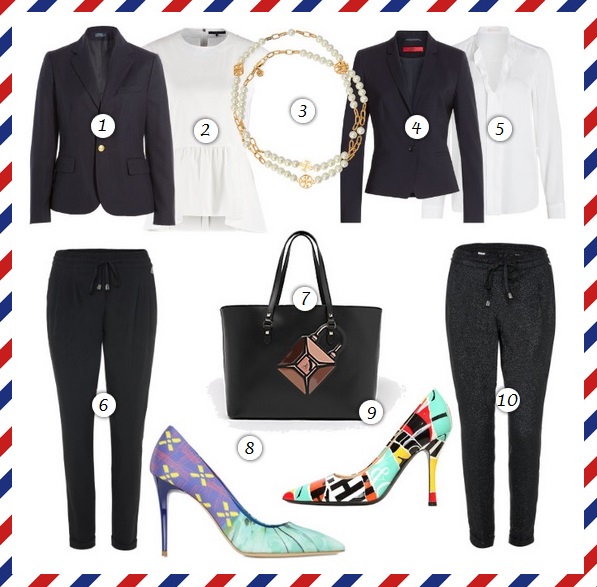 (1) Polo Ralph Lauren Blazer Boy aus Wolle, (2) Strenesse TETSU Bluse white, (3) Tory Burch Halskette, (4) Hugo Taillierter Blazer aus Wolle, (5) STRENESSE Seidenbluse, (6) Rich&Royal Business Sweatpants, (7) Patrizia Pepe Einkaufstasche aus Leder, (8) Elena Iachi Baumwollsatin Pumps mit Druck, (9) Moschino Lackleder Pumps mit Druck, (10) Rich&Royal Business Sweatpants mit Lurex
ENGLISH: Into the Office – in a Different Way!
Most of us imagine sweatpants only in sports. Me actually too! To go into the office wearing something unusual is a real challenge! Especially when it comes to non-typical for the office clothes. Sweatpants are already being manufactured not only for their actual purpose sport, but also as a normal every day or business clothes, like hier the sweatpants by Rich & Royal. Such sweatpants have sporty, but at the same time some classic cut. Depending on the industry, the severity of dress codes for the office varies. In some industries, you can express yourself more and experiment with your outfits. In the other one you should rather wear simple, classic office clothes. If it prevails more modern and relaxed atmosphere at work, I can very well imagine the elegant sweatpants in a combination with a blazer with a fancy cut, but both of them in the classic colors of gray, blue, black and high heels.