Regen! Ich mag ihn wirklich! Aber hauptsächlich, wenn ich gemütlich Zuhause am Fenster ein Buch lese und zwischendurch nach Draußen blicke, um den Tropfen dabei zuzuschauen, wie sie das Fensterglas hinunterlaufen, oder auf die vielen Regenschirme, die von oben aussehen, als ob viele bunte Käfer auf dem Boden herumwuseln. Diesen Sonntag regnete es, allerdings wollte ich diesmal nicht den Tag hinter verschlossenen Türen verbringen, sondern frische Luft schnappen und danach eine Kleinigkeit essen gehen. Also war ich mit Thorsten unterwegs. Gummistiefel, Regenjacke und Regenschirm sind die richtige Ausstattung für ein solches Wetter. So überwinden wir den Regen! Die Gummistiefel hat mir übrigens mein Mann geschenkt, darüber habe ich bereits hier berichtet ;). Sie retten mich immer wieder vor nassen Füßen. Ebenfalls finde ich meine neue Dsquared2 Tasche umwerfend, die mit ihrer himmelblauen Farbe dem Regenwetter entgegen wirkt.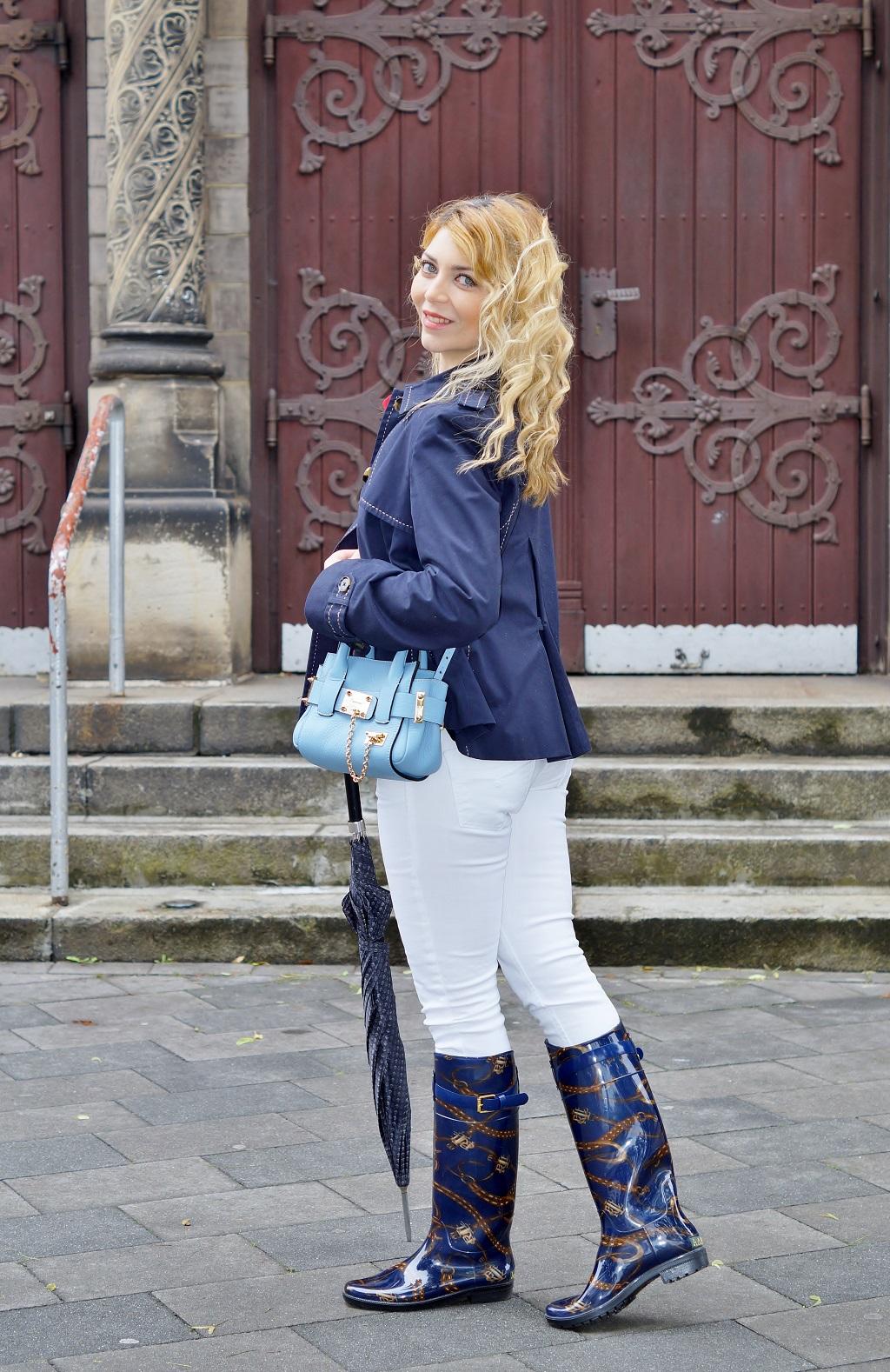 Nachdem wir einen kleinen Spaziergang unternommen haben, gingen wir ins Vapiano am Gänsemarkt. Dort habe ich mir die Tagesspezialität Risotto mit Spargel und Thorsten Bolognese bestellt. Dafür, dass Vapiano eine Schnellessenkette ist, schmeckt es dort gut! Vor allem, wenn man Hunger hat und nicht unbedingt lange auf das Essen warten will.
Dsquared2 Tasche, Ralph Lauren Gummistiefel, Tommy Hilfiger Cape-Jacke, Prada Seidenbluse, Tory Burch Ohrringe, Mango Jeans
ENGLISH: Thus we overcome the rain!
Rain! I really like it! But mostly when I sit cozy at the window at home during book reading and in between looking from above out of the window at the moving umbrellas and how the drops run down the window glass. This Sunday it rained, but this time I did not want to spend behind the closed doors, but grab some fresh air and go for a dinner. So Thorsten and I were on the go. Rubber boots, raincoat and umbrella are the right equipment for such a weather. Thus we overcome the rain! By the way my rubber boots were a present from my hub, I have previously reported about it here. They save me from the wet feet repeatedly. Also I find my new Dsquared2 bag stunning, which counteracts with its sky-blue color to the rainy weather.
After we took a little walk, we went to Vapiano at Gänsemarkt. There I ordered a daily special risotto with asparagus and Thorsten took Bolognese. Considering that Vapiano is a fast food chain, it tastes good there! Especially when you have a hunger and do not want to wait for the meal long.