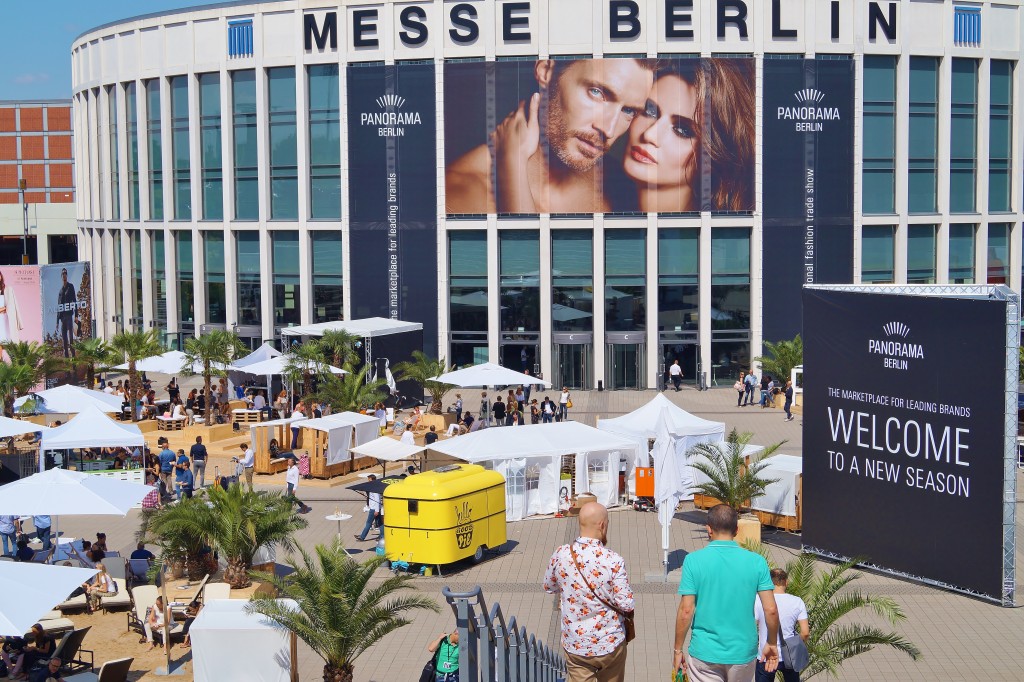 Na klar, ich besuchte im Juli, während der Fashion Week Berlin, auch die Panorama Berlin Messe und habe dabei einige Eindrücke über Trends für Spring/Summer 2015 gewonnen. Panorama gehört zu einer der wichtigsten Modemessen der Fashion Week Berlin und präsentiert Damen- und Herrenmode, Schuhen, Accessoires und Lifestyleprodukte. Seit dem letzten Jahr hat sich die Messe rasant vergrößert und ist von der alten Location ExpoCenter Airport zum neuen Standort ExpoCenter City umgezogen, wo sie sich nun auf 21.000 m2 erstreckt.
Panorama Berlin – Brands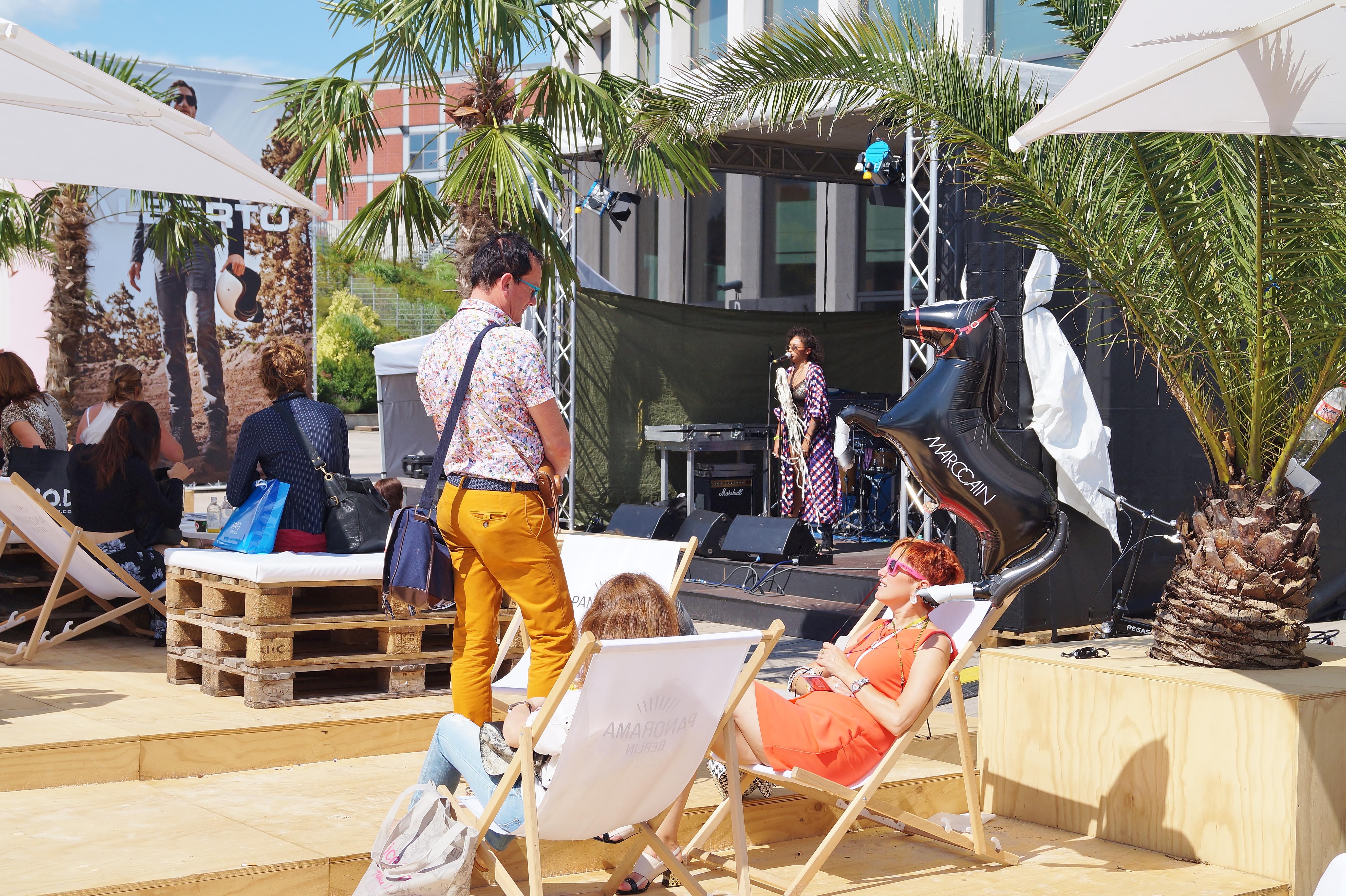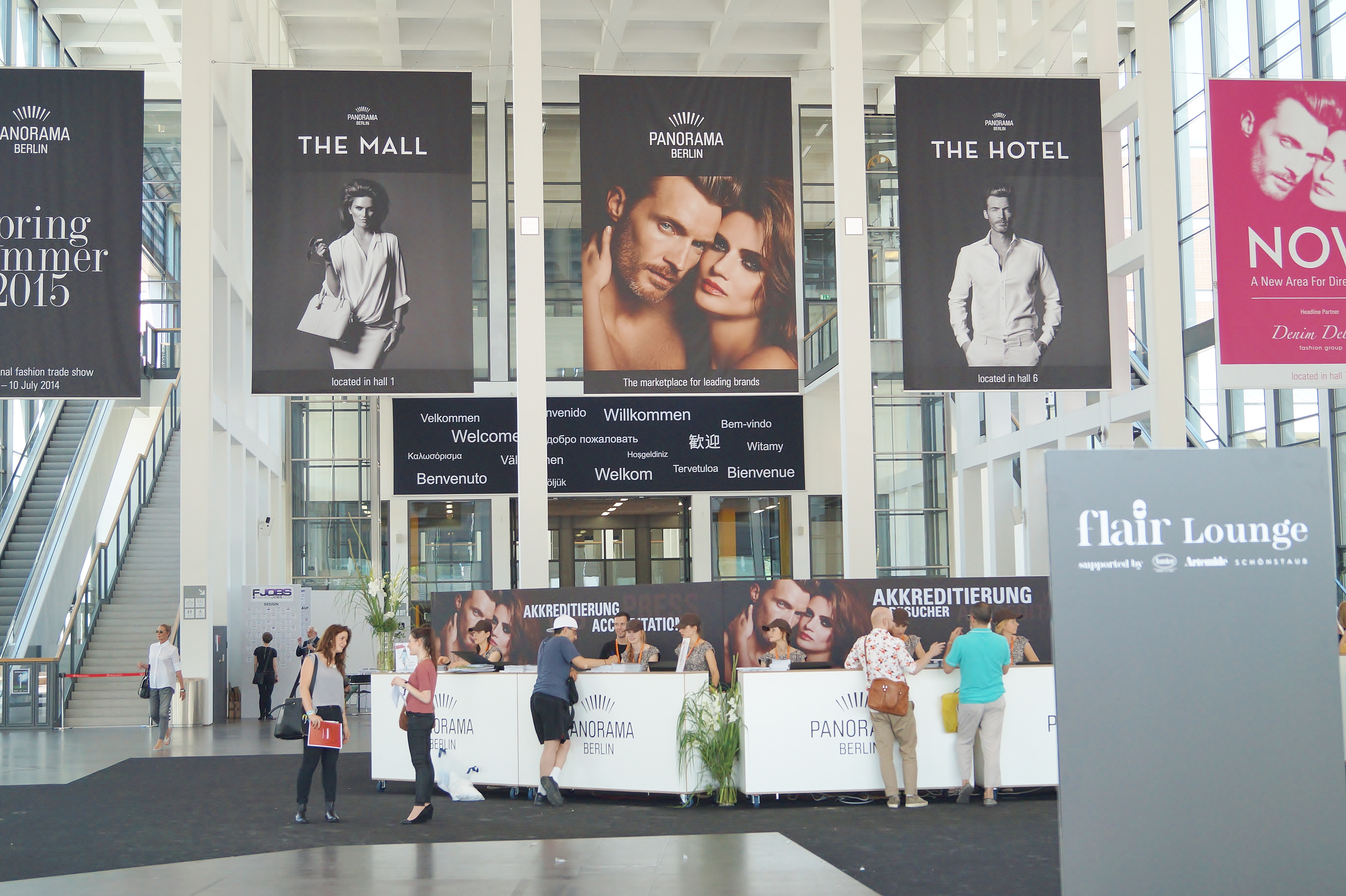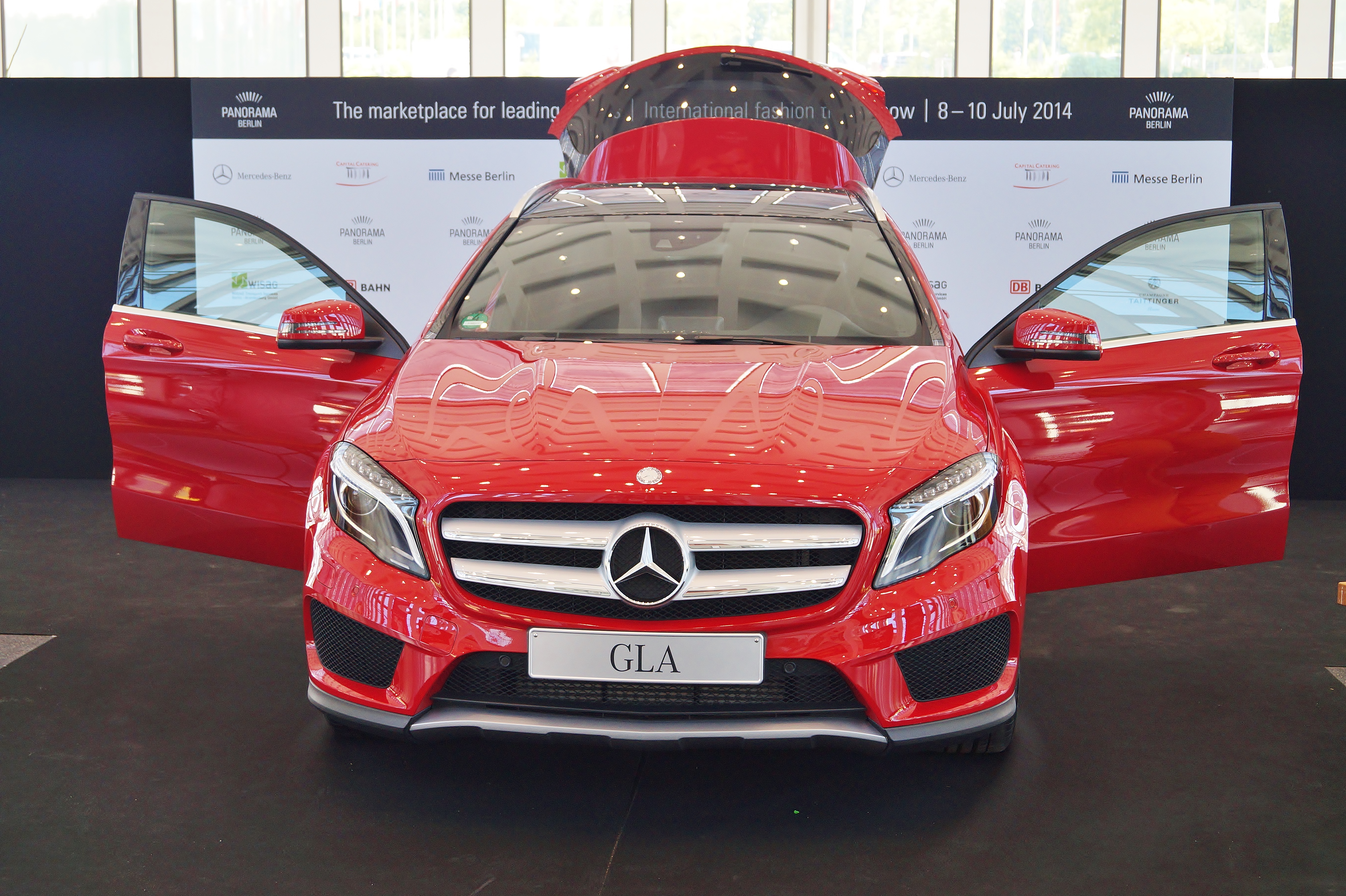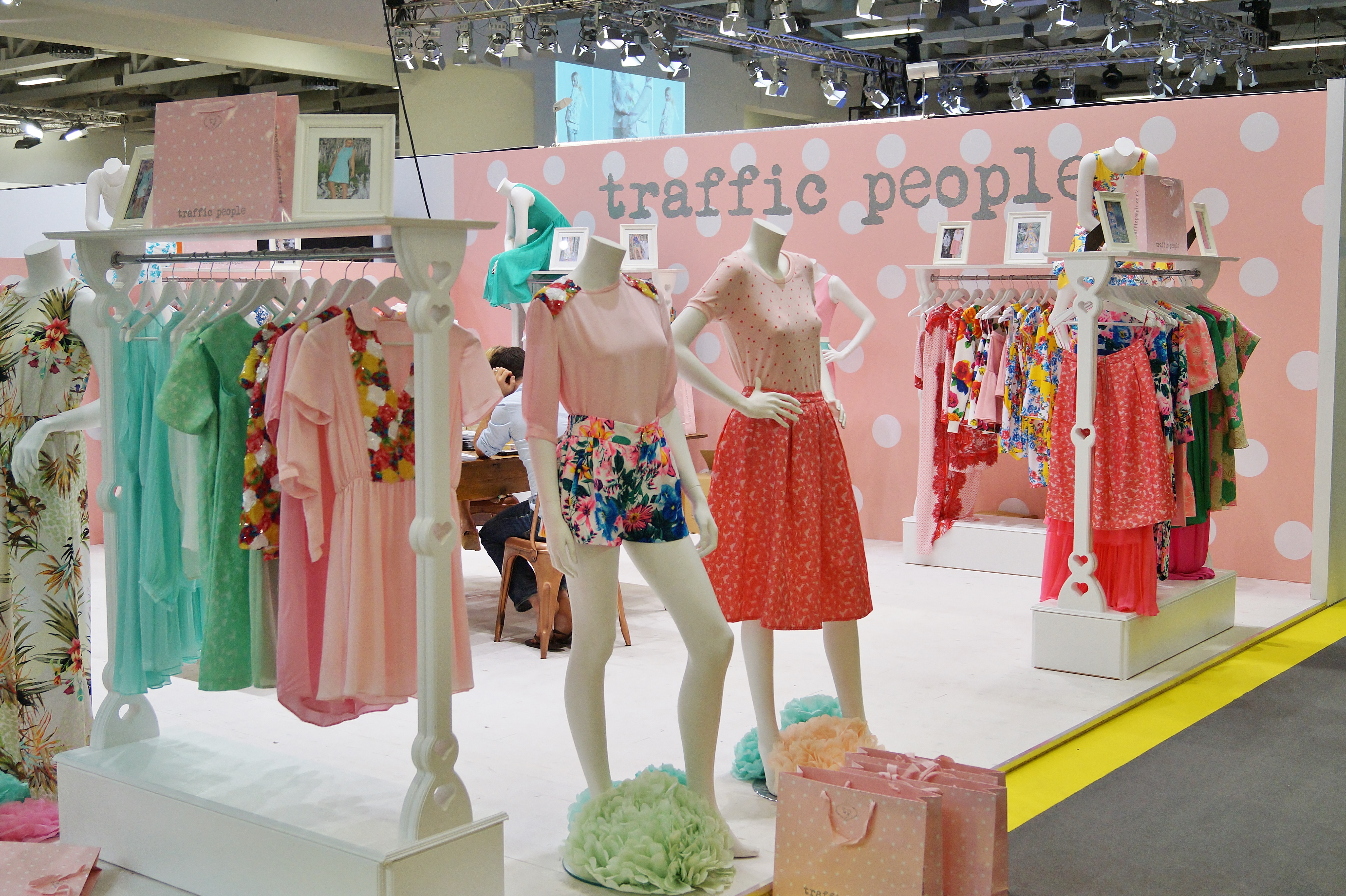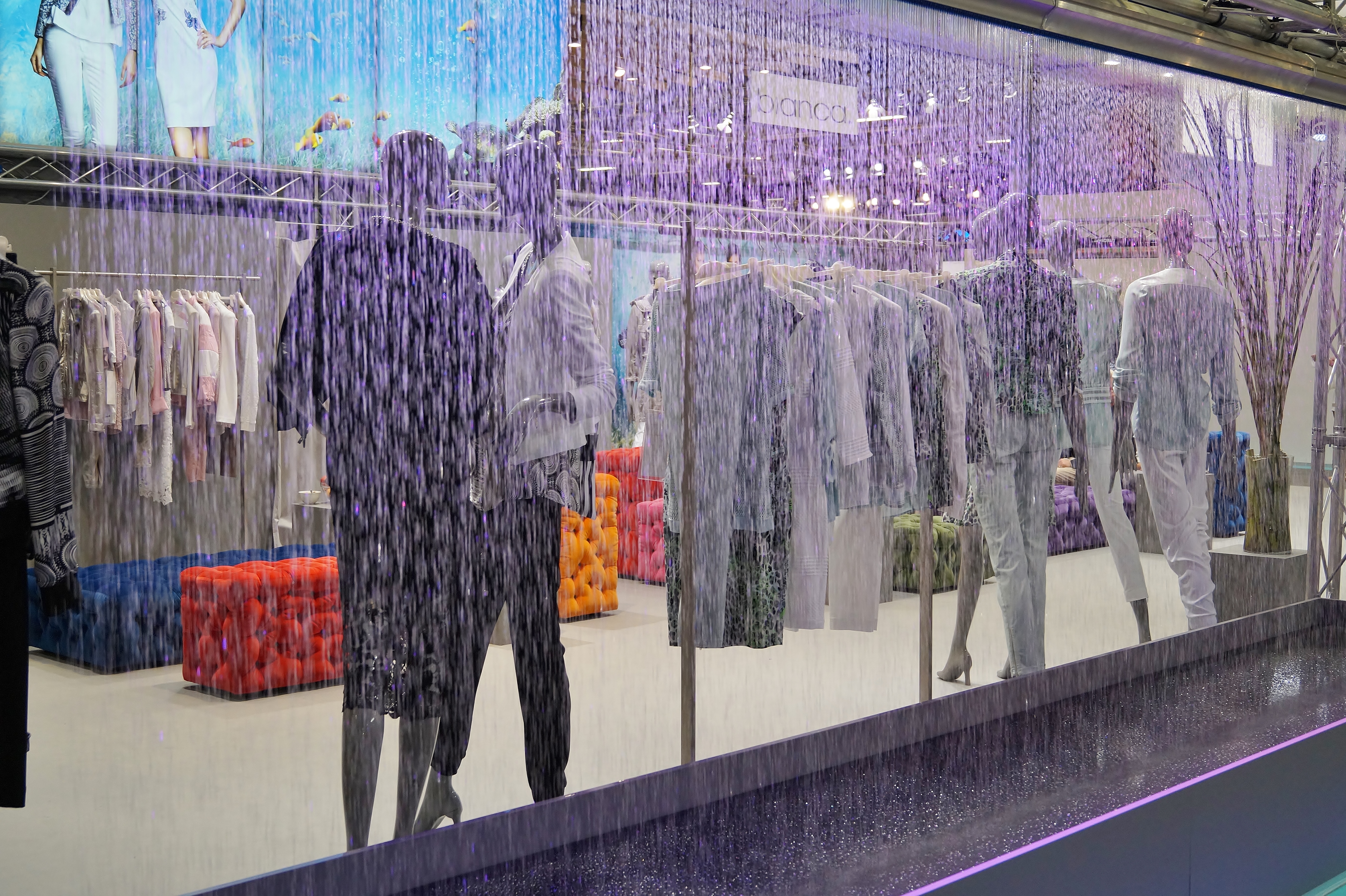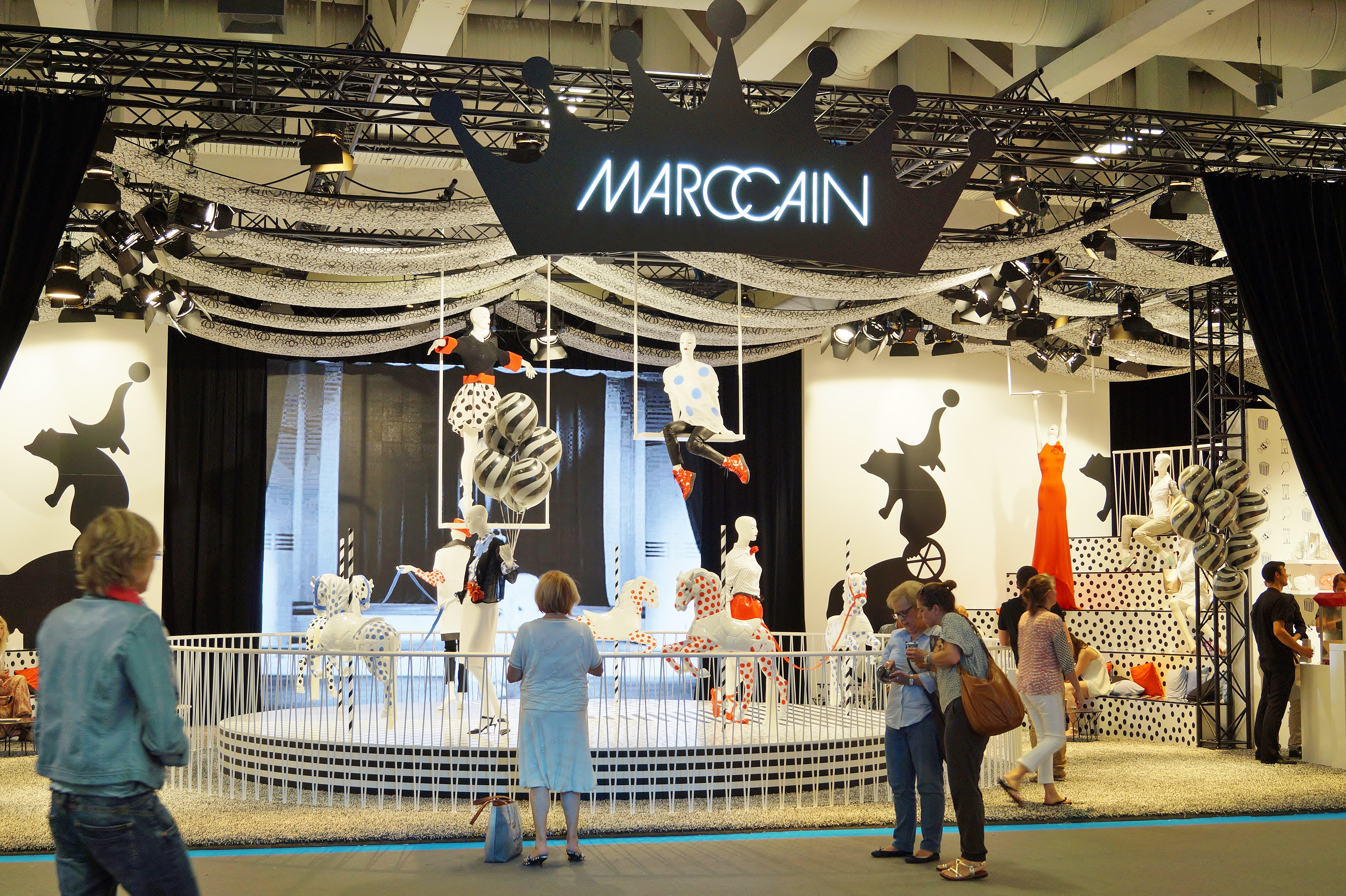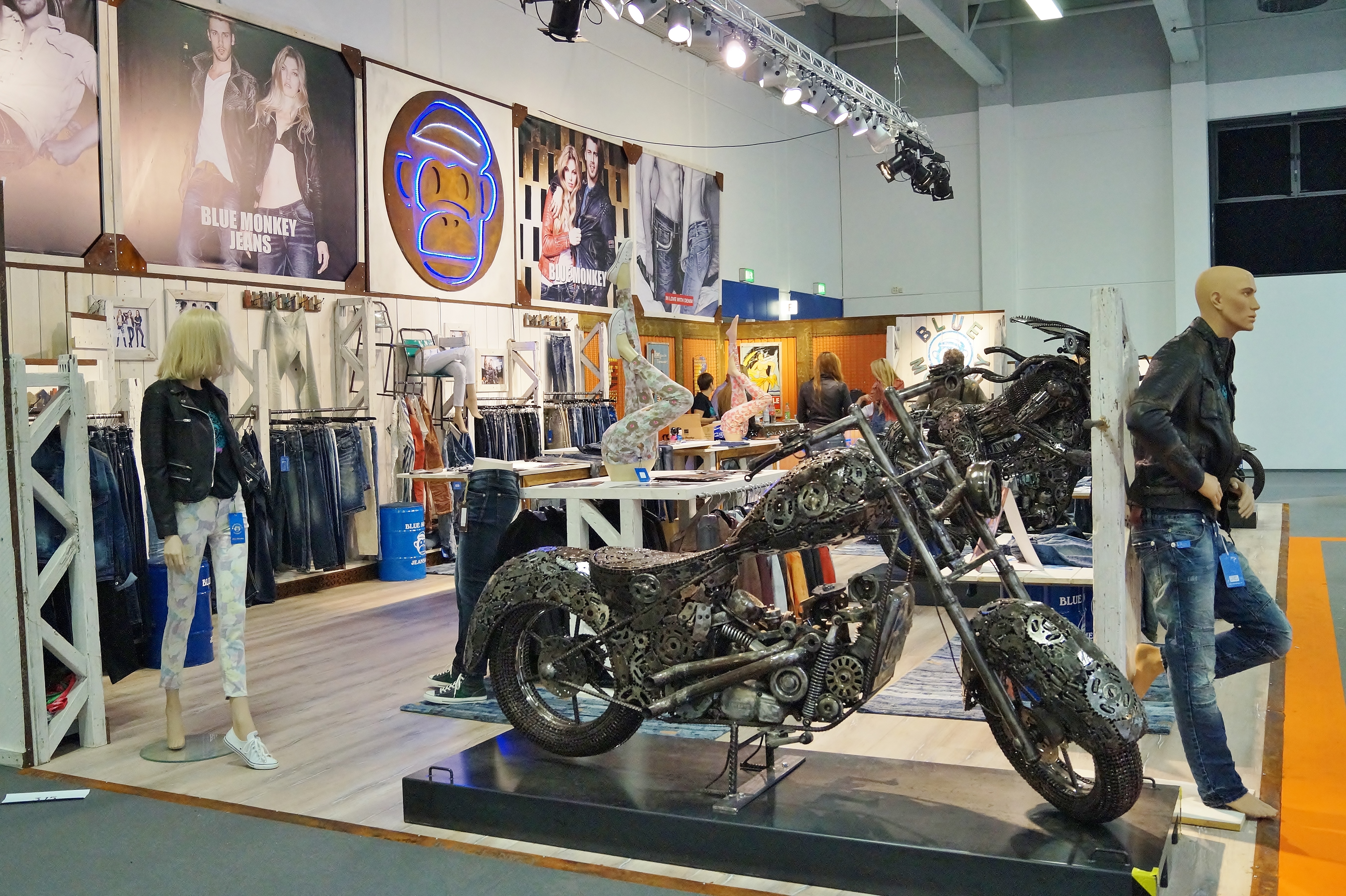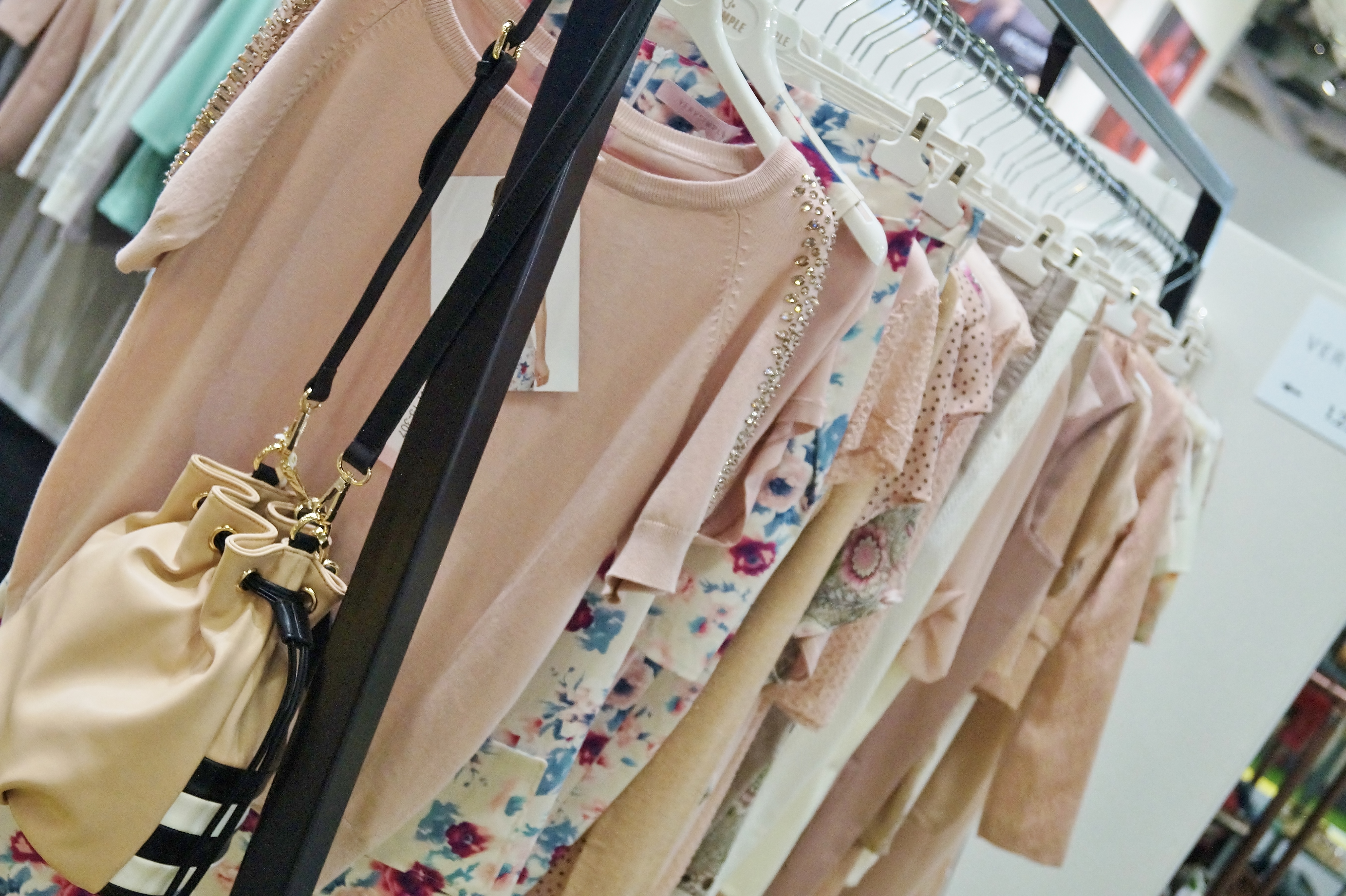 Auf dem Gelände der Panorama Berlin Messe wurden Entspannungsbereiche mit Musik, Snacks und Getränkeständen aufgebaut. Ohne Auto ist keine Messe vorstellbar :). Auf der großen Innenfläche der Messe wurde eine Vielfalt an Marken in verschiedensten Stilrichtungen von Klassisch über Street Fashion bis hin zu Rockigem vorgestellt. Desigual fiel mit Fläschchen von der Decke auf. Airfield zog Aufmerksamkeit mit einer farbwechselnden Wasserwand auf sich. Pierre Cardin glänzte mit schicken klassischen Anzügen in Umgebung von prächtigen Blumendekorationen und Kronleuchten in einer aristokratischen Art. Marc Cain hat wörtlich einen Zirkus mit einem schwarz-weiß Film auf der Leinwand im Hintergrund veranstaltet, von dem man den Blick nicht abwenden und vorbeigehen konnte. Einfach spektakulär! Thomas Rath präsentierte seine Hosenkollektion unter Vintage Deko. Bezaubernd! Blue Monkey beeindruckte mit seinen Horror-Bikes. Klasse Wahnsinn! Very Simple hat mich mit seinen Glitzersteinchenverzierungen an der Kleidung verzaubert.
Und meinen Panorama Berlin Messebesuch habe ich am Abend mit meiner Berliner Freundin bei einem Cocktail abgerundet. Feierabend!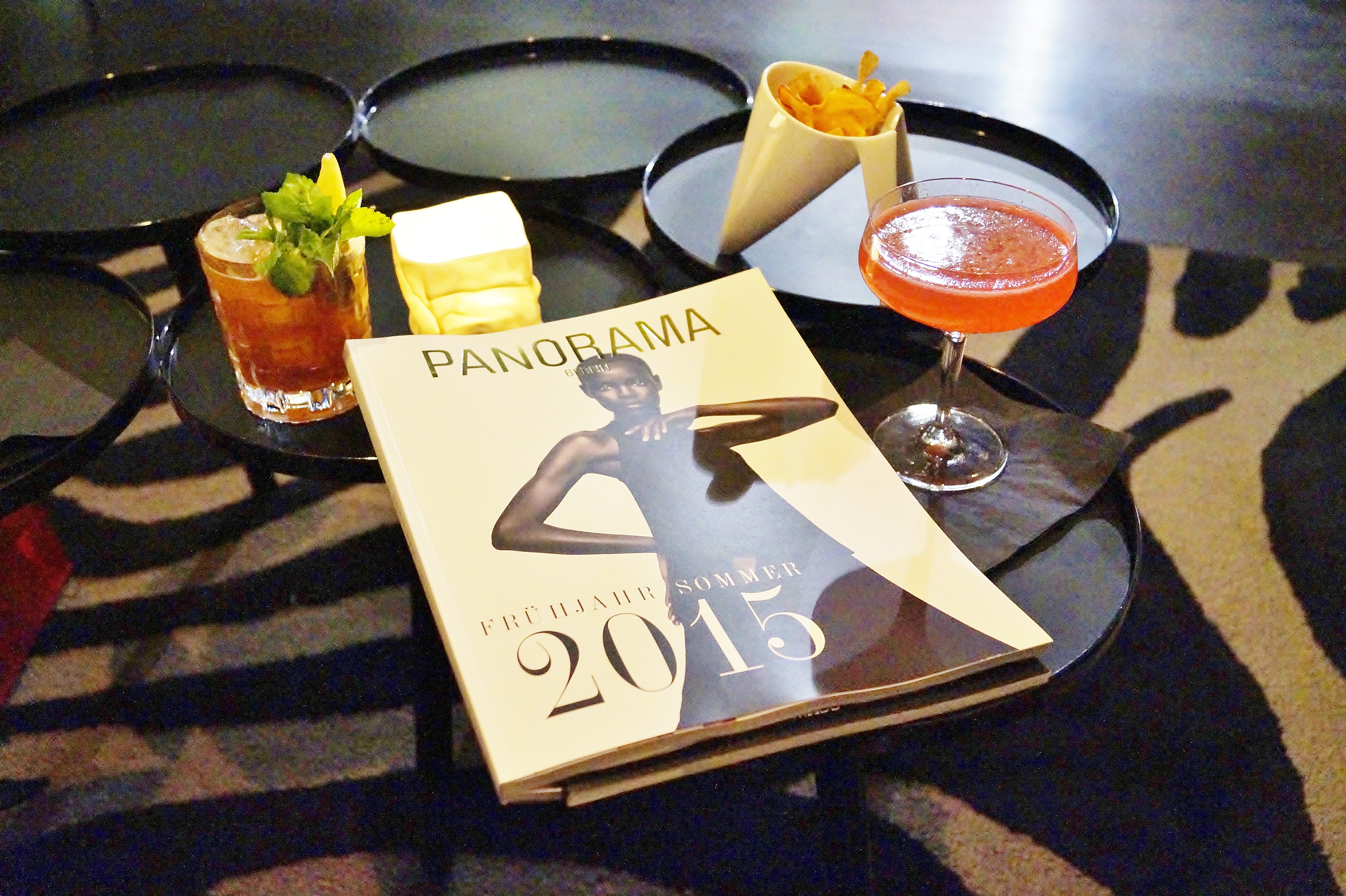 ENGLISH: Panorama Berlin in July 2014 – Impressions
Of course, I visited Panorama Berlin Fashion Fair in July during the Fashion Week Berlin and I got some impressions about trends of Spring / Summer 2015. Panorama is one of the most important Trade Fairs of the Fashion Week Berlin and presents an overview of womenswear, menswear, footwear, accessories and lifestyle products. Since last year, the fair has grown rapidly and expanded from the old location Expo Center Airport on 21,000 m2 of the new location Expo Center City.
On the large internal area of the Panorama Berlin trade show a variety of brands with different kinds of style was presented. Desigual attracted with bottles on the ceiling. Airfield drew attention with a color-changing water wall. Pierre Cardin shone with the chic classic suits in surrounding of magnificent floral decorations and chandeliers in an aristocratic manner. Marc Cain made literally a circus including a black and white film on the screen in the background, from which you could not turn your gaze away and pass by. Simply spectacular! Thomas Rath presented his pants collection under vintage decoration. Adorable! Blue Monkey impressed with its horror-bikes. Cool madness! Very Simple has enchanted me with its glitter rhinestones-ornaments on the clothes.
My Panorama Berlin trade fair visit, I topped off with a cocktail at meeting with my Berliner girlfriend in the evening. Closing time! :)