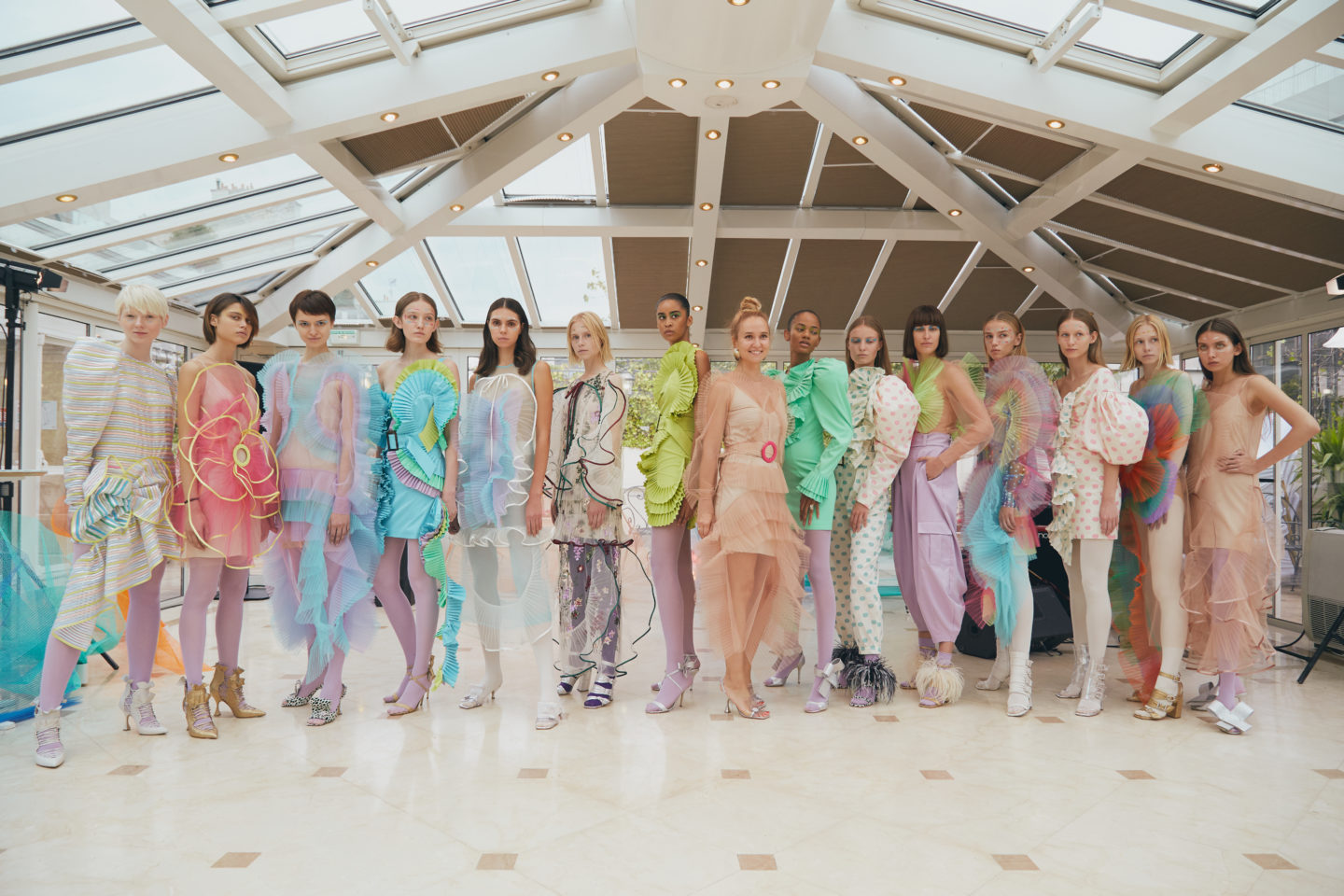 Die Designerin Nadya Dzyak (UA) erkundet in ihrer neuen Frühjahr-Sommer-2020-Kollektion die unglaublichen optischen Phänomene der Natur und Transformationen des Lichts.
Inspiriert von den Lichtinstallationen "Aurora Borealis" und "Prismatic" des New Yorker Architekturbüros Hou De Sousa, überlagert und mischt Nadya Farben und erzeugt den Effekt schwerelosen Verblassens und Mischens, das auf Dämmerung und Sonnenuntergang am Himmel hindeutet.
Als Hommage an ihre geliebte Modeperiode – die 80er Jahre – verwendet Nadya weiterhin legendäre Tricks des Jahrzehnts wie hoch taillierte Hosen und voluminöse Ärmel.
Sie stellt die ikonischen, schwerelosen Organzakleider ihres Labels vor, die mit asymmetrischen Details verziert sind. Traditionell legt die Marke besonderes Augenmerk auf handwerkliches Können und verwendet dabei die einzigartige Technik des manuellen Auslegens von plissierten Details und Rüschen. Die Kollektion umfasst auch Blusen mit plissierten Elementen, kombiniert mit Cargohosen, drapierten Kleidern mit Zierringen und Röcken mit geometrischen Schnitten in den Farben Fuchsia, Türkis und Limette.









Photo © Autrement PR
ENGLISH: NADYA DZYAK SPRING/SUMMER 2020 – PFW
For her new Spring-Summer 2020 collection, designer Nadya Dzyak (UA) explores the incredible optical phenomenons of nature and transformations of light.
Inspired by "Aurora Borealis" and "Prismatic" light installations made by the New York-based architecture studio Hou De Sousa, Nadya layers and mixes colors, creating the effect of weightless fading and blending that hints at twilight and sunset hues in the sky.
Paying tribute to her beloved fashion period – the 80s – Nadya continues to use iconic tricks of the decade such as high-waisted bottoms and voluminous sleeve.
She introduces her label's iconic weightless organza dresses, decorated with asymmetric details. Traditionally, the brand pays special attention to artisanal craftsmanship, using the unique technique of manually laying out pleated details and ruffles. The collection also features blouses with pleated elements paired with cargo pants, draped dresses with decorative rings and skirts with geometric cuts in shades of fuchsia, turquoise and fresh lime.
Show Credits
Styling and casting by Olga Yanul
Hair by Beppe D'Elia for Beautick using L'Oréal Professionnel Make up by Thomas Lorenz /callmyagent using MAC Cosmetics
Shoes by Lena Erziak
PR by Autrement
Produced by LBK Production and Masha Pailler