Kennt ihr das Problem, die passenden Boyfriend Jeans zu finden? Seit langer Zeit suchte ich die richtigen Jeans in diesem Stil. Es hat sich als schwerer erwiesen, als ich dachte. Sie sollte preislich akzeptabel sein, gut sitzen und immer noch in einem eleganten Bereich bleiben. Zwar ist dieser lässige Trend schon lange im kommen, ich habe aber die meine erst vor kurzem gefunden. Die Boyfriend Jeans gibt es in vielen verschiedenen Schnitt-Variationen und Waschungen. Die Beliebten werden gekrempelt oder überlang getragen. Ich präferiere die Gekrempelten, da sie sich auch ideal mit High Heels kombinieren lassen. Die mit überlangem Hosenbein passen super zu sportlichen Schuhen. Bezüglich Waschung wähle ich meistens die dunkleren Jeans, da sie optisch der Figur schmeicheln und sie schlanker tricksen. Meine Levi's Jeans habe ich diesmal zu meinem Best Connection Lieblings-Kaschmircardigan kombiniert und den ganzen eher sportlicheren Look mit Verzierungen auf meiner Marni Clutchtasche und Best Connection Espadrilles veredelt. Na ja, ich bin eben voll in meinem Element und sogar in Casual- sowie Sportbekleidung bleibe ich meiner Eleganz treu und die Kristalle sind sowieso meine Schwäche.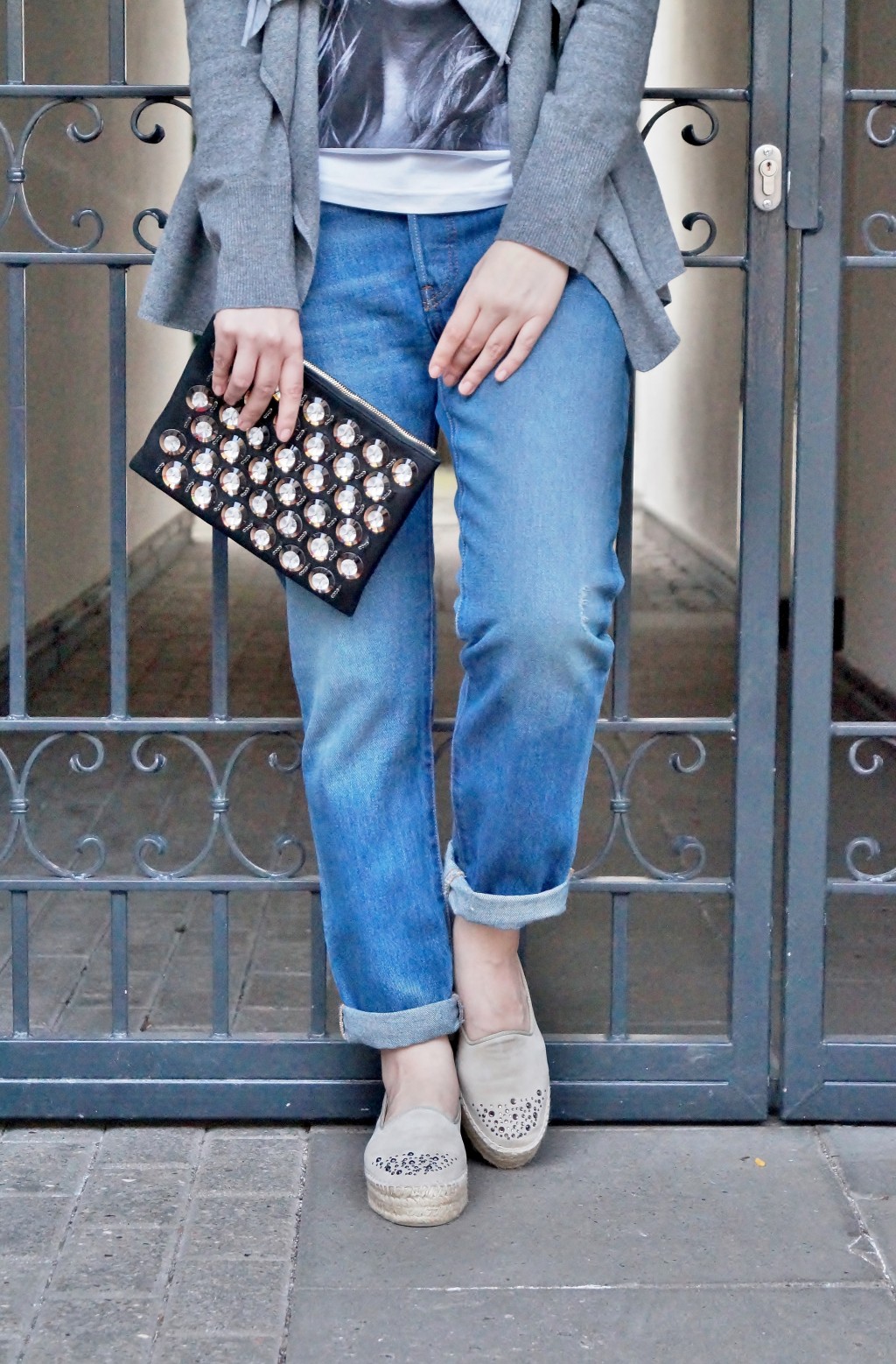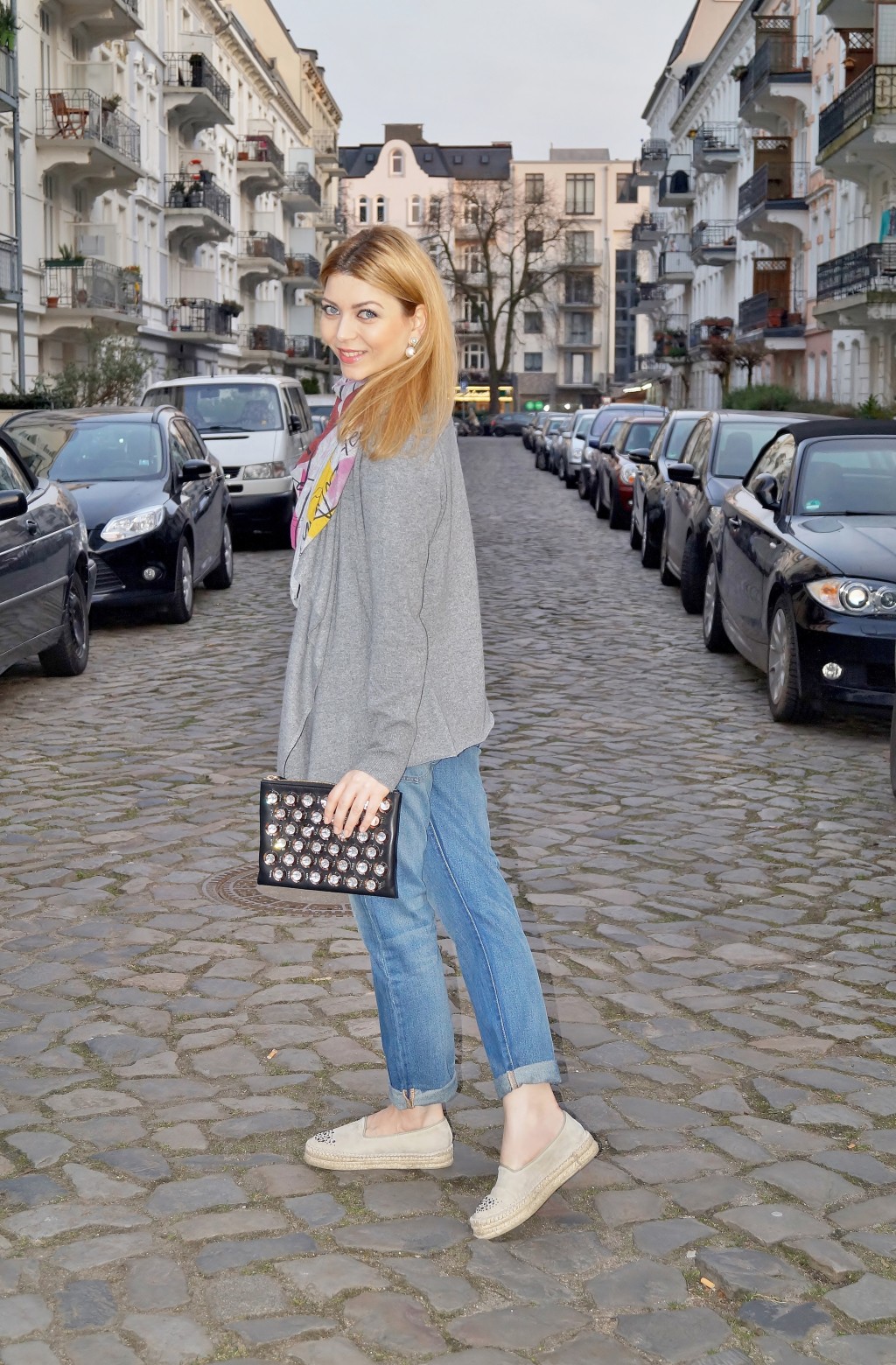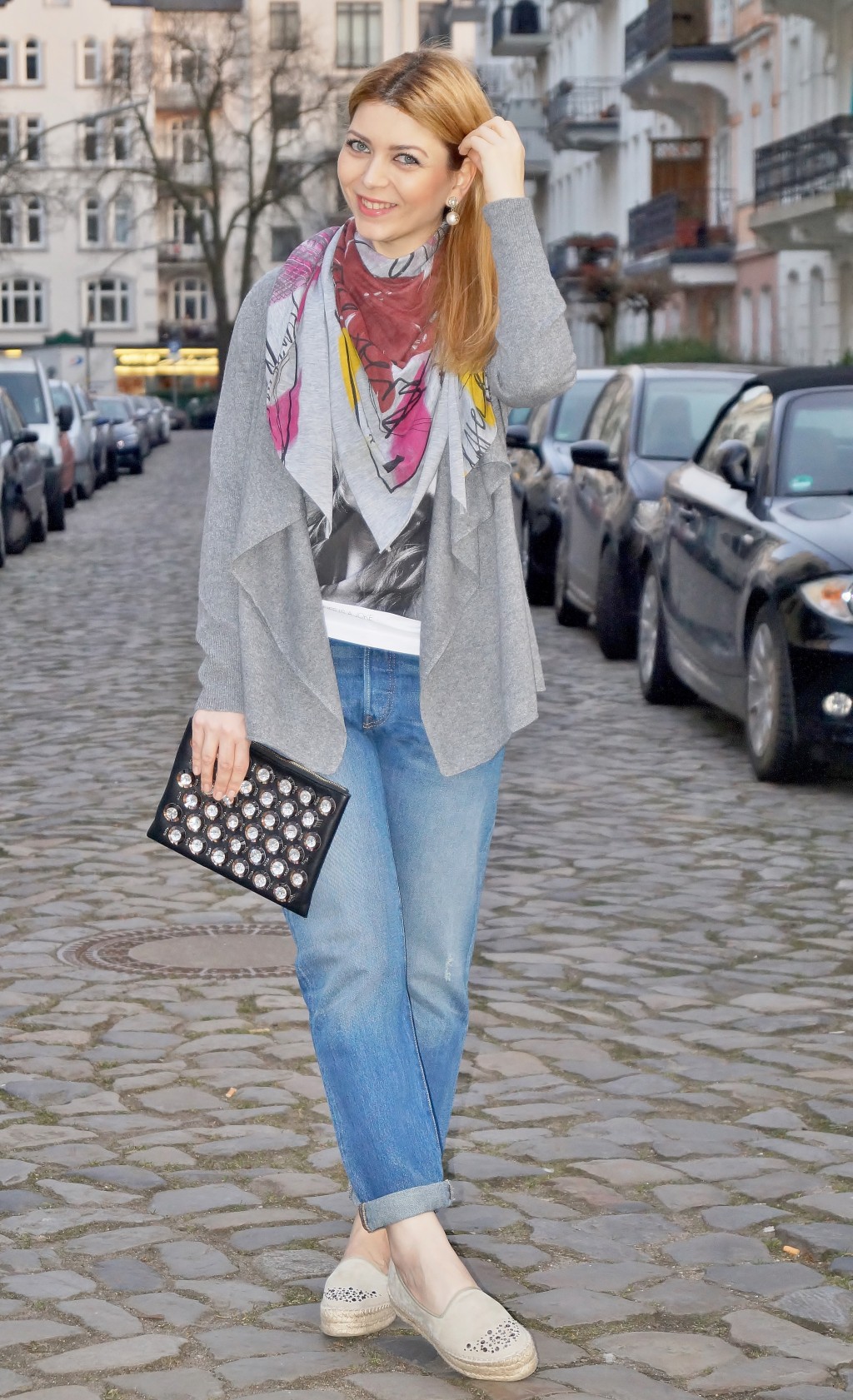 Levi's Boyfriend-Jeans, Marni Tasche, Eleven Paris Shirt, Best Connection Cardigan, Best Connection Espadrilles, Schumacher Jerseytuch, Tory Burch Ohrringe
ENGLISH: Boyfriend Jeans wanted!
Do you know the problem to find the matching boyfriend jeans? Since a long time I looked for the right jeans in this style. It has proven to be harder than I thought. It should be priced acceptable, sit well and still stay elegant. Although this casual trend is in for a long time, I have found the right one for me just recently. There are boyfriend jeans in many different cut variations and ablutions. The popular boyfriend jeans are worn as rolled-up or long leg. I prefer the rolled-up ones, because they can also be perfectly combined with high heels. The long leg jeans go better with sporting shoes. Regarding ablutions I choose mostly the darker jeans because they visually flatter the figure and trick it slimmer. I paired my Levi's jeans with my favorite Best Connection cashmere cardigan and refined my casual look with embellishments on my Marni clutch and Best Connection espadrilles. Well, I'm just full in my element and even in casual clothes and sportswear I remain true to my elegance and the crystals are my weakness anyway.