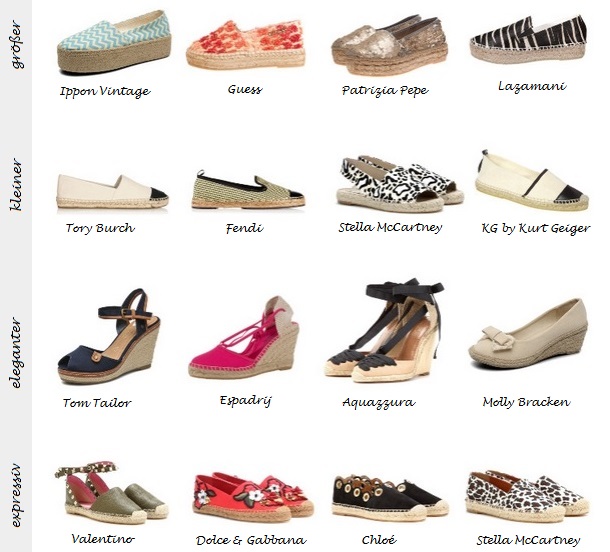 Na, habt ihr euer Wochenende genossen? Thorsten und ich hatten jedenfalls letztes Wochenende unseres erstes spontanes Picknick! Wir hatten zwischen vielen regnerischen Tagen mit einem Sonnigen Glück und nutzten ihn in vollen Zügen aus. Davon inspiriert bin ich trotz des insgesamt sehr wechselhaften Wetters bereits in Sommerlaune und habe an die beliebten Sommerschuhen – Espadrilles gedacht. Diese trage ich selbst sehr gerne, wie im letzten Post "Boyfriend Jeans gesucht!" zu sehen ist. Somit habe ich tolle Damen-Espadrilles der Saison für verschiedene Frauentypen ausgesucht. Von den Espadrilles, die euch einige Zentimeter größer wirken lassen, oder euch optisch kleinere Füße zaubern bis zu einfach eleganten und ausdrucksvollen Modellen.
Größer: Ippon Vintage Espadrilles, Guess Espadrilles, Patrizia Pepe Espadrilles, Lazamani Espadrilles
Die Espadrilles mit höherer Plateausohle zaubern euch ein paar Zentimeter an Körpergröße. Diese Art Espadrilles trage ich selbst sehr gerne.
Kleiner: Tory Burch Espadrilles, Fendi Espadrilles, Stella McCartney Slingback, KG by Kurt Geiger Espadrilles
Die beste Möglichkeit, Füße optisch kleiner zu tricksen, sind die Espadrilles mit dunklen oder ausgeschnittenen Spitzen.
Eleganter: Tom Tailor Wedge, Espadrij Wedge, Aquazzura Wedge, Molly Bracken Wedge
Für einen weiblichen Auftritt sind die Wedge Espadrilles empfehlenswert. Sie sind hoch wie High Heels und tragen damit automatisch zu einem schönen Gang und Körperhaltung bei, dennoch bleiben sie bequem dank des Plateaus.
Expressiv: Valentino Espadrilles, Dolce & Gabbana Espadrilles, Chloé Espadrilles, Stella McCartney Espadrilles
Fashionistisch fand ich insgesamt alle Espadrilles, die ich ausgesucht habe. Die letzten finde ich individuell und expressiv, je nach Laune und wie man sich gerade ausdrücken will, als Blumenmädchen, rockig oder wild.
ENGLISH: Espadrilles for each Type
Well, have you enjoyed your weekend? In any case, Thorsten and I had our first spontaneous picnic last weekend! Between many rainy days we had a sunny one and enjoyed it to the fullest. Inspired by the good weather on that day I've got a summer mood and was reminded on popular summer shoes – espadrilles. I wear this kind of shoes with great pleasure as you can see in my last post "Boyfriend Jeans Wanted!". Thus, I have chosen great espadrilles for the upcoming season for different types of women. Espadrilles that let you appear a few centimeters larger, or make your feet visually smaller, up to just elegant and expressive models.