Black & White ist der zeitlose Klassiker, der nie aus der Modewelt verschwindet. Diese Saison ist er aktueller als je zuvor. Ich trage eine Mango weiße Jeans zur einem Max Mara Blazer im Hahnentrittmuster, ein schwarz-weiß geprintetes Shirt und überwiegend in schwarz-weiß gemusterte Schuhe. Hahnentritt ist mein Lieblingsmuster in dieser Farbkombination. Ohne eine Handtasche, in der wir Frauen das Wichtigste verstauen können, ist kein Outfit vollständig. Also habe ich zu diesem Look eine schwarze Strenesse Handtasche gewählt.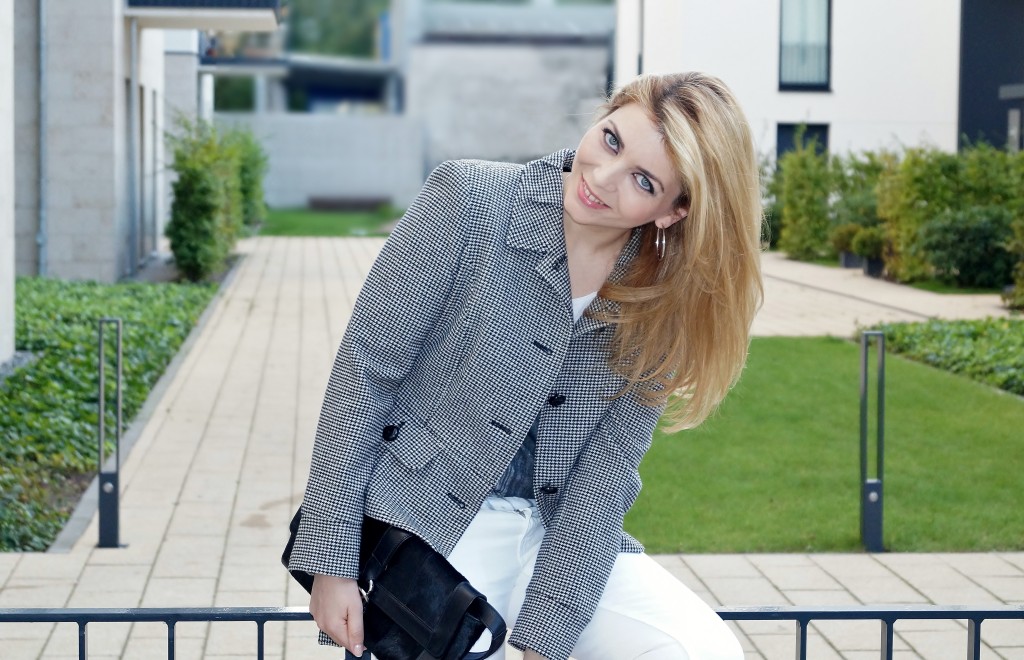 ENGLISH: Trend of the Season: Black & White
Black & White is a timeless classic that never goes out of fashion. This season the trend is more current than ever. I wear white Mango jeans to a Max Mara blazer in houndstooth pattern, a black and white printed shirt and predominantly black and white patterned shoes. Houndstooth is actually my favorite pattern in this color combination. Without a handbag, in which we women can store the most important things – no outfit is complete. So I chose a black Strenesse handbag to this look .