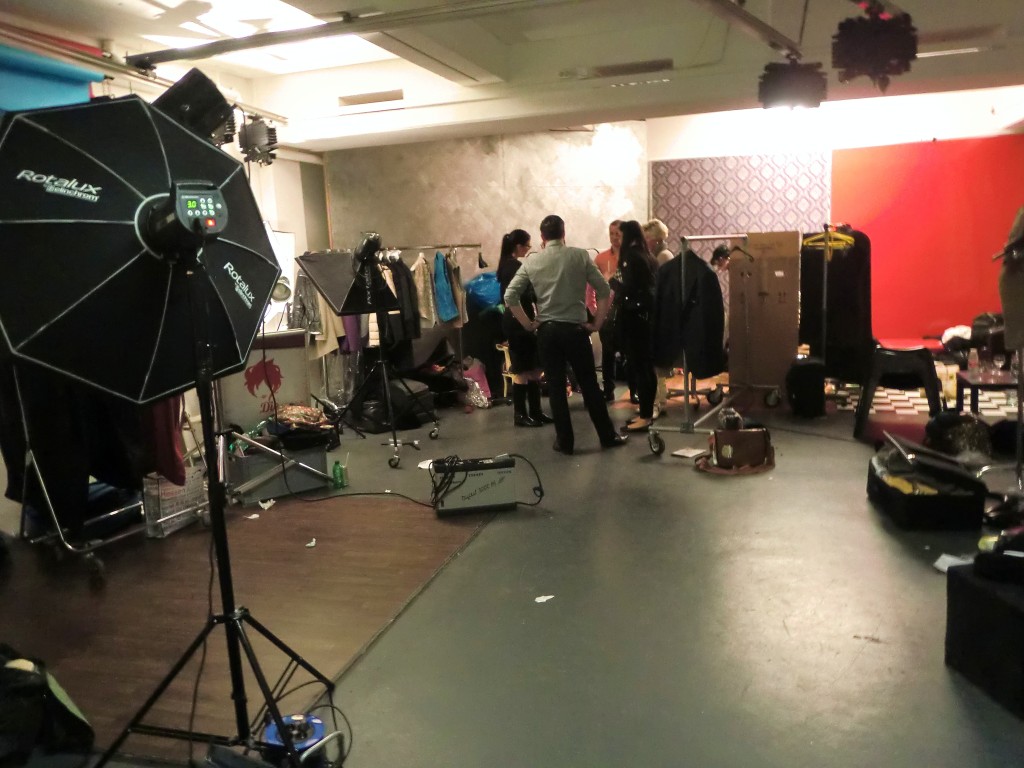 The VDMD Secret Fashion Show Munich (report here) was topped off with the After Show Party, during which the guests had the opportunity to meet and speak to designers personally backstage. It was so exciting to open slowly the massive steel door to the backstage area. You do not know what is behind it, but you have certain expectations. I was so curious to find out how it looked there. So I came in.
And there it was – the exciting chaos! Cosmetics and different things were scattered through all the backstage halls. You could feel how great the thrill of designers and excitement of models had been during the fashion show, and how relieved they were now.
In this corner the models got the gorgeous makeup by make-up artist and designer Suni Petricevic. As you can see there was a lot of work and the participants were under time pressure. So I looked around and found some of the designers that I could talk to. They showed some of the beautiful items from their collections and told interesting stories about their work processes and inspirations.
VDMD Secret Fashion Show Munich – Backstage with "Die rote Zora"
Here is a collection of designers Katrin and Silke of the brand Die rote Zora from Stuttgart. They attach great importance to the environment-friendly production and fair working conditions. Their dresses are made in Germany of ecologically pure fabrics and their collections are running under the motto "Fair Fashion". On the photo you can see  Daniela Vukovic trying on the dress of Die rote Zora.
VDMD Secret Fashion Show Munich – Backstage with "Aenkyyy"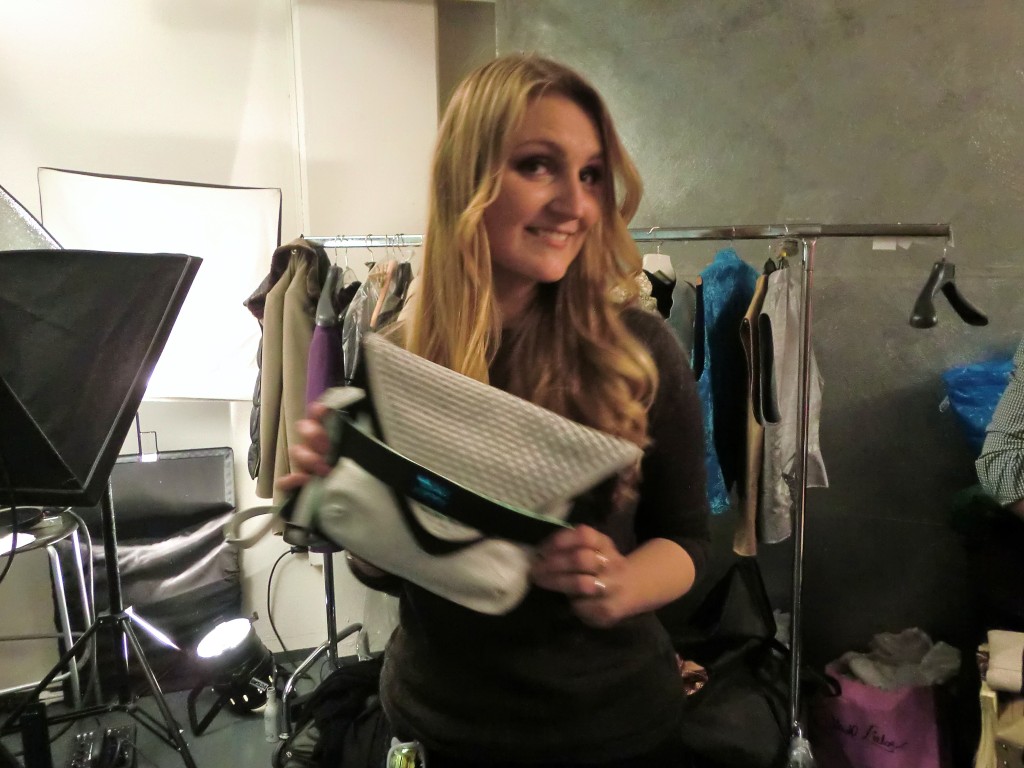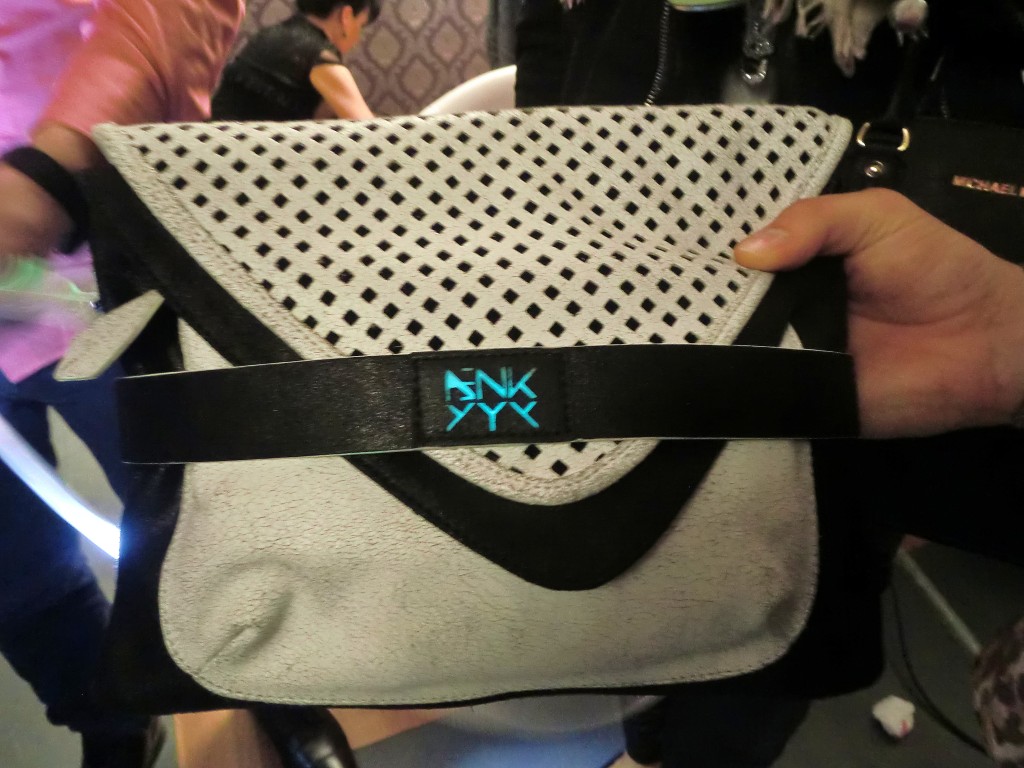 The bags of designer Anke Fabritius of the brand Aenkyyy that partially lighten in the dark and are made of fine leather from India (fair trade) – very innovative. Anke told an interesting story, how the name of her brand originated. In India her name Anke was changed so often by the inhabitants till Aenkyyy was created.
VDMD Secret Fashion Show Munich – Backstage with "Suni Design"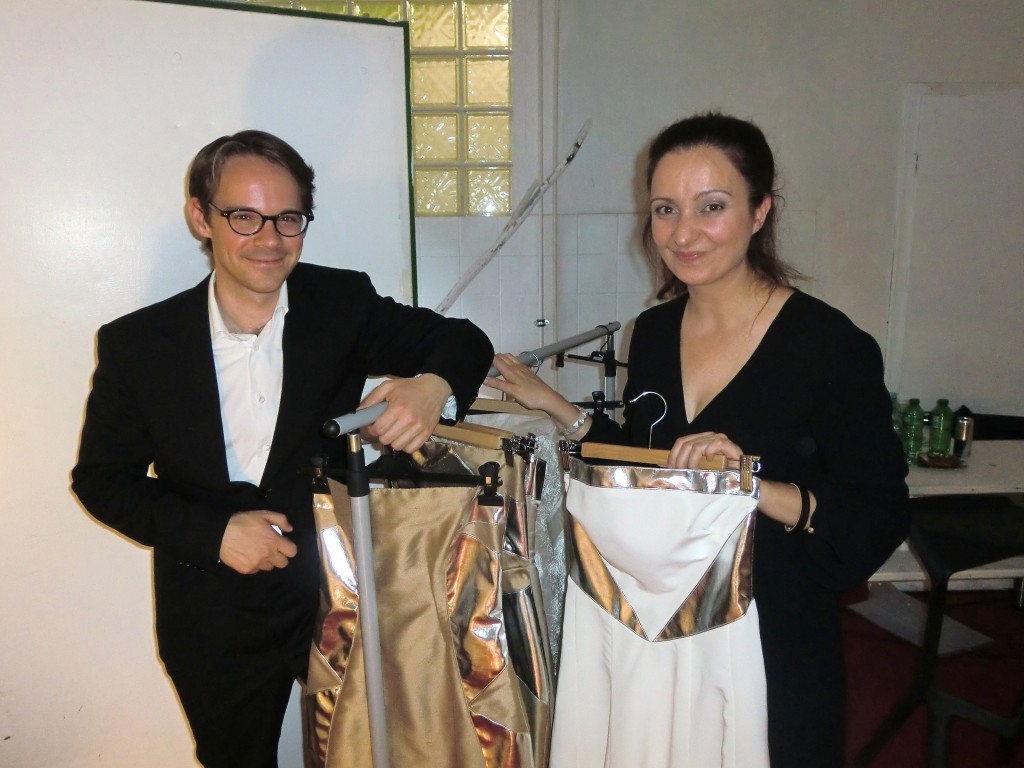 Designer Suni Petricevic (also make up artist) of the brand Suni Design presented her collection of silk with integrated parts of silver-coated cotton that look like leather. Suni was accompanied by her muse Gabriel Emanuel Arnold, a composer of classical music. Gabriel inspires Suni with his music in the process of her creative work on the collections.
VDMD Secret Fashion Show Munich – Backstage with "Shoe Art"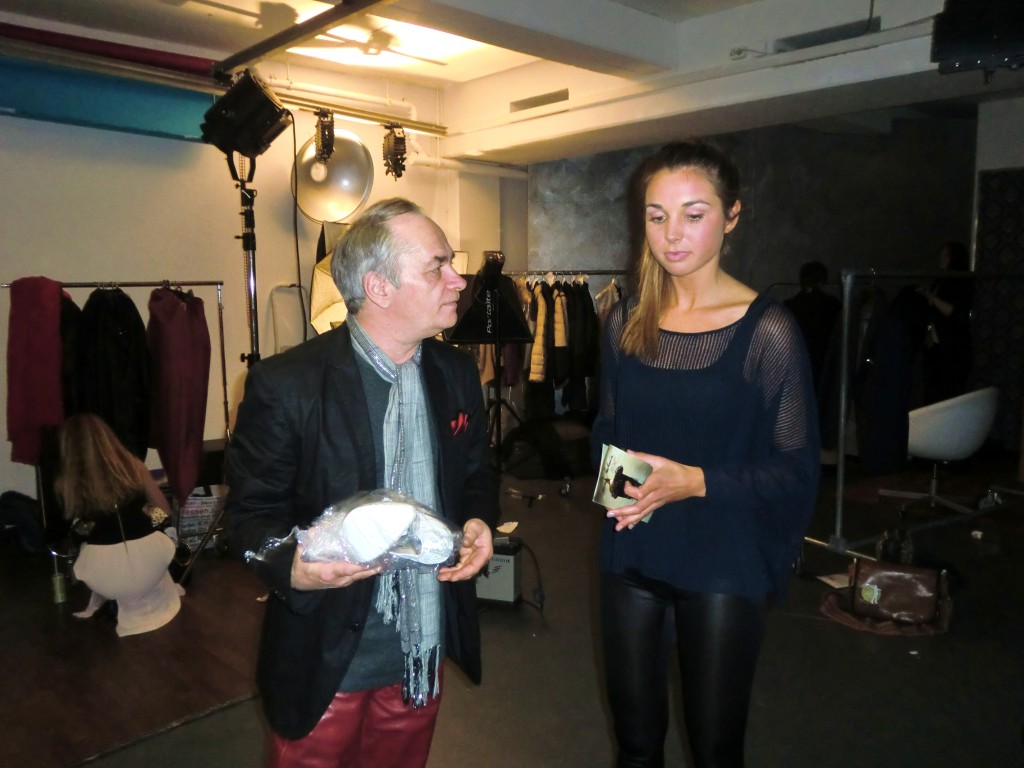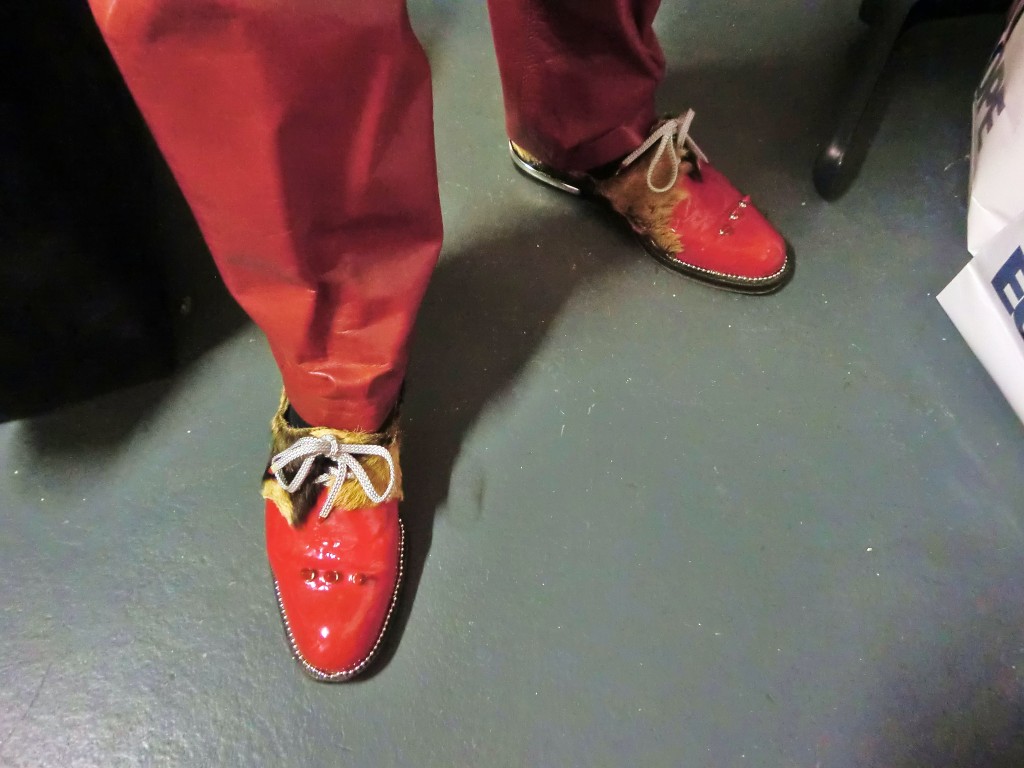 Shoe-art-designer Klaus Niehaus of the brand Shoe Art wears his extravagant shoes himself and he can pretty good imagine Conchita Wurst in his stylish artsy-craftsy shoes. The models wore his art shoes to the collection of Dirndl Liebe by Sarah Tack.
VDMD Secret Fashion Show Munich – Backstage with "Leonardo"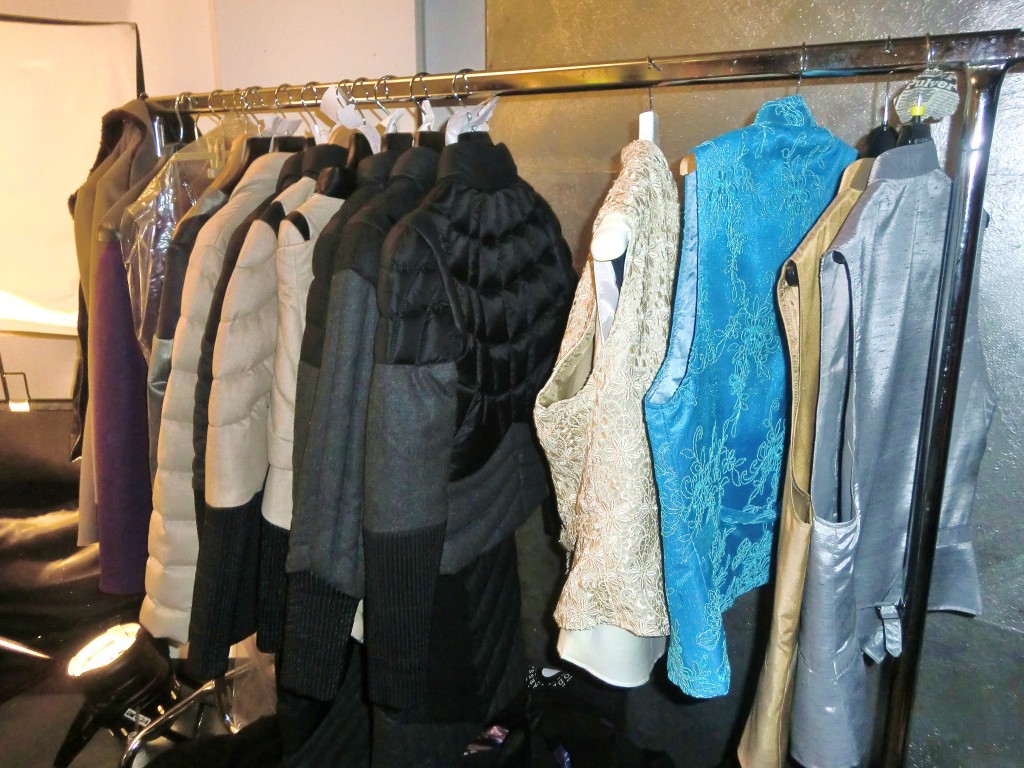 Here I found the jackets of the brand Leonardo, but where is the designer? ))
VDMD Secret Fashion Show Munich – Backstage with "Klaus Niehaus"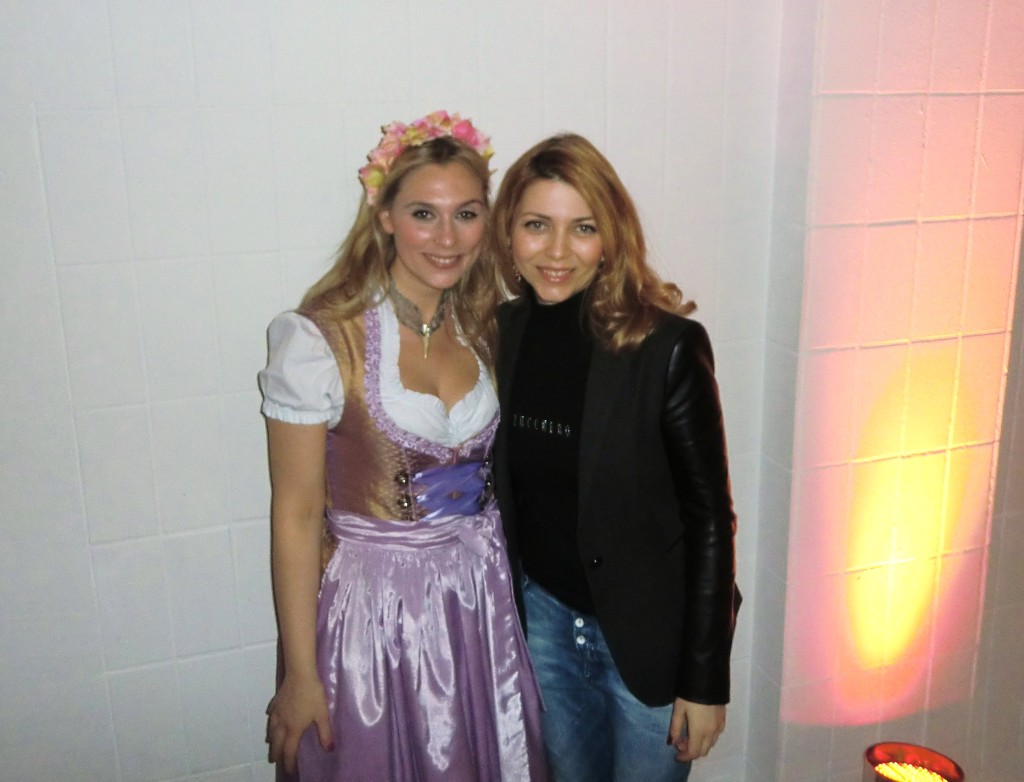 Designer Sarah Tack stands behind her label Dirndl Liebe. Each of her Dirndl (a Bavarian traditional costume) is unique because it exists only once in the world and Sarah makes every detail with great love. In Bavaria Dirndl dresses are very popular and are even worn as a day wear, but in a little simpler variant.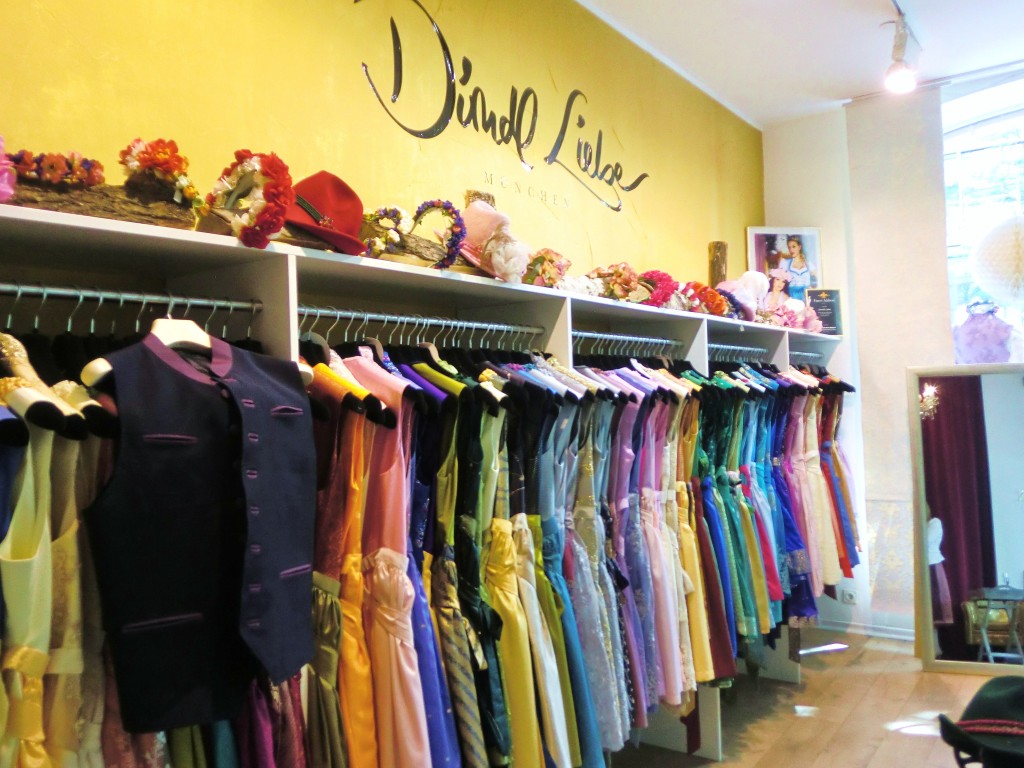 The next day I visited Sarah in her boutique Dirndl Liebe, but about this exciting experience I tell you somewhen later ;).
Unfortunately I couldn't meet all presented designers, but maybe next time.