Bei einem sonnigen und warmen Wetter ist es empfehlenswert, die Zeit in Winterhude am Leinpfadkanal zu verbringen. Die Wiesen am Kanal bieten die Gelegenheit, sich zu einem Picknick auszubreiten und den Tag beim Buchlesen oder schönen Gesprächen mit den Freunden und Familienmitgliedern zu verbringen. Und wer das Picknick nicht eingeplant hat, kann sich spontan für einen ruhigen Spaziergang entscheiden und falls ihr den Hunger bekommt, könnt ihr den im Café Leinpfad stillen. So haben Thorsten und ich uns einen idyllischen Spaziergang bei einem herrlichen Wetter gegönnt. Bei solchen angenehmen Temperaturen trage ich gerne meine weiße Chino Hose. Man sagt, weiß macht einen korpulenter. Ich würde sagen, das hängt davon ab, welche Art Hose es ist und wie ihr sie trägt. Chinos gehören meiner Meinung nach  zu den Hosen, die man auch ruhig in Weiß tragen kann. Vor allem im Sommer will man ungerne dunkle Hose anziehen, also finde ich weiße Chinos eine gute Alternative. Bei Slim Fit Jeans würde ich dann mehr aufpassen. Stylische weiße Chinos gibt es auch hier. Also fangt das schöne Wetter und genießt es in vollen Zügen!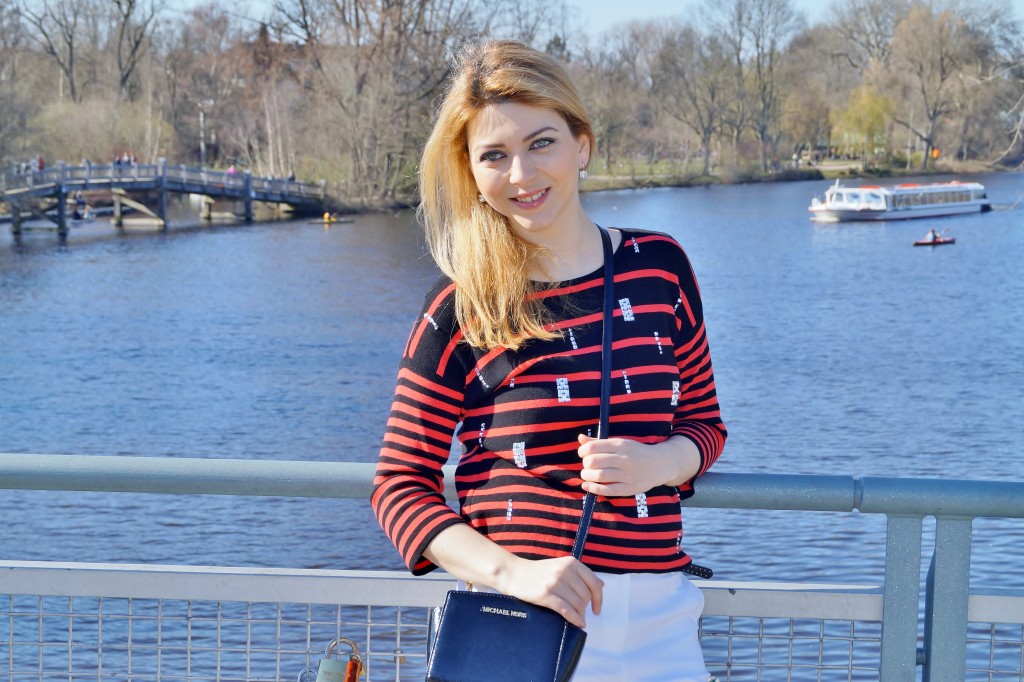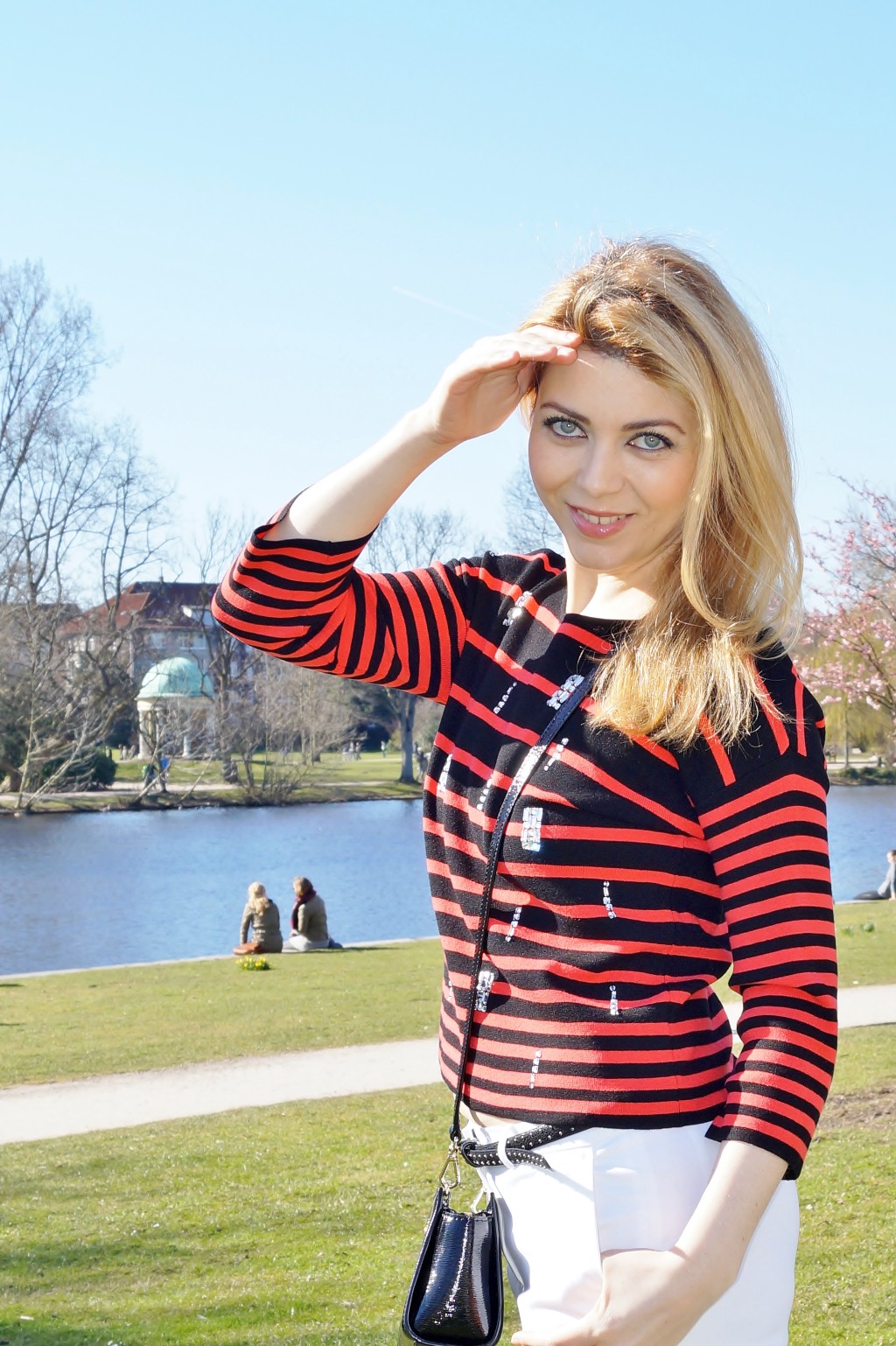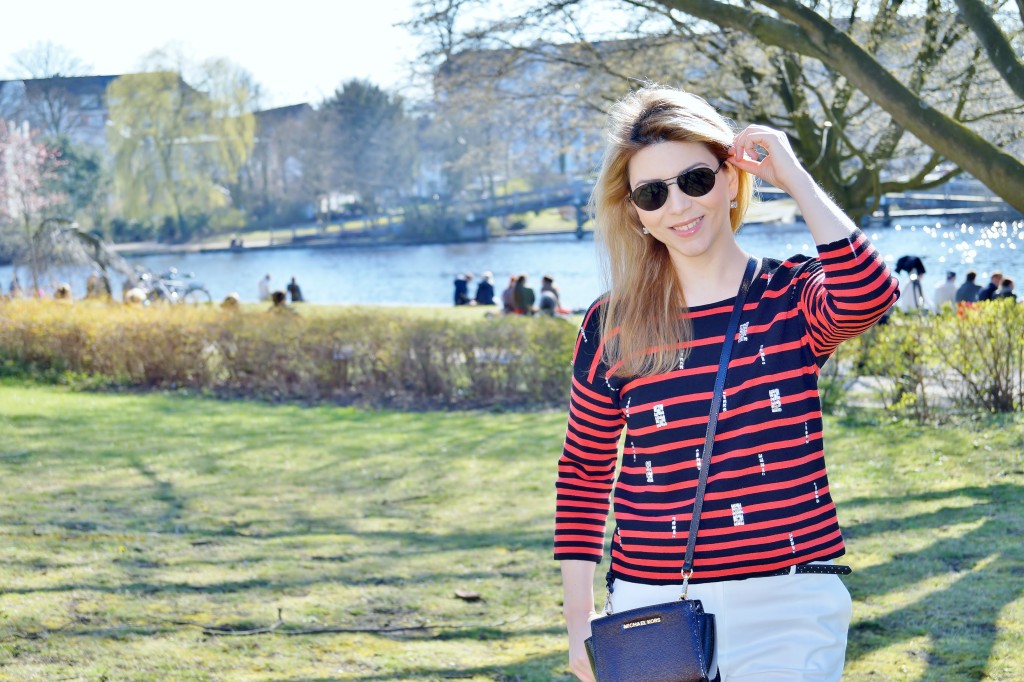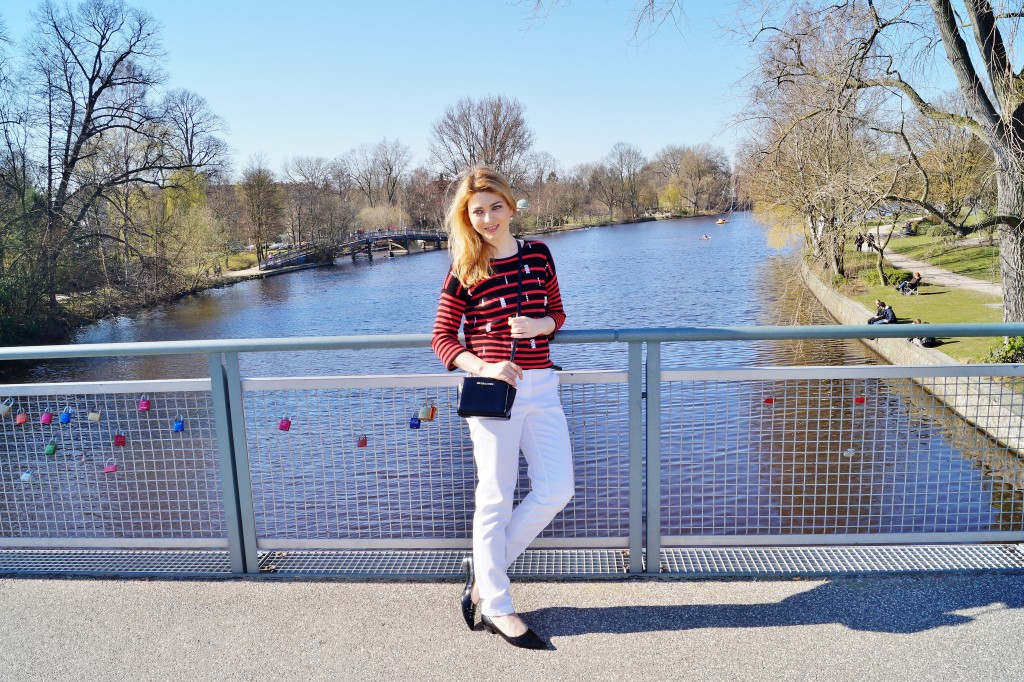 Esprit Chino, Michael Kors Schultertasche, Marc O'Polo Schuhe, Next Viskose-Pullover
ENGLISH: In Winterhude at Leinpfadkanal
In a sunny and warm weather, it is recommendable to spend time in Winterhude at "Leinpfadkanal". The meadows along the canal provide an opportunity to make a picnic and spend the day with the book reading or nice conversations with friends and family members. And who has not planned a picnic, can spontaneously opt for a quiet walk. And if you get hungry, you can satisfy it in the Café Leinpfad. Thus, Thorsten and I made an idyllic stroll in the beautiful surrounding of this district. At such pleasant temperatures I like to wear my white chinos. They say, white makes one corpulent. I would say it depends on what kind of pants it is and how you wear it. In my opinion Chinos belong to the pants that you can still wear in white. Especially in the summer, you will unwillingly wear dark pants, so I find white chinos are a good alternative. I would be more careful with Slim Fit Jeans. Stylish white chinos you can also find here. So catch the good weather and enjoy it to the fullest!