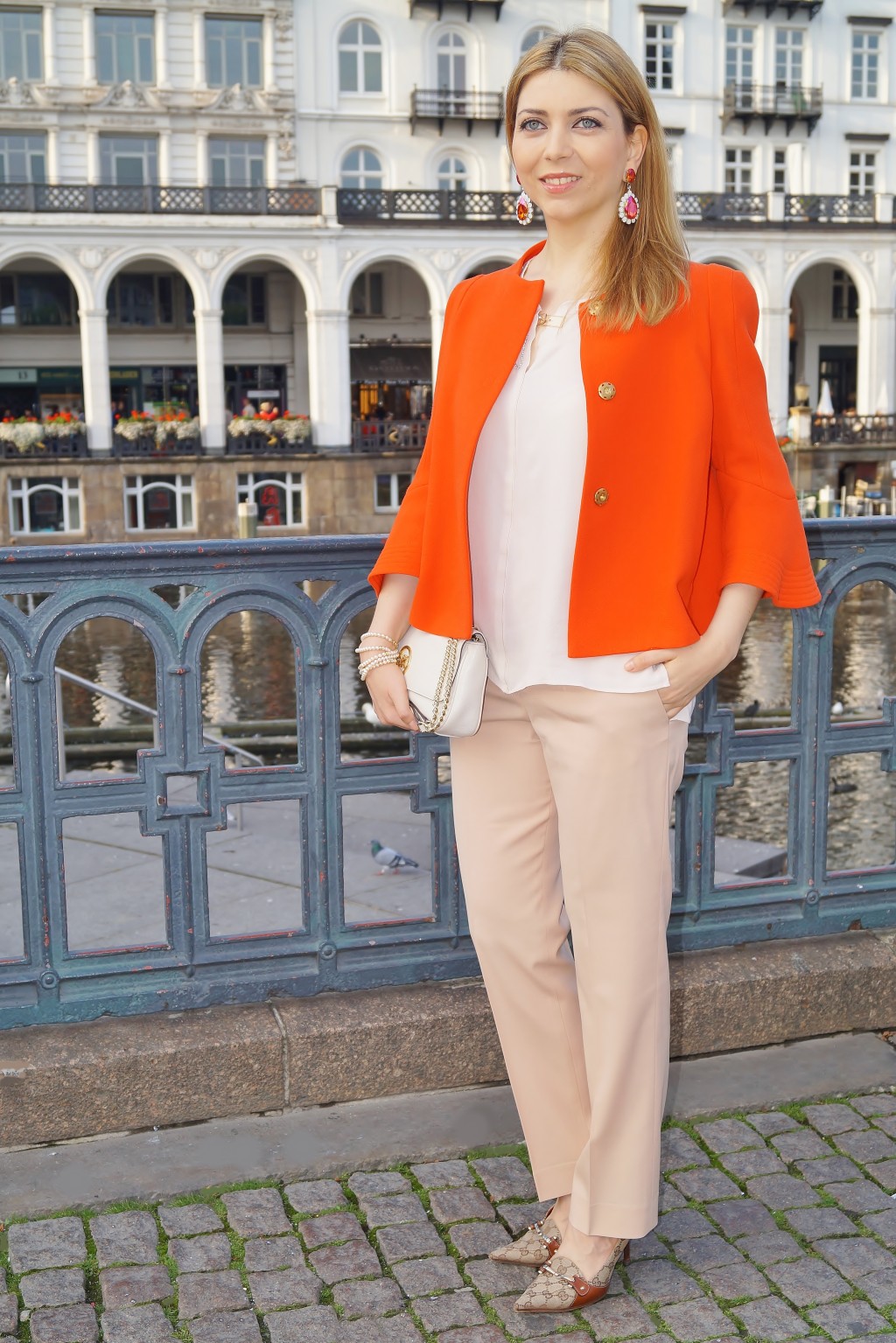 Einer meiner Lieblingsplätze in Hamburg ist die Altstadt und einer meiner Lieblingsorte für einen Kuchen und Kaffee, sowie ein Glas Champagne ist die Wohnhalle im Hotel Vier Jahreszeiten. Für solche schönen Plätze suche ich mir als Garderobe entsprechend etwas Schönes aus. Da auf uns alle bald so viele Feste zukommen und ich persönlich schon mit großer Freude und Aufregung auf sie warte (wie bestimmt auch ihr), habe ich mich an dem Sonntag vorweihnachtlich festlich angezogen.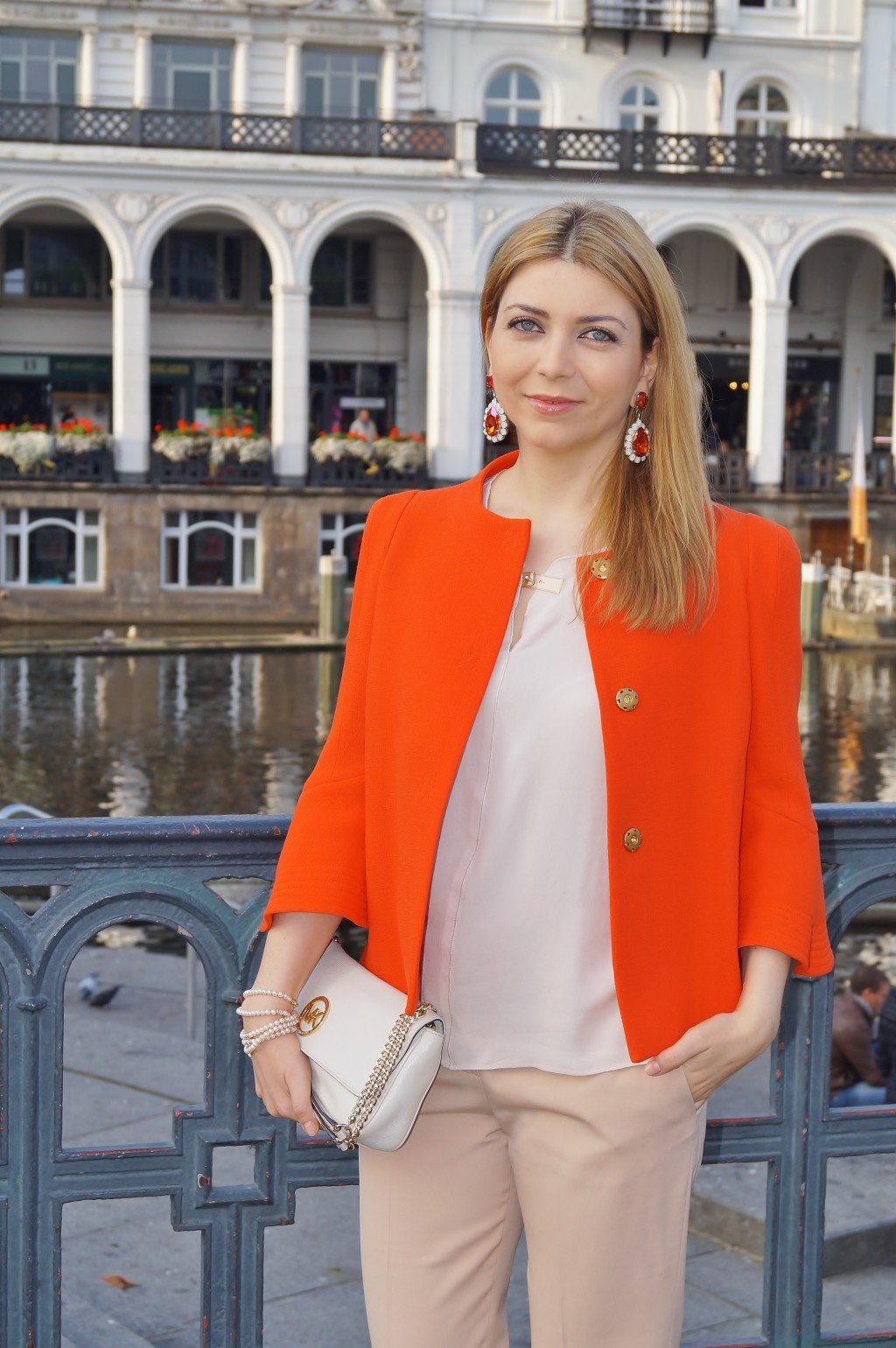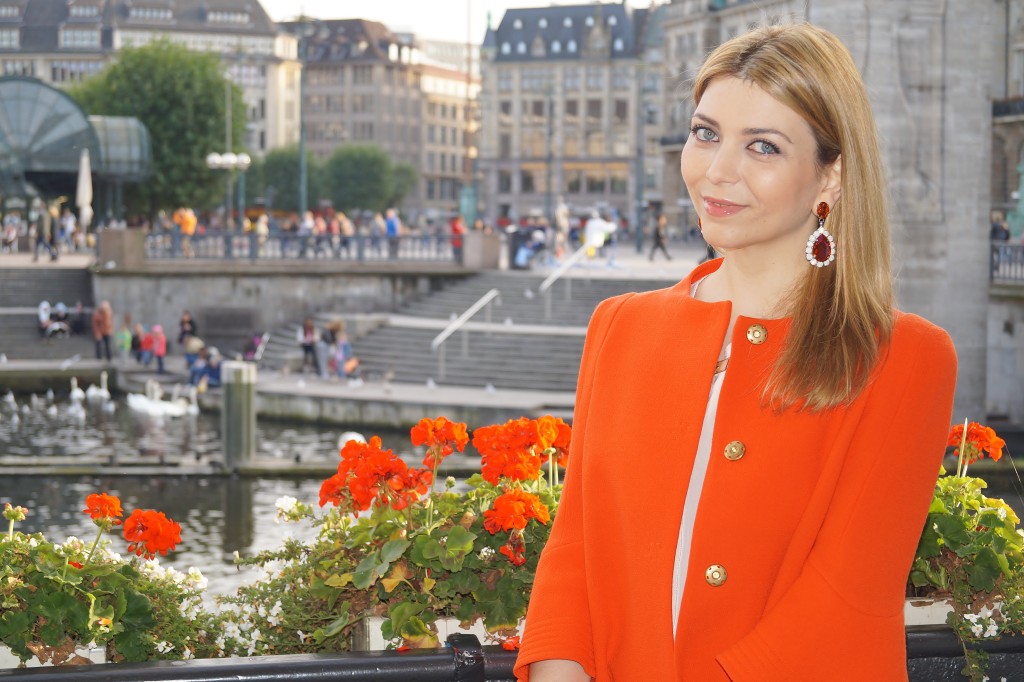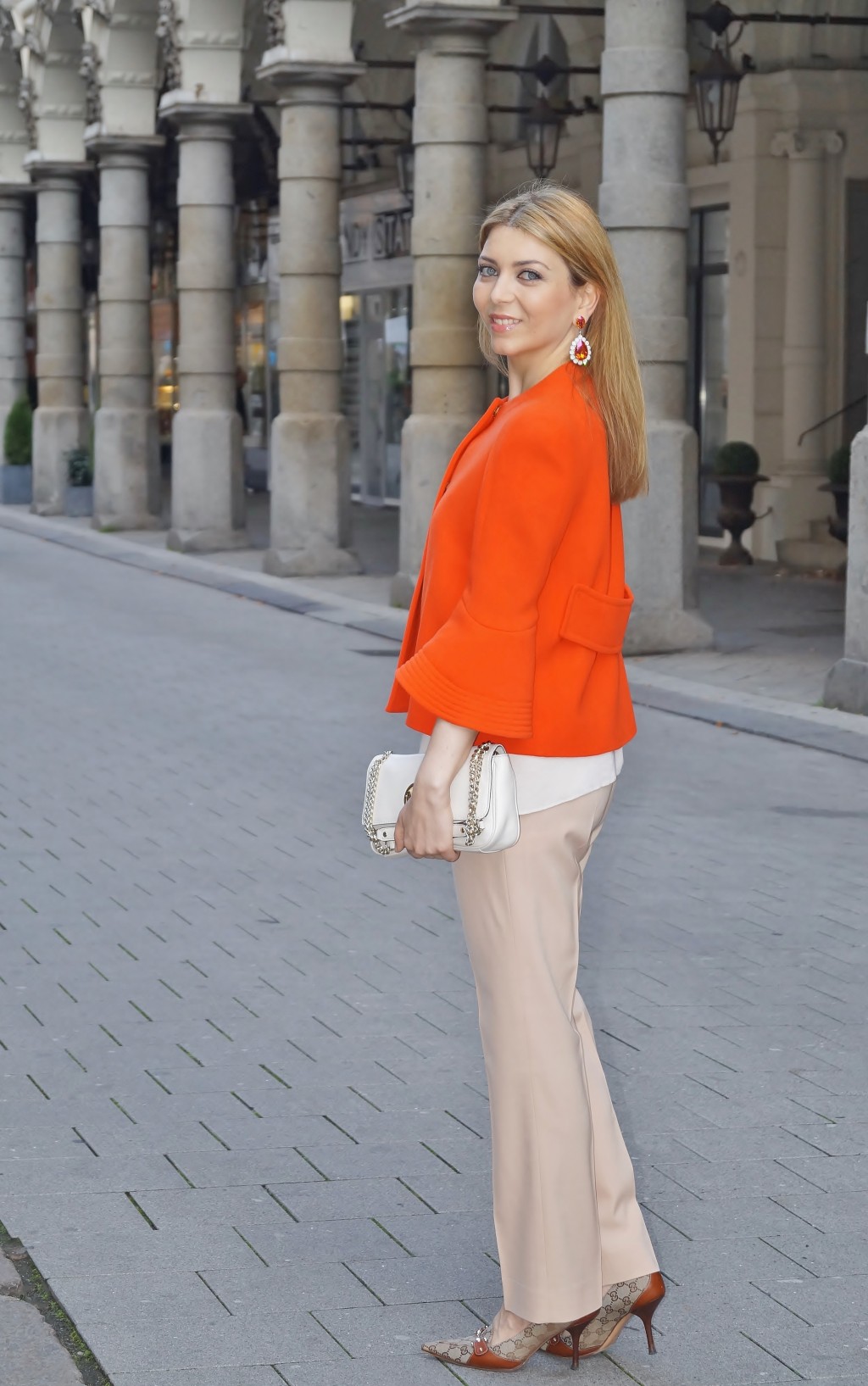 Ich trage eine Schumacher Jacke in einem Mandarinrot, in genau so einer, nur in beige, habe ich mal Prinzessin Madeleine von Schweden gesehen, sie hat einen tollen Geschmack )). Die Farbe der Jacke ist recht knallig, deswegen setze ich nur einen farbigen Akzent, während die anderen Teile meiner Garderobe neutral bleiben. Unter der Jacke habe ich ein puderfarbenes Schumacher Top mit einer Applikation aus kleinen Steinchen vorne auf dem rechten Schulter an. Ebenfalls trage ich eine beigefarbene Hose von Chloé, meine Lieblings- Gucci Pumps und eine creamfarbene Handtasche. Ich liebe Statement Schmuck, vor allem Ohrringe.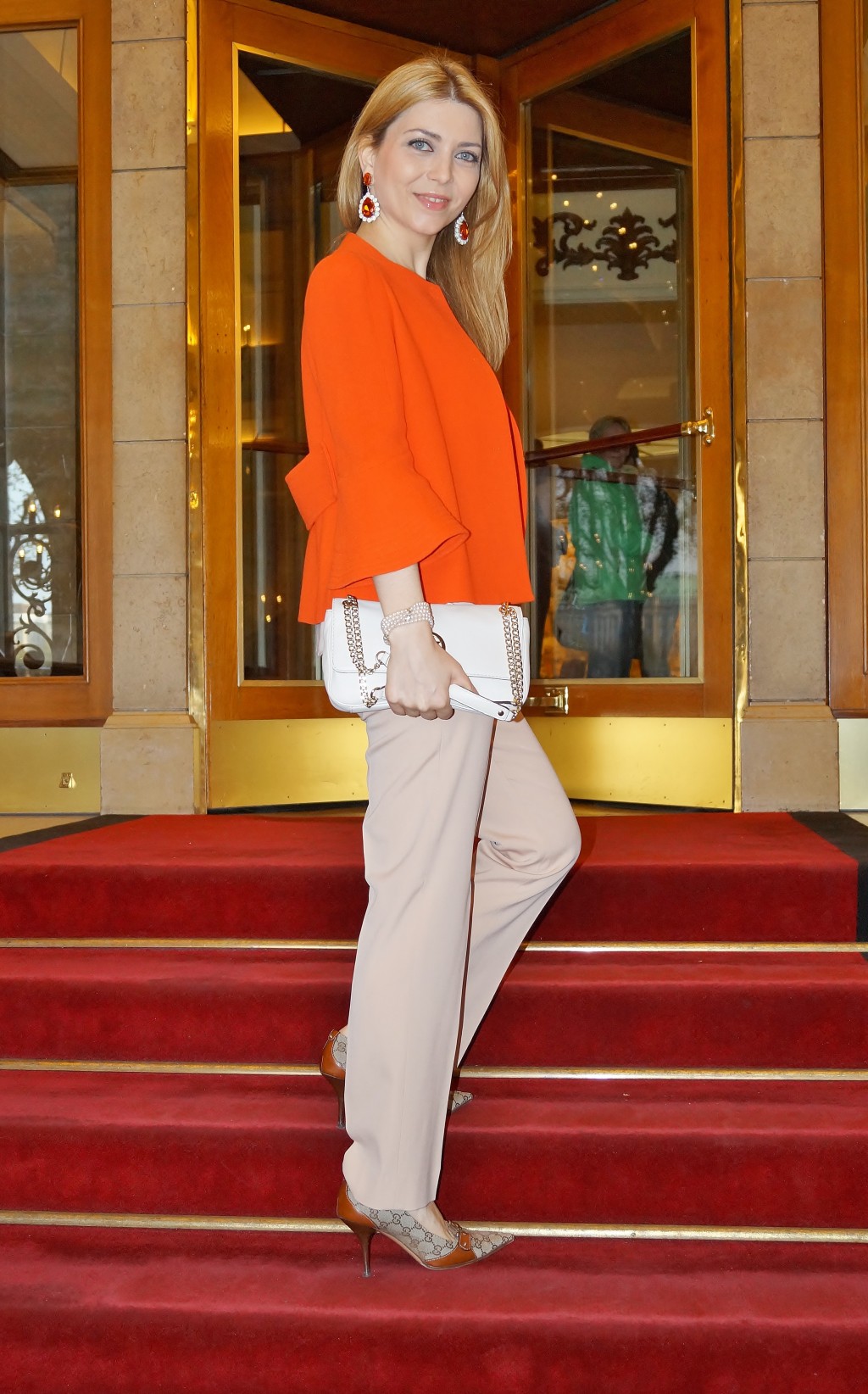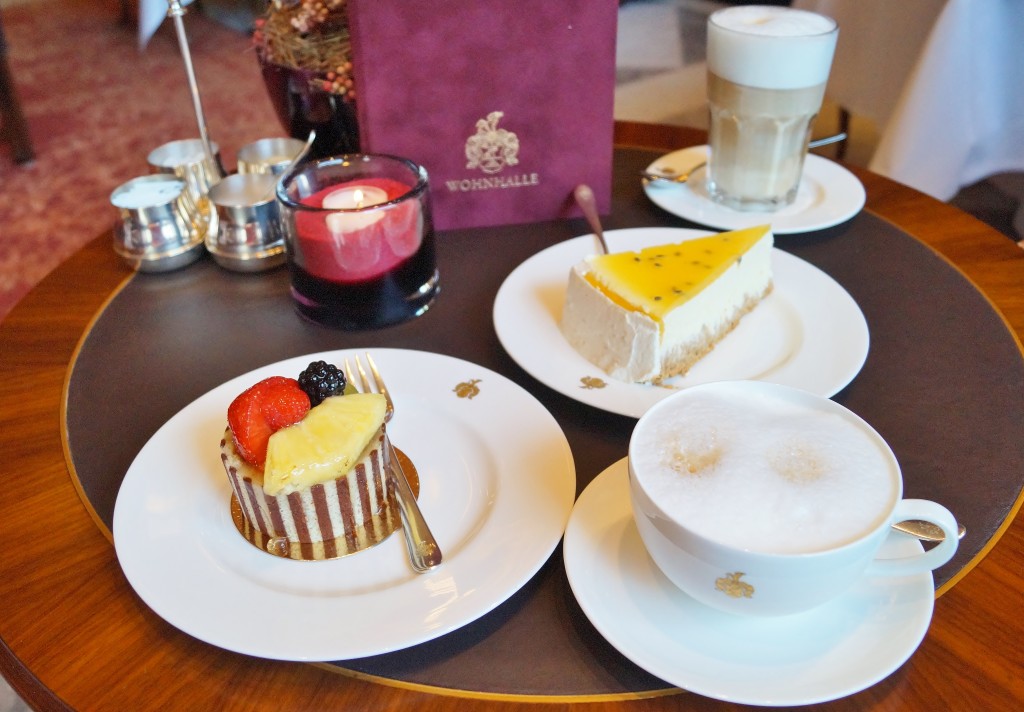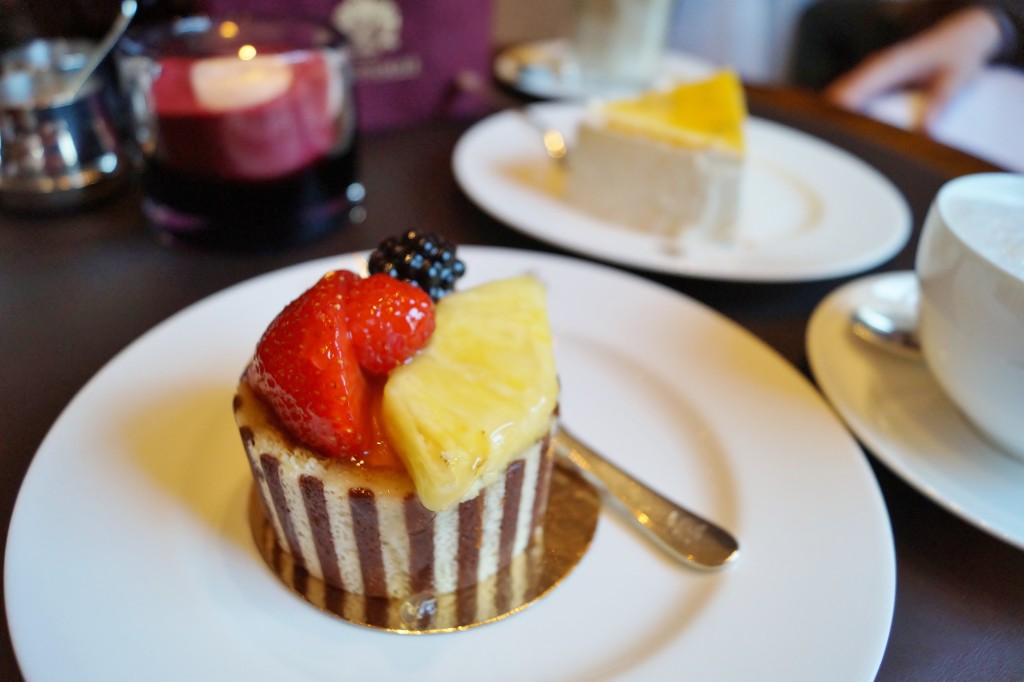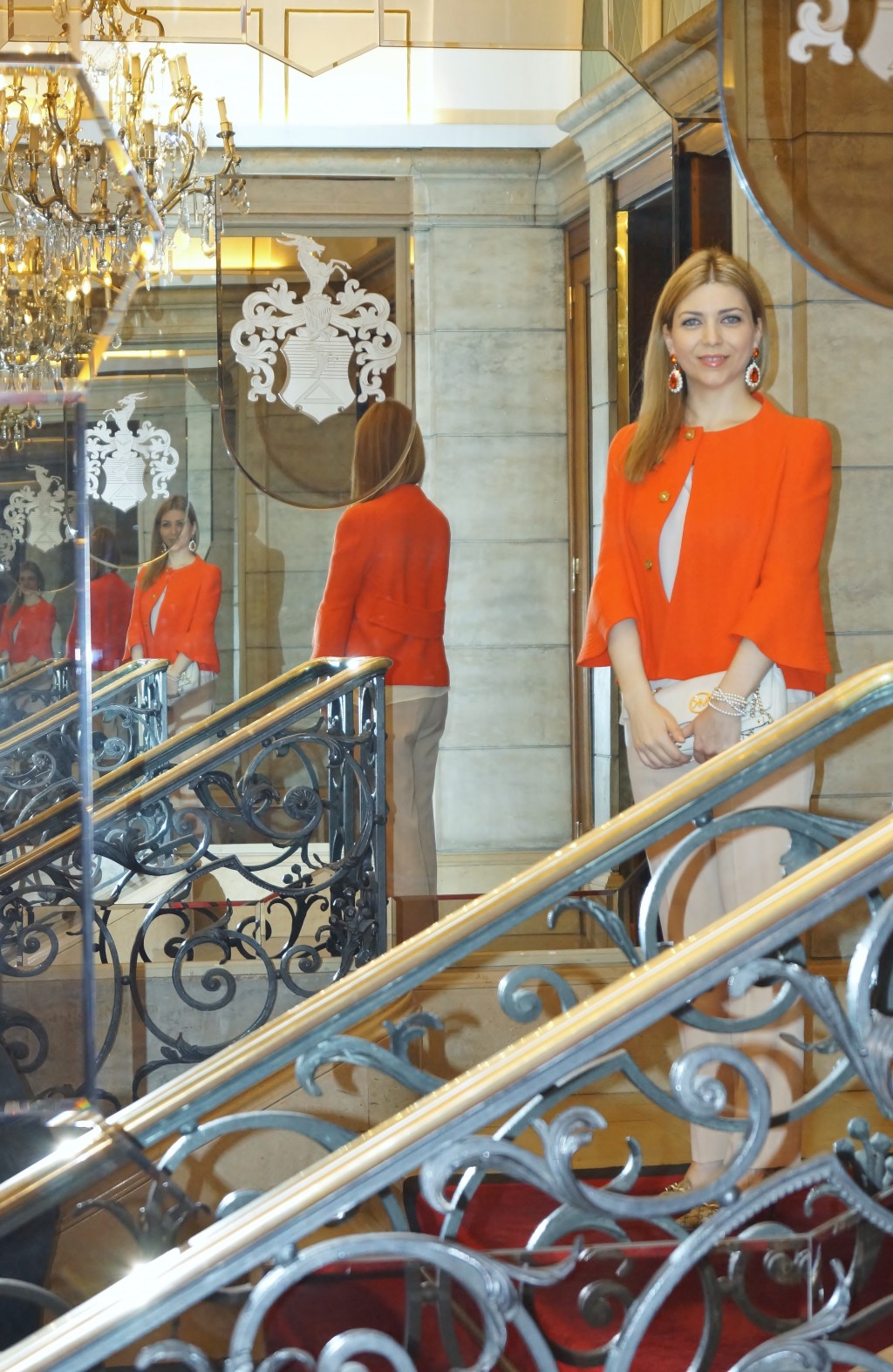 In diesem Outfit habe ich meinen Sontag an meinen Lieblingsplätzen verbracht. Eigentlich treffe ich mich öfter mit meinen Freundinnen in der Altstadt für Klatsch und Tratsch oder unternehme einen netten Spaziergang mit meiner Familie und runde ihn an einer heißen Tasse Kaffee oder Tee in der Wohnhalle, wie auch diesmal ab. Eine großartige Tradition, die ich in unsere Familie eingeführt habe, ist ein Besuch der Wohnhalle während der Adventszeit für einen traditionellen Queen Victoria Tee. In dieser Zeit ist das Hotel Vier Jahreszeiten zauberhaft weihnachtlich dekoriert, sodass man sich wie in dem Märchen "Der Nussknacker" fühlt. Also, schöne Vorbereitungen!
Chloé Hose, Schumacher Jacke, Schumacher Top, Gucci Schuhe, MK Tasche , Krystal Ohrringe
ENGLISH: Hamburg Altstadt – Wohnhalle – Glamour Sunday
One of my favorite places in Hamburg is the Altstadt (the old town) and one of my favorite places for a cake and coffee or a glass of Champagne is the Wohnhalle (the living hall) in the Hotel Vier Jahreszeiten. For such beautiful places I choose accordingly something beautiful to wear. Since so many festivities are coming soon that I'm expecting with great pleasure and excitement (as well as you, of course), I put on a pre-Christmas festive outfit on that Sunday.
I'm wearing a Schumacher jacket in a tangerine-red. In the same one, only in beige, I saw once on media the Princess Madeleine of Sweden. She has a great taste)). The color of the jacket is quite showy, so I put only one accent color, while the other parts of my outfit remain neutral. Under the jacket I have a powder colored Schumacher Top with an application of small stones on the front right shoulder. Also I'm wearing beige Chloé pants, my favorite Gucci Pumps and a cream-colored handbag. I love statement jewelry, especially earrings.
Thus I spent my Sunday at my favorite places in this outfit. Actually, I meet often my friends in the Altstadt for gossip or take a nice walk with my family and top it off with a hot cup of coffee or tea in the Wohnhalle, like this time. A great tradition that I have introduced in my family is a visit to the Wohnhalle during the Christmas season for a traditional Queen Victoria Tea. During that time the Hotel Vier Jahreszeiten is enchanting decorated for Christmas like in the fairy tale "The Nutcracker". So, have some nice preparations!