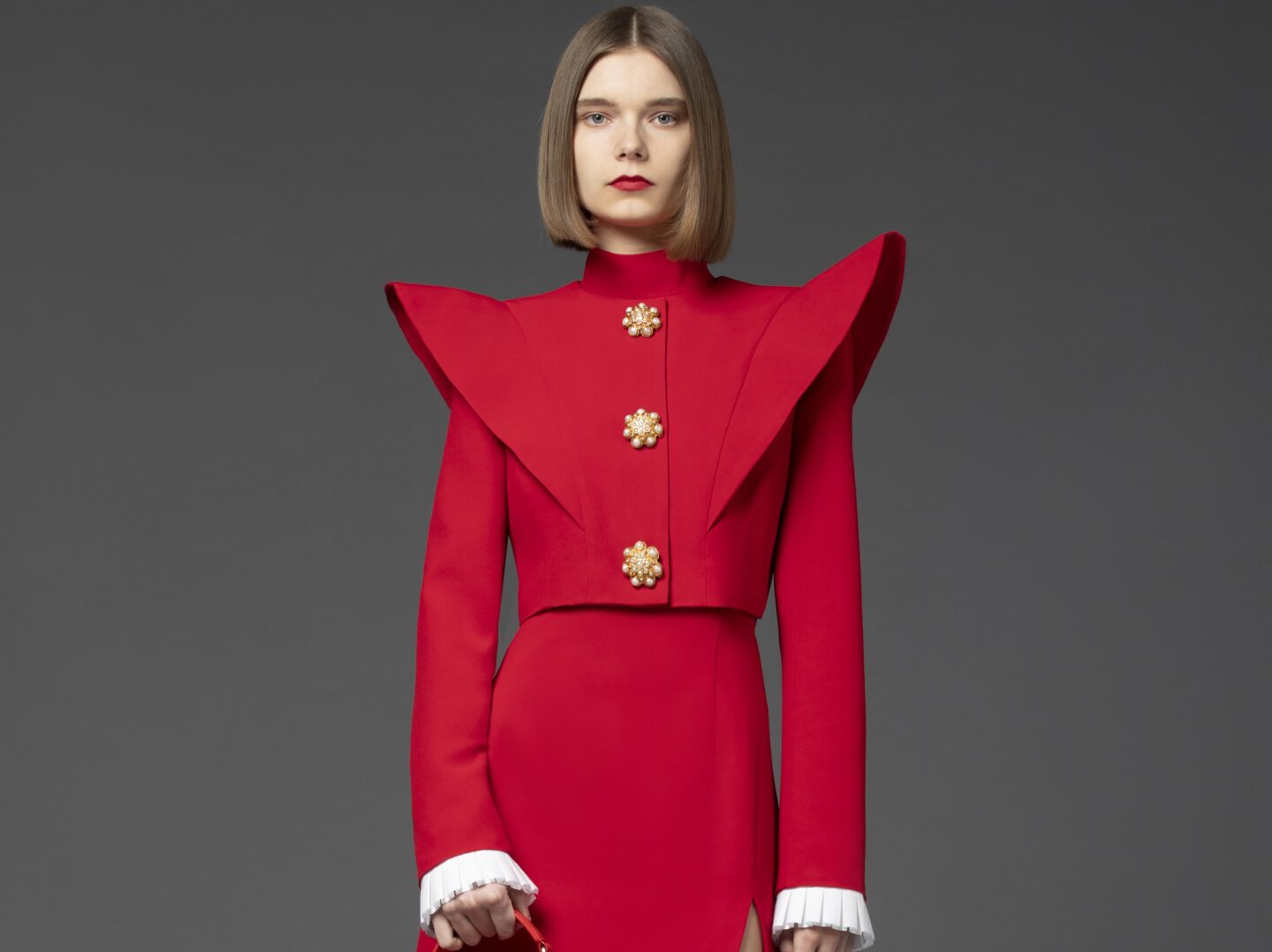 Designer ANDREW GN mit einem persönlichen Statement direkt aus Paris anlässlich seiner jüngsten Kollektion HOPE & GLORY:
FALL/ WiNTER 2021/22
"Während dieser langen Monate des Wartens und der Unterbrechung habe ich mich mit den Wurzeln meines Hauses und meiner eigenen Arbeit befasst.
Ich durchdachte einige Themen, die ich immer geliebt habe -Chinoiserie, Exotismus, Tribal, Rokoko, … um sie mit den heutigen Augen neu zu entdecken. Ich habe die Formen optimiert und vereinfacht und unnötige Details entfernt, um ein Gefühl von Eleganz zu vermitteln.
Ich bleibe mir selbst und meinem Motto der dauerhaften Schönheit sehr treu und entwerfe wunderschön gefertigte Kleidungsstücke, die ich als "Erb-Stücke" bezeichne, die viele Jahre aufbewahrt und schließlich an die nächste Generation weitergegeben werden sollen.
Die Chinoiserie-Seide wurde von einem Fragment eines lackierten englischen Regency-Bildschirms inspiriert, der von unserem Studio komplett neu gestaltet wurde und zarte Goldtöne aufweist. Die Brokate sind eine Interpretation eines Motivs aus einem Queen-Ann-Kabinett aus dem frühen 18. Jahrhundert. Exotismus kommt in unserem smaragdgrünen "Snow Leopard" -Druck vor mit einem Augenzwinkern zu "Le Rêve" von Douanier Rousseau. Tribal- und Rococco-Inspirationen finden sich überall in den Kristall- und Cabochon-Stickereien. Wir haben eine neue Version einer meiner berühmten Renaissance-Metallschnallen entworfen, um einfache flüssige Kreppkleider noch zu ergänzen. Viele andere Hauscodes -wie Perlenbesätze und Passagen- wurden ebenfalls verwendet.
In Bezug auf die Farben bietet diese Kollektion eine kräftige Palette: eine helle Vermillion, ein starkes Fuchsia Pink namens "Pivoine", ein goldenes Gelb namens "Peking" sowie Emerald Green, Lilac, gemischt mit neutralen Farben wie Khaki und Camel.
Ich habe diese Kollektion "HOPE and GLORY" genannt. Während ich die Lieder von Vera Lynn hörte, die kürzlich verstorben ist, hörte ich diese auffallend kraftvolle und bewegende Hymne, um uns zu inspirieren, stark zu bleiben und nach vorne zu schauen.
Andrew GN
EGLISH: ANDREW GN FW21/22 – PFW Digital
Designer ANDREW GN with a personal statement straight from Paris on the occasion of his latest collection HOPE & GLORY:
CASE / WINTER 2021/22
"During these long months of waiting and interruption, I have delved into the roots of my home and my own work.
I thought through some topics that I have always loved – chinoiserie, exoticism, tribal, rococo, … to rediscover them with today's eyes. I've tweaked and simplified the shapes and removed unnecessary details to give a sense of elegance.
I remain very true to myself and my motto of lasting beauty and design beautifully made garments, which I call "legacy pieces", which are to be kept for many years and ultimately passed on to the next generation.
The chinoiserie silk was inspired by a fragment of a lacquered English Regency screen that was completely redesigned by our studio and features delicate gold tones. The brocades are an interpretation of a design from a Queen Ann cabinet from the early 18th century. Exoticism appears in our emerald green "Snow Leopard" print with a wink to "Le Rêve" by Douanier Rousseau. Tribal and rococco inspirations can be found everywhere in the crystal and cabochon embroidery. We designed a new version of one of my famous Renaissance metal buckles to complement simple liquid crepe dresses. Many other house codes – such as pearl trimmings and passages – were also used.
In terms of colors, this collection offers a bold palette: a light vermillion, a strong fuchsia pink called "Pivoine", a golden yellow called "Peking", and emerald green, lilac mixed with neutral colors like khaki and camel.
I named this collection "HOPE and GLORY". While listening to the songs of Vera Lynn, who recently passed away, I heard this strikingly powerful and moving hymn to inspire us to stay strong and look forward.
Andrew GN