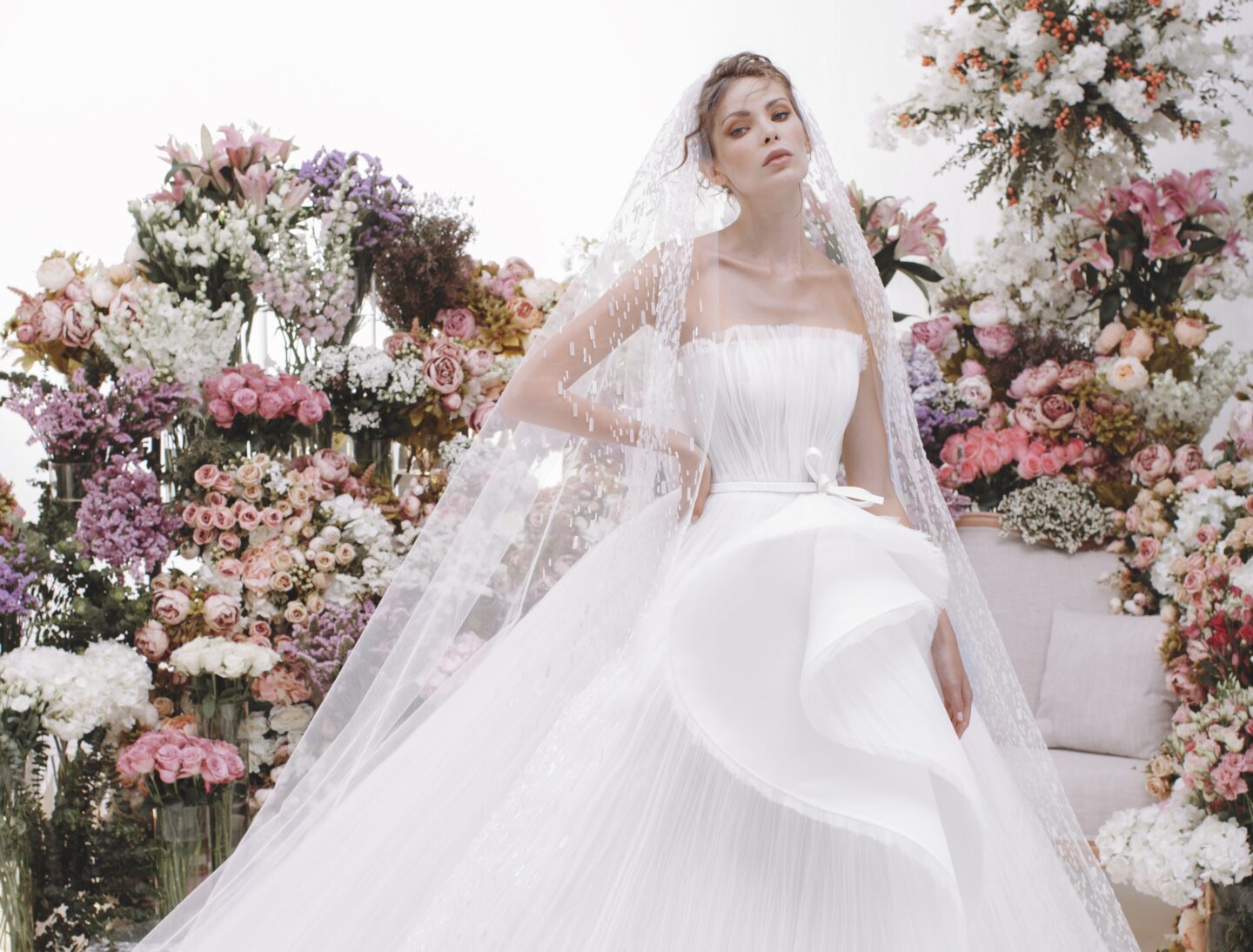 Wie eine Szene aus einem Märchen enthüllt Rami Al Ali seine verträumte Couture-Brautkollektion, die aus sechs herausragenden Kleidern besteht. Jedes Design ist so individuell wie die Braut, die dazu bestimmt ist, sie zu tragen. Die Kreationen von Al Ali provozieren eine ätherische Pracht, die einen unvergesslichen Tag voller Liebe und Bewunderung verspricht. Klassische Ballkleider im Prinzessinnen-Stil werden verwendet, um der Theaterbraut gerecht zu werden, die von ultraromantischen, vollen Röcken und einem strukturierten Mieder träumt. Schlanke, figurbetonte Kleider mit aufwendigen Wasserfallrüschen bieten eine moderne, aber zeitlose Anmut, die sich wunderbar auszeichnet. Wie bei jeder Rami Al Ali Kollektion wird Wert auf die Liebe zum Detail mit aufwendigen Stickereien und handwerklicher Kunst gelegt. Techniken der neuen Saison werden verwendet, um mit 3D-Perlenarbeiten und abstrakter Handarbeit unübertroffene Details zu schaffen, die fast pixelig erscheinen. Die Maison vereint meisterhaft eine Mischung aus edlen Textilien wie Chantilly- und Guipure-Spitze, Organza, Gaze und Tüll auf innovative Weise und verleiht der Marke einen majestätischen Touch. Eine Show aus schillernden Kristallen, aufwendigen Perlenstickereien und floralen Applikationen bewahren die femininen Codes des Hauses und zeigen eine exquisite Darstellung von Eleganz und Finesse. Während moderne asymmetrische Silhouetten und architektonische Formen eine Anspielung auf den zeitgenössischen Volksmund der Kollektion darstellen. Das Line-up ist ein weiteres Beispiel für die Expertise des Couturiers in anspruchsvoller Raffinesse und Luxus.
ENGLISH: RAMI AL ALI BRIDALCOUTURECOLLECTION 2021
Like a scene from a fairy-tale, Rami Al Ali unveils his dreamy couture bridal collection consisting of six standout gowns. Each design as individual as the bride destined to wear them, Al Ali creations provoke an ethereal splendour that vows to shape amemorable day filled with love and admiration.The collection illustrates agraceful design medley that dances between two contrasts–traditional grandeur and modern-day refinement. Classic, princess-style ball gowns are employed to cater to the theatrical bride who dreams of ultra-romantic full skirts and a structured bodice. While sleek, fit-to-form gowns with elaborate waterfall ruffles offer a modern but timeless appeal that is beautifully distinguished. As with every Rami Al Ali collection, attention to detail is placed onintricate embroidery and artisanal craftsmanship. New-season techniques are employed to create unmatched detail using 3D beadwork and abstract handwork, appearing almost pixelated in appearance. The Maison masterfully incorporates a blend of rich textiles such as Chantilly and Guipure lace, organza, gauze and tulle in innovative ways, offering a majestic touch synonymous with the brand. A show of dazzling crystals, elaborate beading, and floral applique maintain the feminine codes of the house and depict an exquisite display of elegance and finesse. While modern asymmetrical silhouettes and architectural shapes present a nod to the contemporary vernacular of the collection. The line-up is yet another example of the couturier's expertise in sophisticated refinement and luxury.