In Hamburg hatten wir in letzter Zeit nur regnerische und kalte Tage. Sogar mein Samstagsausflug fürs Treffen mit den Freunden auf der Dachterasse des Sky & Sand Beachclub ist ausgefallen. Gestern haben wir ein paar Sonnenstunden bei trotzdem kühlen Wetter gefangen. Daher kann von den Sommerkleidern noch keine Rede sein, sondern wir haben immer noch Pullizeit. Thorsten hat mir gerade einen neuen Pullover als Überraschung geschenkt. Er weiß, dass ich Hahnentrittmuster in Schwarz-Weiß mag, da ein Klassiker. Dieser Tommy Hilfiger Pullover ist ein mix aus einem klassischen Muster im modernen Stil und einem sportlichem Schnitt. Da ich Stilbrüche liebe, habe ich den Pulli mit einem modischen, eleganten Rock, Highheels und einer kleinen Crossbody Bag kombiniert. Der Rock hat angesagte transparente Einsätze am Saum, die den Blick fangen. Den habe ich euch bereits in meinem Post "Schillernder Abend mit den besten Freunden" hier gezeigt. Dazu trage ich die Wood Fellas Sonnenbrille aus einer früheren Kollektion. Das neueste Modell habt ihr bereits in dem Post "Trend Cut Outs und Holz" hier gesehen. Damit habe ich 2 Trends vereint: Hahnentrittmuster und Transparenz. Habt ihr auch eure Lieblingsstücke oder -Muster? Erzählt es mir in den Kommentaren. Es ist immer interessant Meinungen auszutauschen.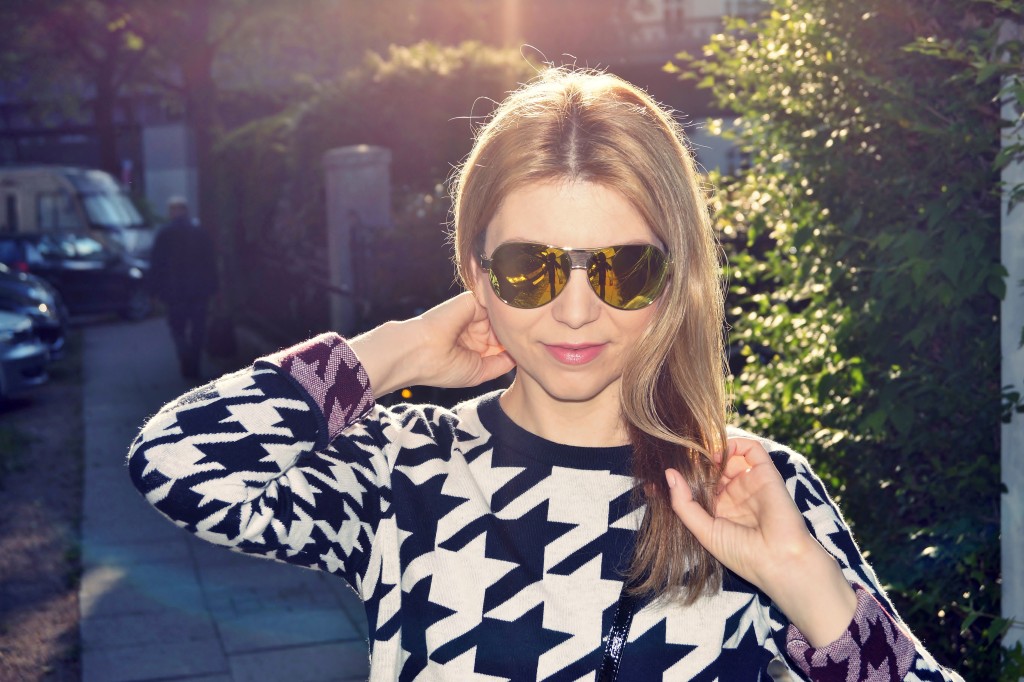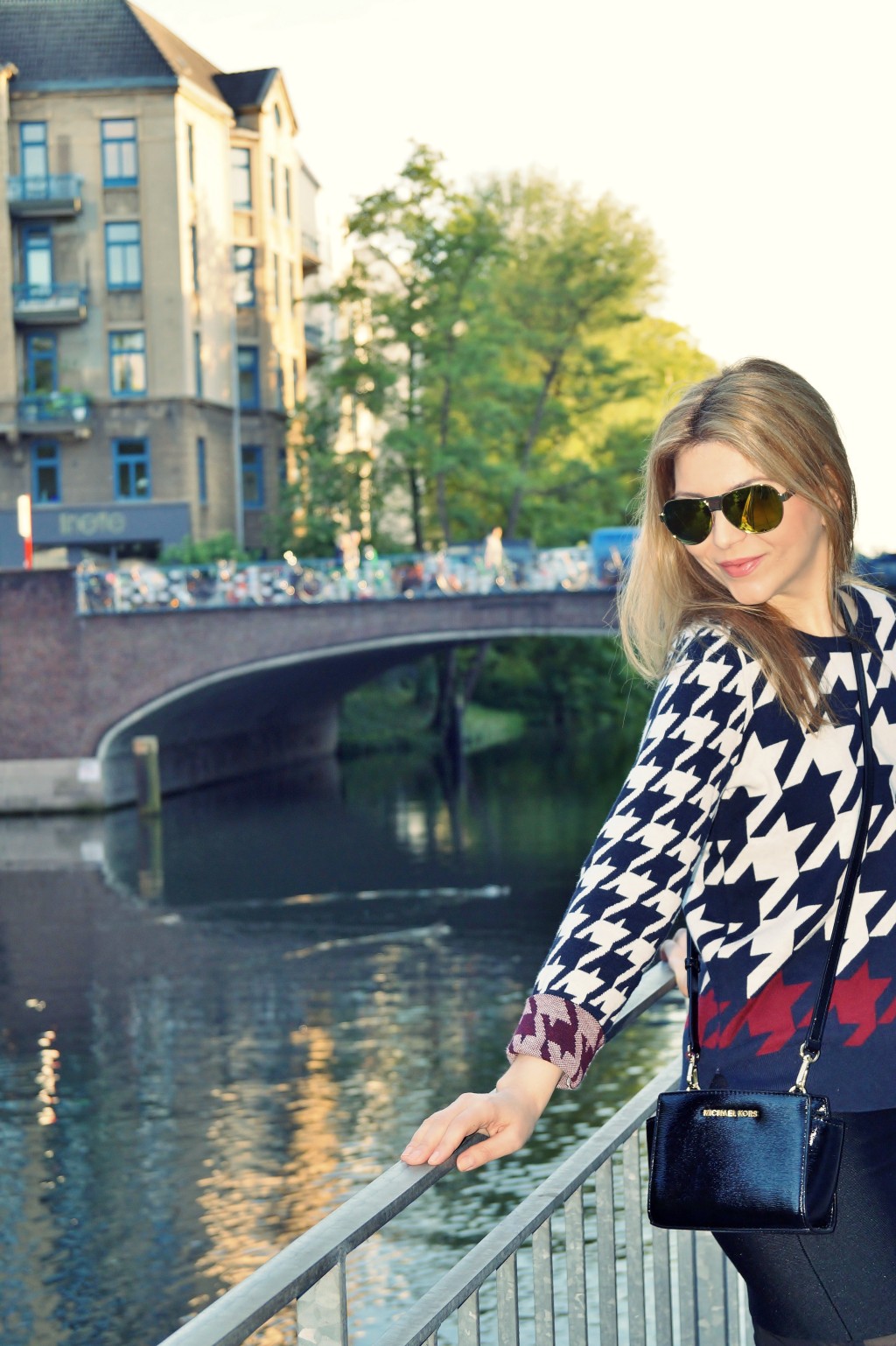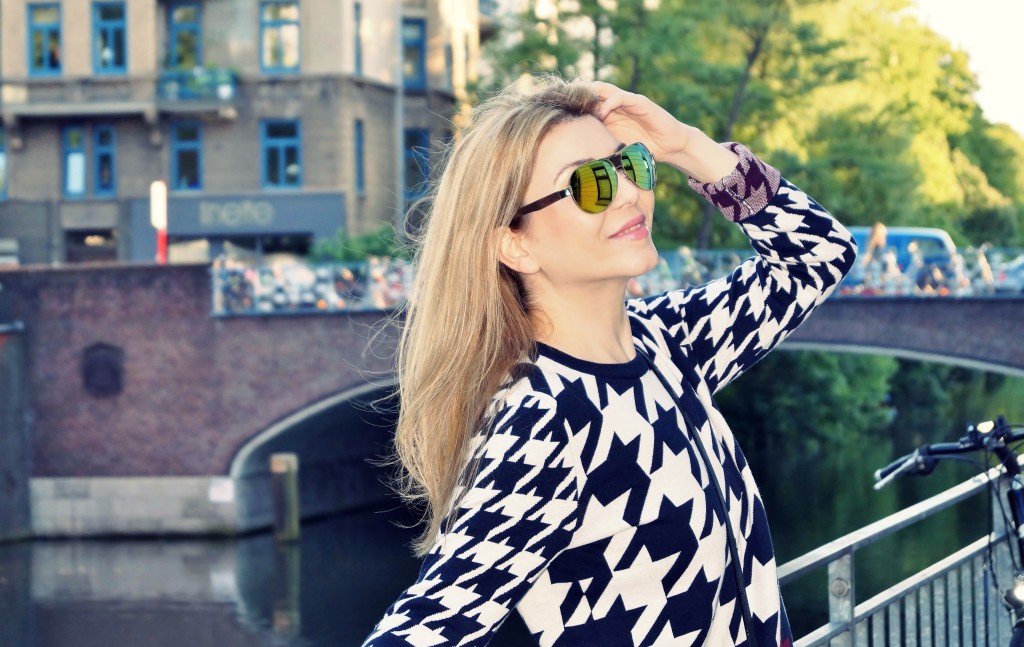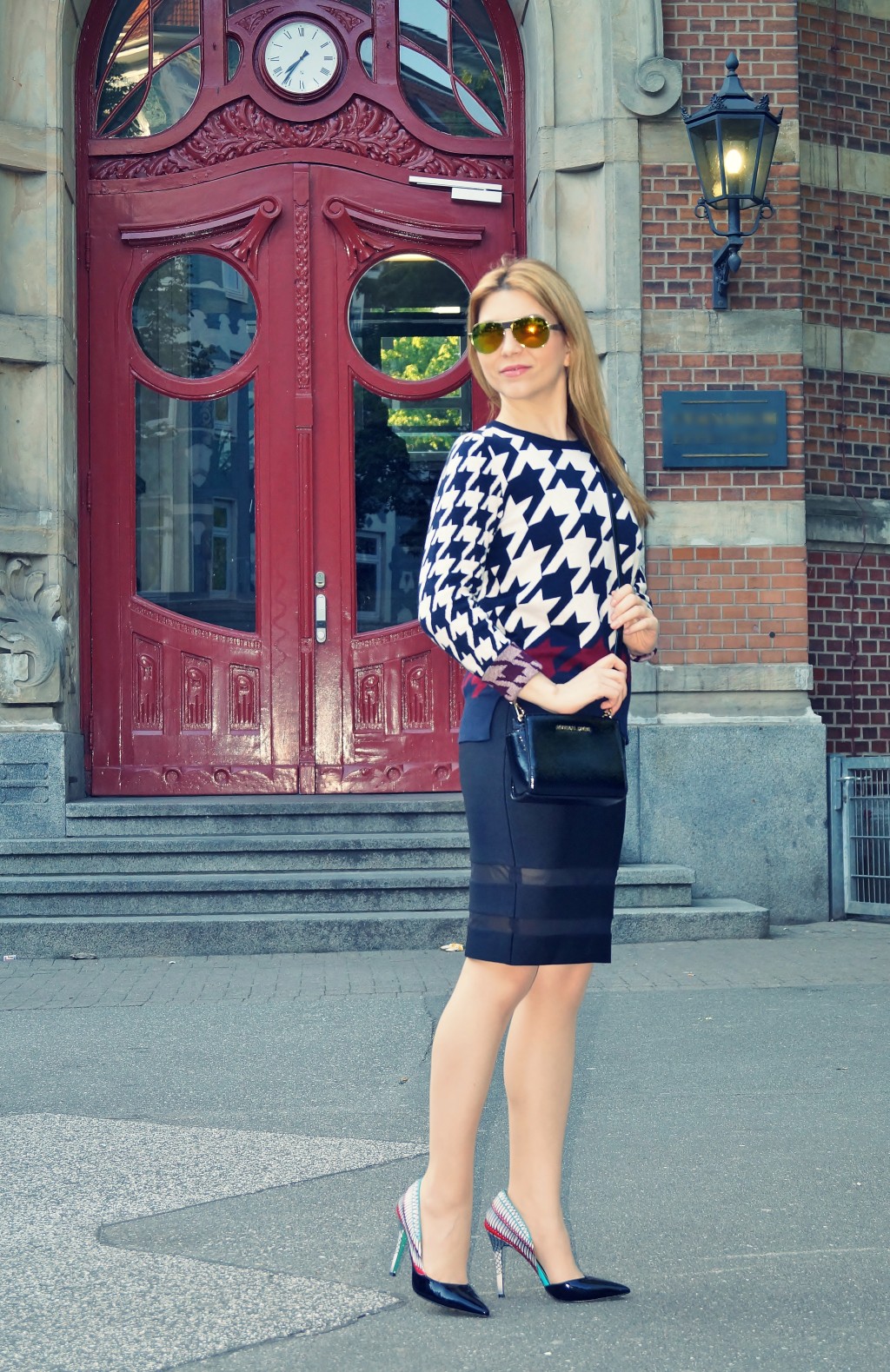 Tommy Hilfiger Pullover, Supertrash Rock, Taylor Says Schuhe, Michael Kors Tasche, Wood Fellas Sonnenbrille
ENGLISH: Houndstooth Pattern and Transparency
The last while we had just rainy and cold days in Hamburg. Actually we have them still. Even my Saturday meet up with friends on the roof top of the Sky & Sand Beach Club has failed. Yesterday we caught a few sunny hours, but still in the cool weather. Therefore, we cannot talk about the summer dresses, since we still have "sweater time". Thorsten has just made me a gift –  a new sweater as a surprise. He knows that I like houndstooth in black and white, because it is classic. This sweater by Tommy Hilfiger is a mix of a classic pattern in modern style and a sporty shape. Since I love stylistic breaks, I have combined the sweater with a fashionable elegant skirt, high heels and a small cross body bag. The skirt has hip transparent inserts at the hem – an eye catcher. This skirt I have already shown you in my post "Shimmering Evening with Our Best Friends" here. I also wear the Wood Fellas sunglasses from the previous collection. The latest model you have already seen in the post "Trend Cut Outs and Wood" here. So I have combined 2 Trends: houndstooth pattern and transparency. Do you have your favorite items or patterns? Tell me in the comments. It's always interesting to exchange the opinions.