Die nächsten Feiertage rücken näher! Am 5. Mai ist der Vatertag und am 8. Mai – der Muttertag. Also heißt es, noch ganz schnell ein Geschenk besorgen. Natürlich wollt ihr alle, dass eure Mama und Papa ein ganz besonderes Geschenk bekommen. Blumen sind schon einmal immer eine super Idee. Falls ihr nicht vor Ort bei euren Eltern seid, könnt ihr mit diesem Blumen Gutschein von Bloomy Days hier den Blumenstrauss liefern lassen. Sonst habe ich noch ein paar Geschenkideen zur Anregung vorbereitet. Sehr schön und persönlich finde ich diese Mom Kette in Herzform hier und diesen Mom Armband hier für die Mutter und dieses Armband mit individueller Gratis Gravur hier für den Vater. Denn mit einem liebevoll ausgesuchten Präsent trifft eure Botschaft mit Sicherheit mitten ins Herz.
Muttertag-Geschenkefinder
(1) Cecilia Ma Couture Clutch, (2) Preen by Thornton Bregazzi Bluse, (3) Jennifer Meyer Mommy Kette, (4) Gucci Tote, (5) Fornasetti 'Champagne col' Tablett, (6) AG – Adriano Goldschmied Jeans, (7) Voluspa Crisp Champagne Duftkerze, (8) Chrysalis Armreif Mutter, (9) MICHAEL Michael Kors KEEGAN Peeptoe, (10) Elli Halskette "Herz MOM"
Vatertag-Geschenkefinder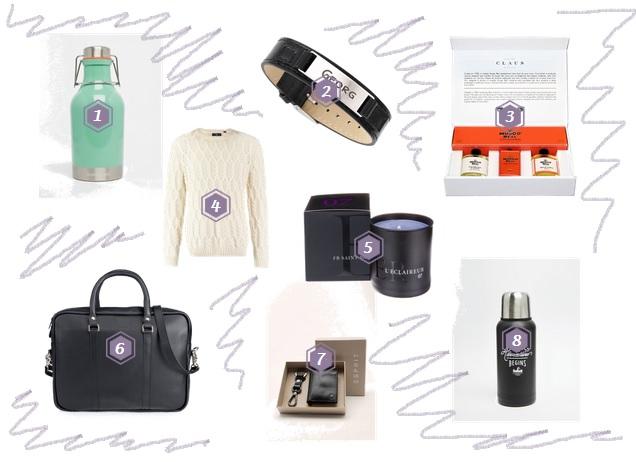 (1) Enamel Growler Flasche, (2) Firetti Armband aus Leder mit gratis Gravur, (3) Musgo Real Pflegeset, (4) GANT Strickpullover, (5) L'Eclaireur Number 07 'Encre' Duftkerze, (6) Sandqvist Laptoptasche, (7) ESPRIT CASUAL Set mit Lederbörse und Schlüsselanhänger, (8) Gentlemen's Hardware – Vakuum-Flachmann
ENGLISH: Gift Guide for Father's and Mother's Day
The next holidays are approaching! On May 3 is Father's Day and on May 8 – Mother's Day. So it means we need quite quickly to get a gift. Of course you all want that your mom and dad get a very special gift. Flowers are always a great idea. If you are not on site at your parents, you can get the bouquet of flowers delivered to your parents with this voucher from Bloomy Days. Otherwise I have prepared a few gift ideas for inspiration. Very beautiful and personal I find this Mom necklace in heart shape here and this Mom bracelet here for the mother and this bracelet with individual free engraving here for the father. Your message will certainly meet the heart with a lovingly selected gift.