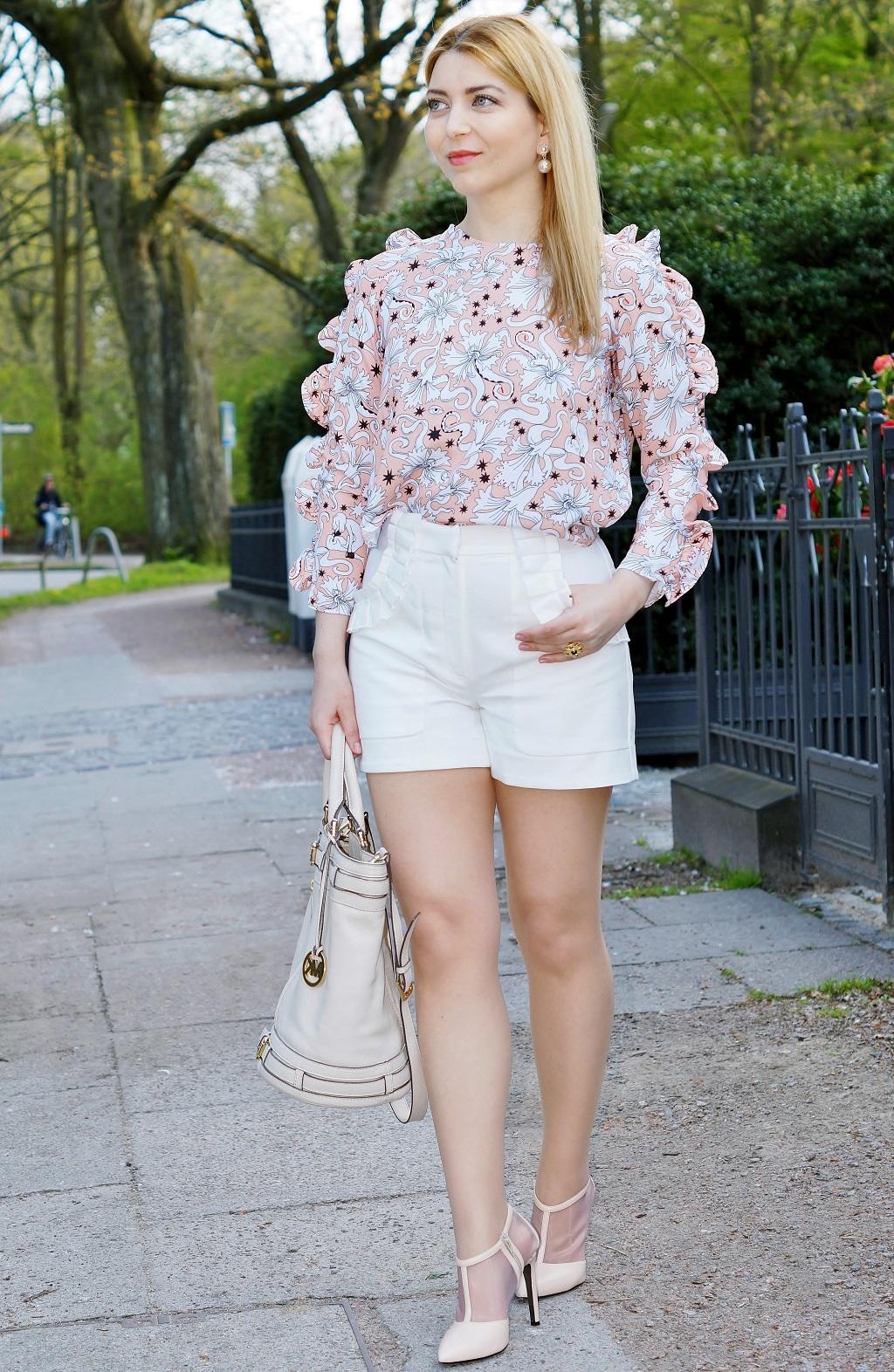 Was haben Oberteile, Hosen, Röcke und sogar Schuhe diese Saison gemeinsam? Sie sind alle mit Rüschen besetzt! So hat auch mein Look Rüschen all over. Ich trage die Paul & Joe weißen Shorts und Sister Jane hellrosa Bluse. Kombiniert Rüschenblusen mit Jeans, um einen Stilbruch zu schaffen und stylish auszusehen. Fürs Büro empfehlenswert sind entweder eine schlichte Hose oder Rock dazu. So könnt ihr, falls unerwünscht, einen mädchenhaften Look vermeiden. Ich kombiniere zwar die gerüschten Ober- und Unterteile mit einander, allerdings schaffen die geraden Linien des Schnitts der beiden Teile den Ausgleich und lassen mich eher modisch und nicht zu verspielt wirken.
Wir haben gerade sehr schöne warme Tage in Hamburg, sodass ich dieses Outfit für einen Ausflug ins Café in der Nachbarschaft anziehen konnte. Ich hoffe, euch gefällt es und wünsche euch weiterhin ein schönes Wetter.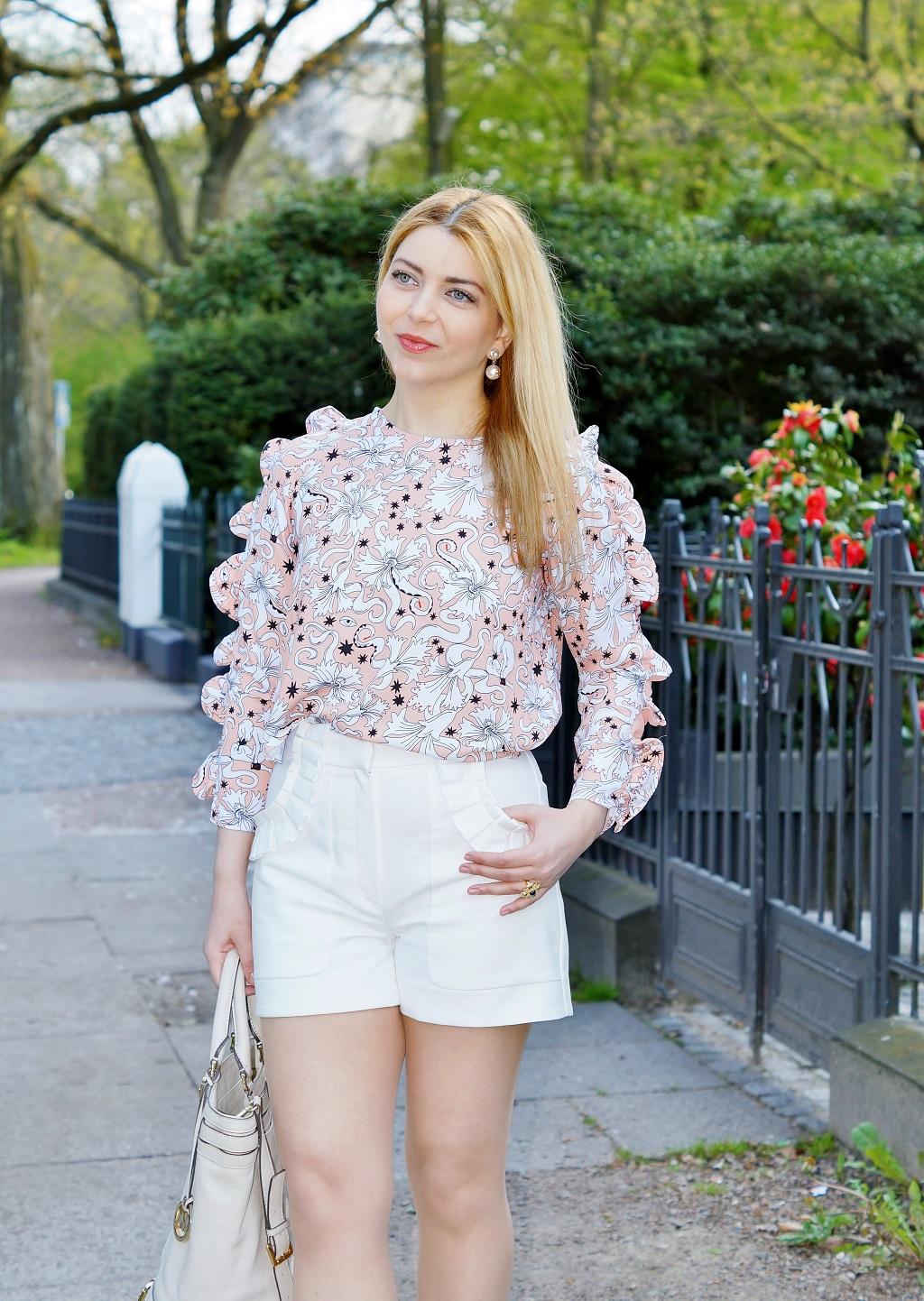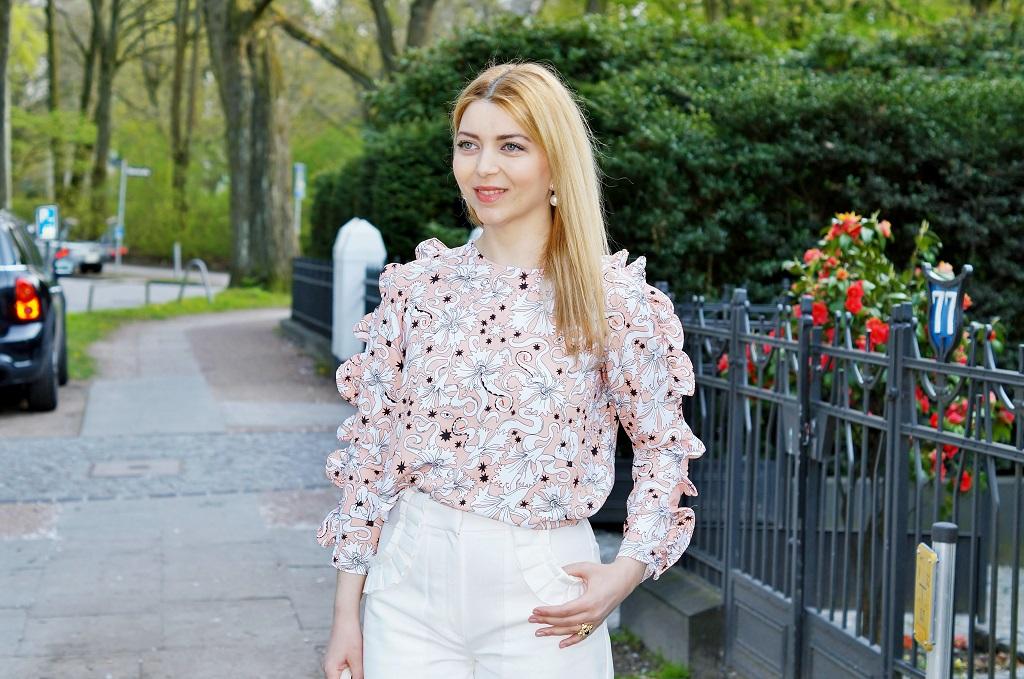 Sister Jane Oberteil, Paul & Joe Shorts, Tory Burch Ohrringe, Michael Kors Tasche, Dirk Bikkembergs Ankle Boot
ENGLISH: Ruffles All Over
What have tops, pants, skirts and even shoes this season in common? They are all with ruffles! So my look has ruffles all over as well. I wear the Paul & Joe white shorts and Sister Jane light pink blouse. Combine ruffled blouses with jeans to a create stylistic break and look stylish. For the office are recommended either a simple skirt or trousers to such ruffled blouses. So you can, if undesirable, avoid a girlish look. Although I pair the frilly top and bottom with each other, however, the straight lines of the cut of the two parts create the balance and let me look rather stylish than romantic.
We have beautiful warm days in Hamburg now, so I could wear this outfit for a trip to the café in the neighborhood. I hope you like it and wish you furthermore a good weather.