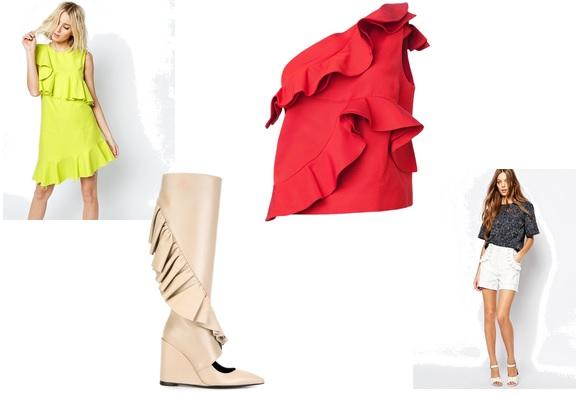 Bereits seit einer Woche ist das Wetter besser geworden – mehr Sonnenstunden, weniger Regen. Wir wollen hoffen, dass es so bleibt. Nichtsdestotrotz können wir uns in Unabhängigkeit von dem Wetter  eine gute Frühlingsstimmung selbst zaubern. Die Kleidung spielt dabei auch eine wichtige Rolle. So sind die Kleidungsstücke mit Rüschen einer der schönsten Trends der Saison, der zu einer guten Laune führt. Aber lasst euch nicht täuschen! Von wegen Blumenmädchen! Einige Designer kreieren durch Asymmetrie, für klassische Rüschen ungewöhnliche Stoffe und interessante Positionierung ganz unerwartete Modelle, aber auch für diejenigen, die es lieber klassisch wollen, gibt es passenden Stücke.
ENGLISH: Clothing with Ruffles that Prepare You for the Spring/Summer 2016
Since a week the weather has improved – more hours of sunshine, less rain. Let us hope that it remains this way. Nevertheless, in independence of the weather, we can conjure up a good spring mood ourselves. The clothing also plays an important role. But do not be deceived! Ruffles are not only for a flower girl! Some designers create by asymmetry, unusual fabrics and interesting positioning unexpected models. But even for those who prefer classic style, there are matching piecesas well.