Dieses verlängerte Osterwochenende haben wir auf dem Lande in Niedersachsen verbracht. Das Wetter war meistens regnerisch, außer den Samstag, den wir auch gleich für einen weiten Spaziergang über die Felder und den Wald genutzt haben. An dem Tag war es relativ warm und sonnig, nur ziemlich windig, so dass ich ein Cap angezogen habe – eine gute Möglichkeit die langen Haare zu verstauen, ohne dass sie andauernd ins Gesicht fliegen und die Sicht stören, vor allem so eine Wunderschöne, wie wir sie hatten. Zwar waren wir auf dem Land, trotzdem finde ich es schön auf sich zu achten und sich nicht gehen zu lassen. Dazu gehören auch die passenden Kleidungsstücke, wie Gummistiefel, die auch hübsch sein können, und ein natürliches Make-up. Ich nutze oft Taupe au Naturel Lidschatten von Lancome, die perfekt für einen natürlichen Look sind und auch ideal fürs Büro passen. Ein roter langanhaltender Lippenstift von Max Factor belebt so ein dezentes Outfit.
Sehr schön fand ich das Gelände mit den Pferden. Ich glaube Lawine, mein Chihuahua, hat die Pferde zum ersten mal gesehen und dazu noch so viele auf einmal, dass sie zunächst panisch auf sie reagiert und gebellt hat. Nach gewisser Zeit hat sie sich aber an die Pferde gewöhnt, und die Pferde sich auch an sie :).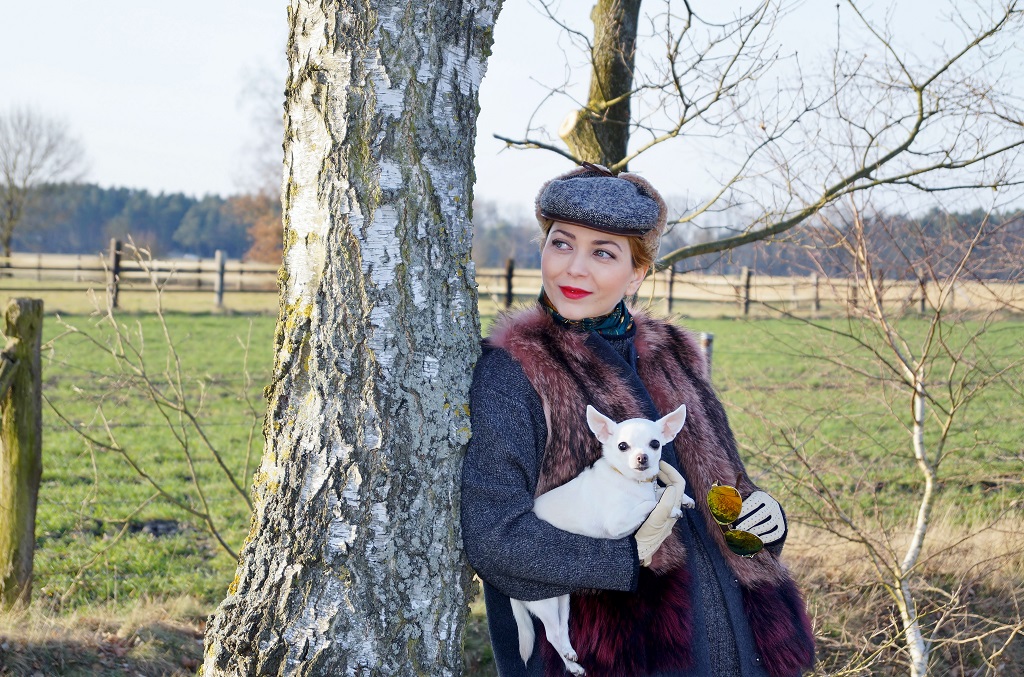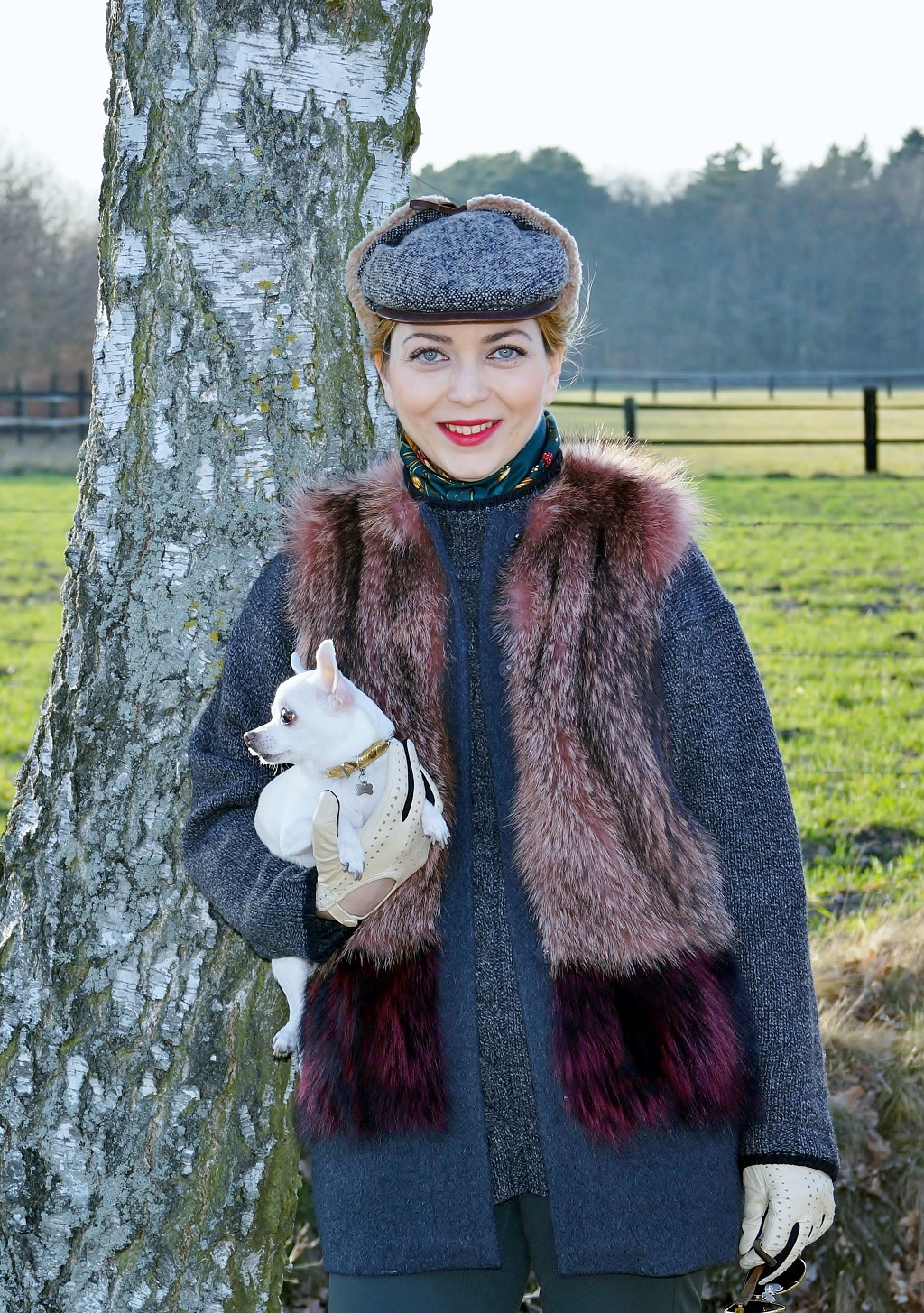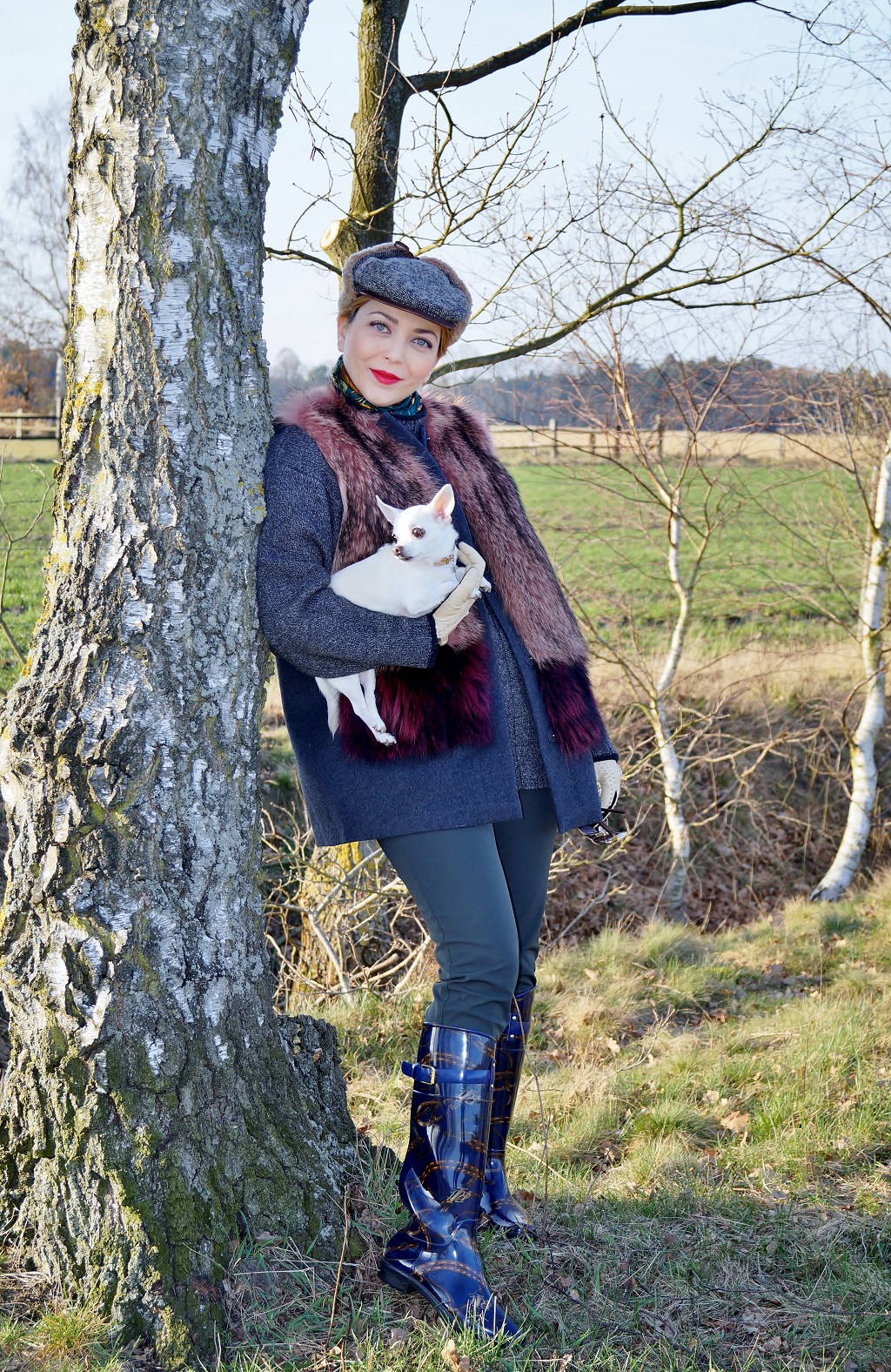 ENGLISH: Trip to the Countryside
This extended Easter weekend we spent in the countryside in Lower Saxony. The weather was rainy, except Saturday that we used for a long walk over the fields and through the forest. On that day it was relatively warm and sunny, just quite windy, so I put on a cap – a great way to store the long hair without them flying constantly in the face. Although we were in the countryside I find one still has to take care of him- or herself. This also includes the matching garments, such as rubber boots, which can also be pretty, and a natural makeup. I often use Taupe au Naturel eyeshadow by Lancome, which are perfect for a natural look and suitable for the office. A red long-lasting lipstick by Max Factor revives a decent outfit.
I found the place with the horses especially nice. I believe my Chihuahua Lawine saw the horses for the first time plus so many at once that she reacted frantically and barked at them. After a certain time the dog has become accustomed to the horses, and the horses to the dog too :).