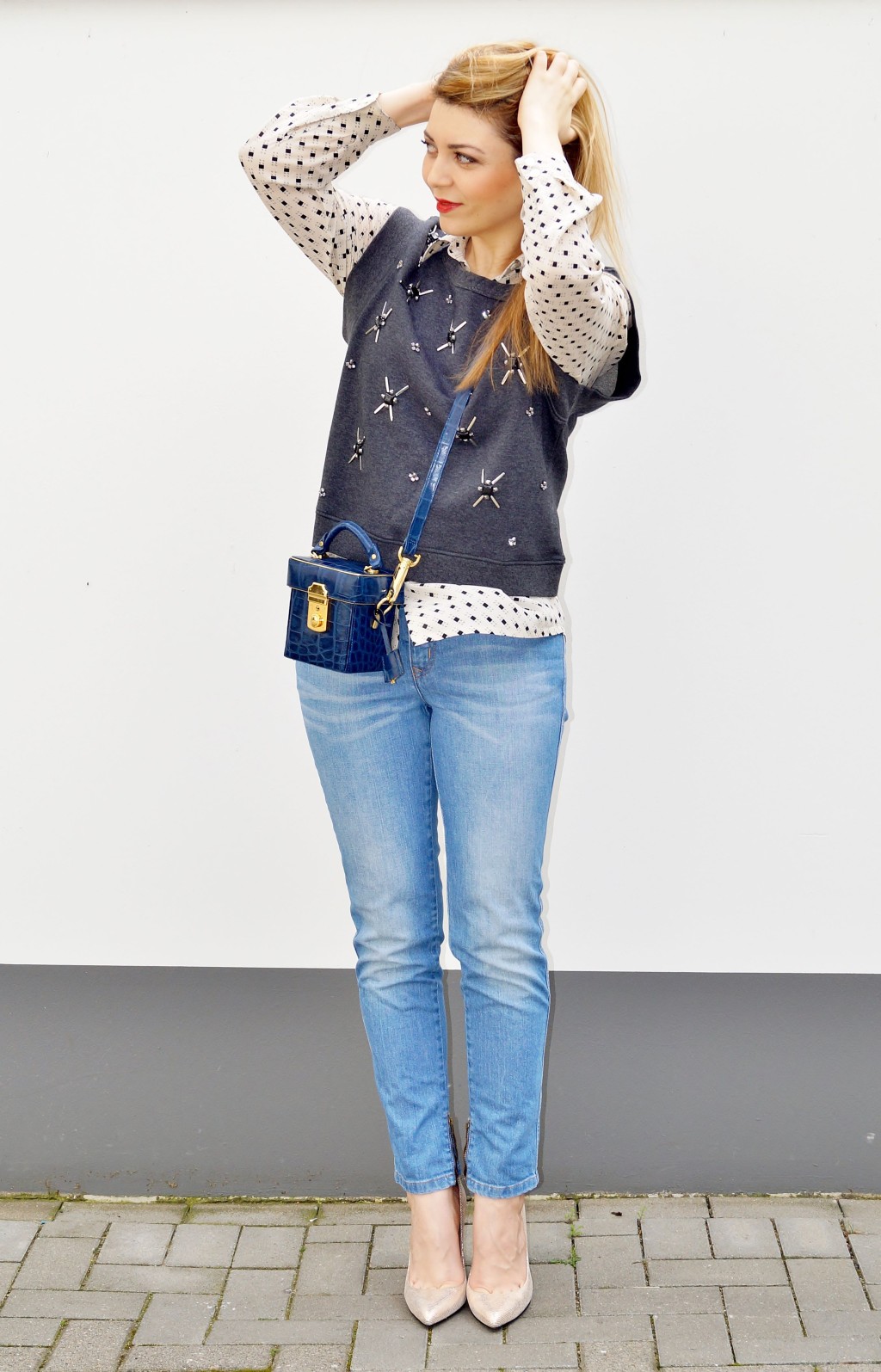 Diese Woche war ich in Berlin auf der Fashion Week für ein paar Events und Fashion Shows. Leider habe ich es nicht geschafft, alles zu besichtigen, was ich mir vorgenommen habe, da es für eine Person einfach zeitlich sehr eng war, vor allem wenn man sich nicht zu sehr stressen will. Nichtsdestotrotz habe ich einiges zu berichten, aber erst nächste Woche, wenn ich alle benötigten Mediadaten gesammelt habe. Jetzt aber möchte ich mit euch meinen Wochenendlook teilen. Dieses Outfit habe ich für einen Sonnabend-Shoppingbummel zusammengestellt. Ich bemühe mich immer gut auszusehen, einfach  auch aus Respekt anderen gegenüber (jeder mag gern schöne Sachen ansehen :)). Für die Innenstadt ziehe ich immer etwas hübsches an, wie das Pinko Top mit glänzender Applikation und Supertrash goldfarbene Schuhe. Jeans und Seidenblusen sind bei mir Klassiker und gehören zu Casual Chic, wie ich auch in meinem Post "Casual Chic: Rote Seidenbluse zu Jeans" oder "Verrückt, aber wahr! Cape im Sommer!" bereits dargestellt habe. Also kombinierte ich eine Seidenbluse mit dezentem geometrischem Muster zu dem Pinko Top mit Applikationen im ebenfalls geometrischen Stil und Jeans. Somit sieht man mich öfter in Jeans und Seidenblusen in verschiedenen Farbkombinationen, da dies eine meiner Lieblings-Kleidungsordnungen sowohl für den Alltag als auch fürs Wochenende sind. Folglich wünsche ich euch ein schönes Wochenende!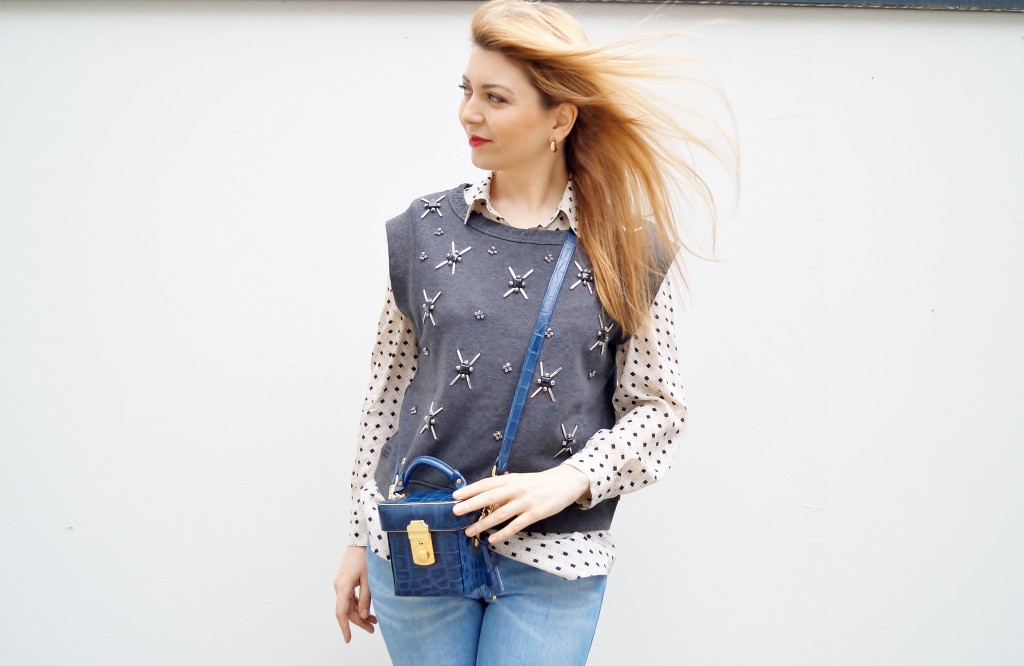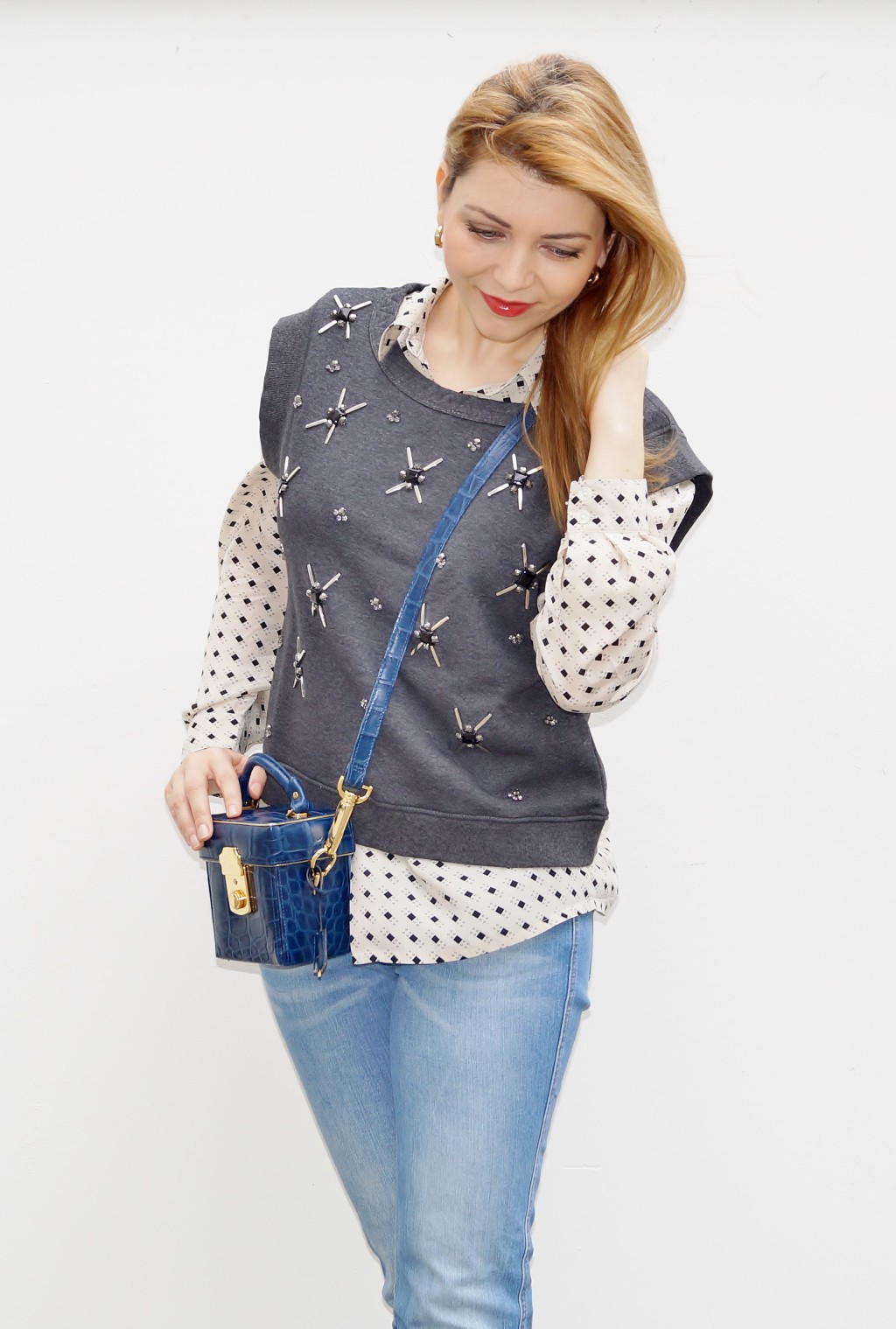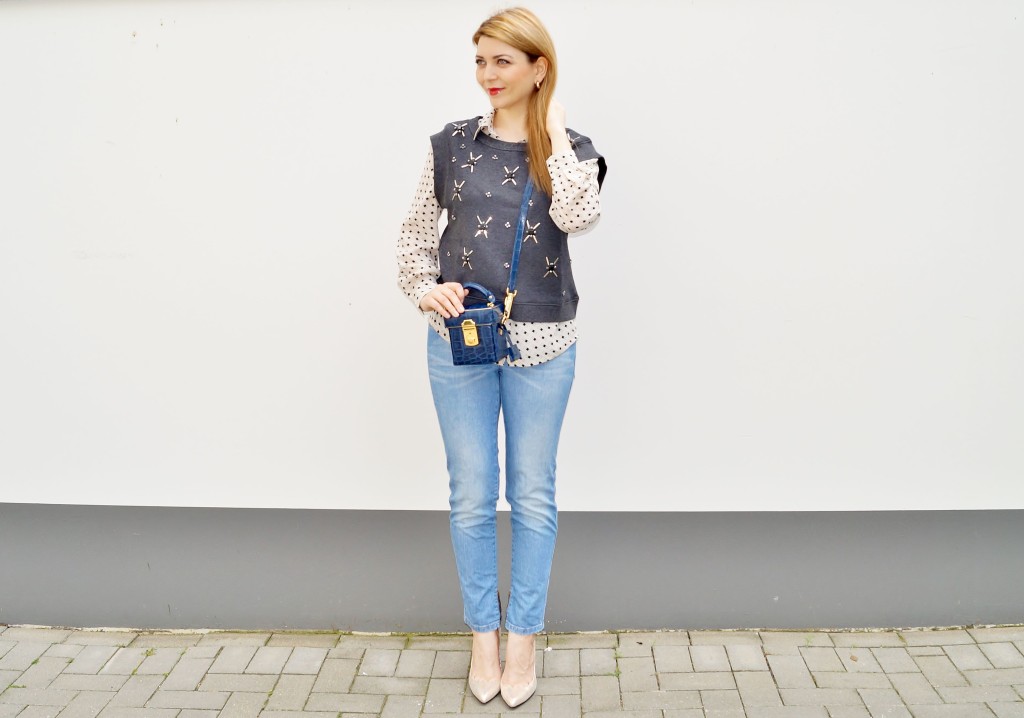 Pinko Top, Cerruti 1881 Seidenbluse, See by Chloé Jeans, Supertrash Schuhe, Nina Moniz da Maia Mini Box Bag, Pierre Lang Creolen
ENGLISH: Geometric Patterns and Embellishment
This week I was at the Berlin Fashion Week for a couple of events and fashion shows. So I have something to report, but next week after I have gathered all the required media data. Now I would like to share  my weekend look with you. This outfit I put together for a Saturday shopping spree. I always try to look good, even just out of respect to others (everybody likes watching beautiful things:)). For the downtown I prefer to wear something pretty like Pinko top with embellishment and Supertrash gold colored shoes. Jeans and silk blouses are classics for me and belong to casual chic, as I have already demonstrated in my post "Casual Chic: Red Silk Blouse with Jeans" or "Crazy, but True! Cape in the Summer!" So I paired my silk blouse with decent geometric pattern with the Pinko top and jeans. Thus, you can see me more often in jeans and silk blouses in different color combinations, as one of my favourite clothing orders as well as for everyday life as for the weekend. Consequently, I wish you a nice weekend!