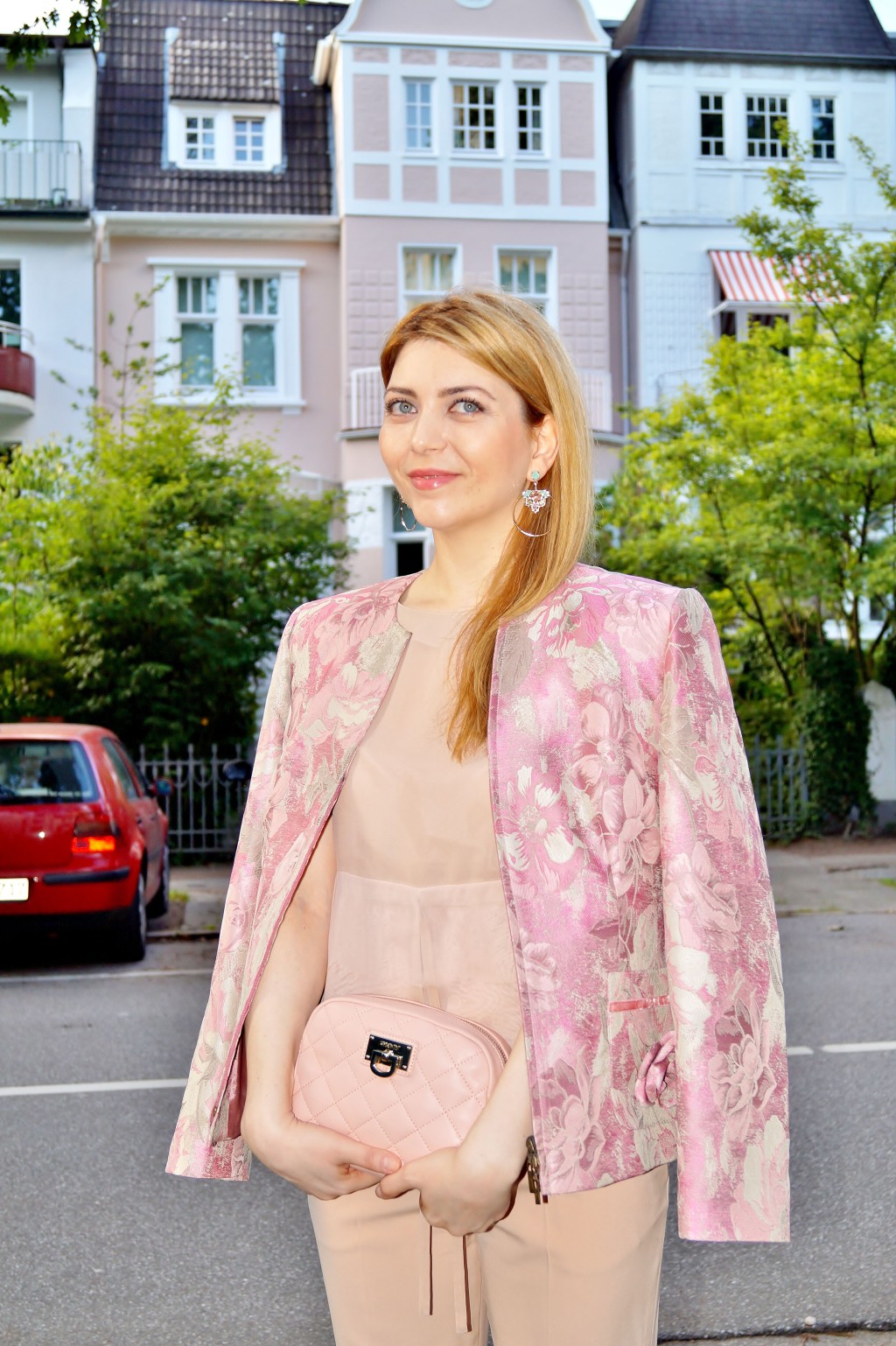 Zu meinen Lieblingsfarben gehören auch Pastellfarben: Ecru, Rosé, Mint, zartes Beige u. ä. Die Pasteltöne verleihen dem Look eine zarte, weibliche Note, und unterstreichen den Teint. Entsprechend wirkt mein Outfit Puder Chic unbeschwert und gibt eine gewisse Frische. Die Tasche von DKNY finde ich sehr hübsch und praktisch – klein, aber geräumig. In den gleichen Farben sind mein Schumacher Seiden Top , Supertrash Schuhe und Chloé Hose. Um Monotonheit zu vermeiden, habe ich das Ganze mit Ohrringen und einem Blazer mit großem Blumenmuster in Rosa, Mint und Ecru Farben abgerundet. Zu den Outfits in Pastellfarben greife ich eher für private Ausflüge zurück, wenn ich bezaubernd aussehen will. Fürs Büro würde ich Kleidungsstücke mit dominanten, kräftigeren Farben zusammensetzen, um nicht fälschlicherweise den Anschein von Schwäche zu erwecken. Leider habe ich den Eindruck gewonnen, dass Weiblichkeit oft mit Schwäche, sowie Feinheit mit Schüchternheit verwechselt wird. Aus diesem Grund empfinde ich es als wichtig, darauf zu achten, welche Farben zu welchen Veranstaltungen und Anlässen ich auswähle, um mir gleich die Zeit für die Selbstbehauptung zu ersparen, denn Menschen bedienen sich der Klischees, wobei die Farben und Düfte unterbewusst auch eine Rolle spielen. Wie ich früher einmal herausgelesen habe (leider weiß ich nicht mehr wo genau) – und ich meine da ist etwas dran – , läuft es auch ähnlich mit den Düften. Blumige Düfte werden den Frauen empfohlen eher privat zu verwenden (da sie im Office angeblich unseriös ankommen), Düfte mit starker männlicher Note fürs Büro. Also wenn wir die Denkensweise eines Menschen nicht ändern können, wieso dann nicht mit den psychologischen Mitteln dagegen wirken :). Selbstverständlich bleibt die Entscheidung bei dem Mensch selbst, ob er solche Ratschläge ernst nimmt oder nicht. Jedenfalls benutzte ich den Duft von YSL Opium für alle Gegebenheiten. Seit meinen Teeniezeiten finde ich diesen Duft großartig und komme von ihm nicht ab. Kurz und gut, da ich einen privaten Ausflug unternahm, entschied ich mich für die traumhaften Puderfarben.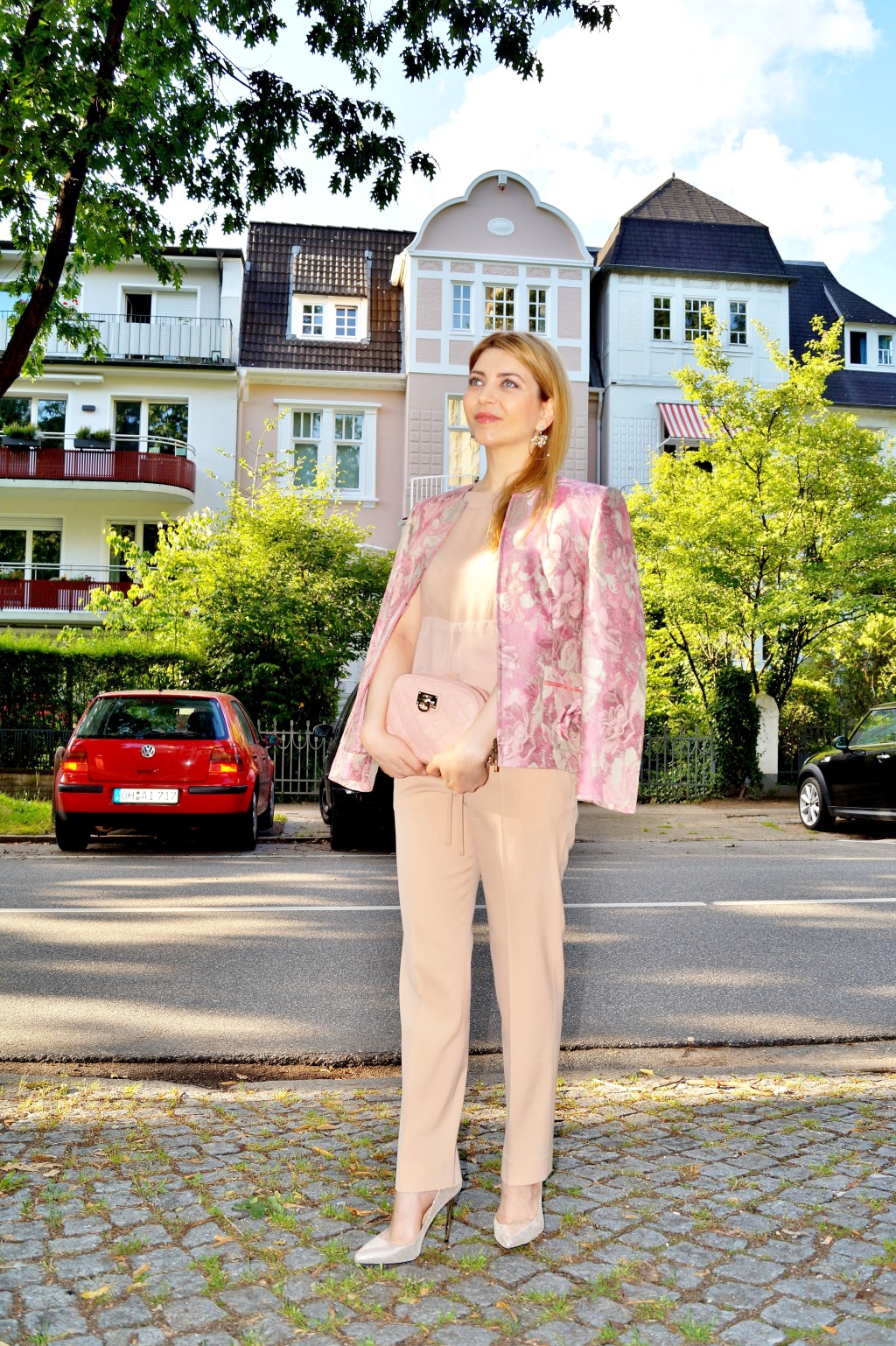 DKNY Tasche, Chloé Hose, Schumacher Seidentop (ähnlich hier), Supertrash Schuhe, Gerry Weber Blazer, Anton Heunis Ohrringe
ENGLISH: Outfit Powder Chic
To my favorite colors belong also pastel colors like ecru, rosé, delicate beige and similar. The pastel shades give the look a delicate, feminine touch and underline the complexion. Accordingly my outfit Powder Chic looks carefree and assigns a certain freshness. Outfits in such pale colors, I take rather for private occasions, if I want to look charming. I find my bag by DKNY very pretty and practical – small, but spacious. In the same color are my Schumacher silk top and Chloé pants. To avoid monotony, I topped off the whole look with the earrings and a jacket with a large floral pattern in pink, mint and ecru colors.