Masterbean Kaffee lernte ich zum ersten Mal bei der Secret Fashion Show München kennen und entdeckte dabei für mich einen neuen Gourmetkaffee. Masterbean steht für einen erstklassigen Kaffee aus fairem Handel und kontrollierter Herkunft. Die angebotenen sogenannten Gartenkaffeesorten werden aus den hochländischen, traditionellen Bauerngärten Kameruns geerntet und handwerklich geröstet. Für seinen exklusiven Kaffee bietet der Masterbean-Shop auch entsprechendes Zubehör, das den Kaffee besonders delikat zubereitet, u.a. Cezve Mokkakännchen für orientalischen Kaffeegenuss oder Siphon Kaffeebereiter für die Zubereitung im Vakuum für die echten Gourmets. Masterbean Kaffee ist sowohl in ganzen Bohnen für Kaffeevollautomaten als auch gemahlen für Machinen mit Filter erhältlich. Neben den Spitzenkaffees sind auch zahlreiche weitere Produkte rund um den Kaffeegenuss, wie die schönen Geschenkboxen mit Espressotassen und Kaffeebecher im Angebot. Das ganz in einer klassischen Eleganz gehaltene Design der Produkte und auch das stylisch edle Logo der Marke vervollkommnen jedermanns Kaffeeausstattung und -zubehör. Und das Motto der Marke "bean me up" steigert mir meine gute Laune und bringt mich zum Schmunzeln bei jeder meiner Tassen Masterbean Kaffee.
Ich treffe mich öfter mit meiner besten Freundin Inna zum Frühstück. Es war dieser Morgen, an dem ich uns beiden mit einer Tasse Masterbeankaffee zum Frühstück verwöhnt habe. Inna hat zum ersten Mal Kaffee von Masterbean gekostet und seitdem schwärmt sie, sowie ich, von dem Gartenkaffee. Auch den JOLIMENT-Lesern hat Masterbean eine Freude vorbereitet und gewährt einen 5€ Gutschein ab einem MBW von 15€ und ab 50 € Warenwert eine versandkostenfreie Lieferung innerhalb Deutschlands. Die Anzahl der Gutscheine ist begrenzt, also nur solange der Vorrat reicht!
Verwöhnt euch und eure Liebsten mit dem herrlich aromatischen, traditionellen und herzerwärmenden Kaffeegenuss von Masterbean, vor allem an diesen kalten Tagen!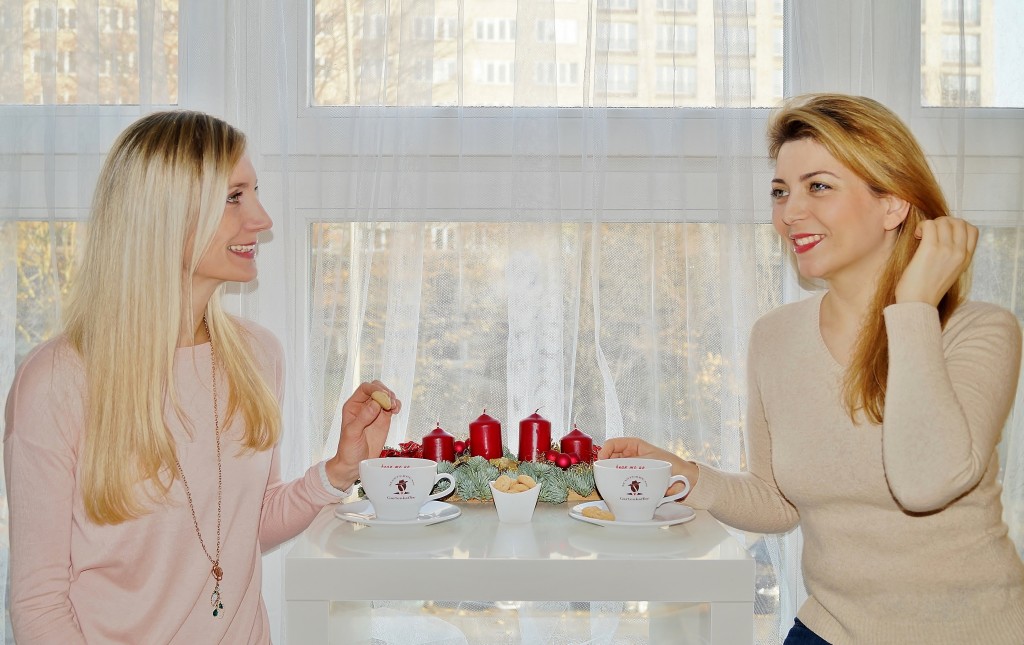 ENGLISH: Masterbean Coffee – bean me up!
I got to know the Masterbean coffee at the Secret Fashion Show Munich for the first time and thus I discovered a new gourmet coffee for myself. Masterbean represents a superb fair trade coffee of controlled origin. The so-called garden coffees are harvested from the traditional mountain cottage gardens of Cameroon and are craft roasted. The Masterbean-shop offers, additionally to its exclusive coffee, appropriate equipment that prepare the coffee particularly delicate, like a Cezve mocha pot for oriental coffee enjoyment or a siphon coffee maker for preparation in vacuum, for real gourmets. The Masterbean coffee is available in both whole beans for fully automatic coffee machines and ground beans for filter coffee machines. Besides the high quality coffee, there are many other products related to coffee consumption, such as the beautiful gift boxes with espresso cups and coffee cups separately. The elegance of the product design and also the stylish noble brand logo complements everyone's coffee supplies and equipment. And the slogan of the brand "bean me up" increases my good mood and makes me smile, each time when I drink my cup of Masterbean coffee.
I meet my best girlfriend Inna more often for breakfast. It was that morning when I have indulged both of us with a cup of Masterbean coffee for breakfast. Inna has tasted the Masterbean coffee for the first time and since then she, as well as me, raves about the garden coffee. Masterbean has prepared a great pleasure also for JOLIMENT readers and grants a 5 € voucher with a minimum order value of 15 € as well as free shipping within Germany from 50 € order value. The number of vouchers is limited, so only while stock lasts!
Indulge your beloved ones and yourself with delightfully aromatic, traditional and heartwarming Masterbean coffee, especially on those cold days!