Wie ihr bereits wisst, wurde ich während der Berlin Fashion Week im Juli zur Manou Lenz Fashion Show eingeladen, wie ihr hier nachlesen könnt. Eine Woche später habe ich eine Nachricht erhalten, dass das Label Manou Lenz mir gerne ein Shirt oder Lederrock schenken würde. Ich war gerade auf der Suche nach einem Lederrock, da er ein Must-have für eine Basis-Garderobe ist. Leider hat kein Rock aus meinen letzten Bestellungen so richtig gepasst. Mit schwerem Herzen musste ich die Röcke retournieren. Da kam so ein Überraschungsgeschenk, und dazu noch in einer für mich idealen Farbe gerade recht. Er passte wie angegossen. Ob mit dem Seidentuch oder ohne, dieses Outfit gehört zu meinen Lieblingslooks, auch wegen der Farbkombination, Gelb-Grün-Violett. Mein Seidentuch von früher, sowie neulich unabhängig von dem Outfit erworbene Anton Heunis Statement-Ohrringe in den gleichen Farben, passen perfekt dazu.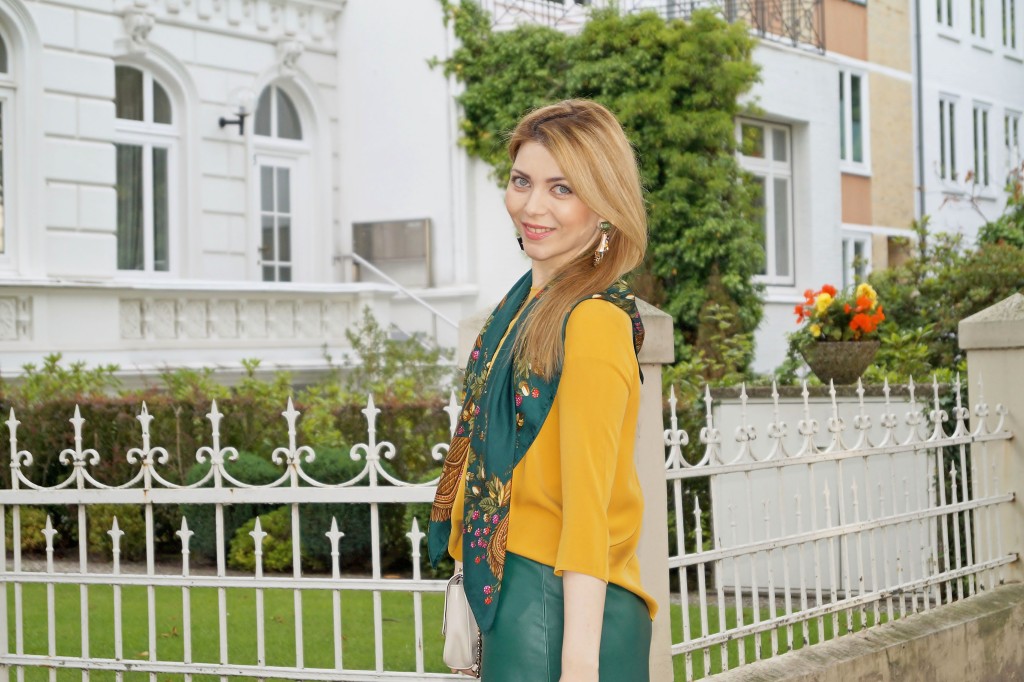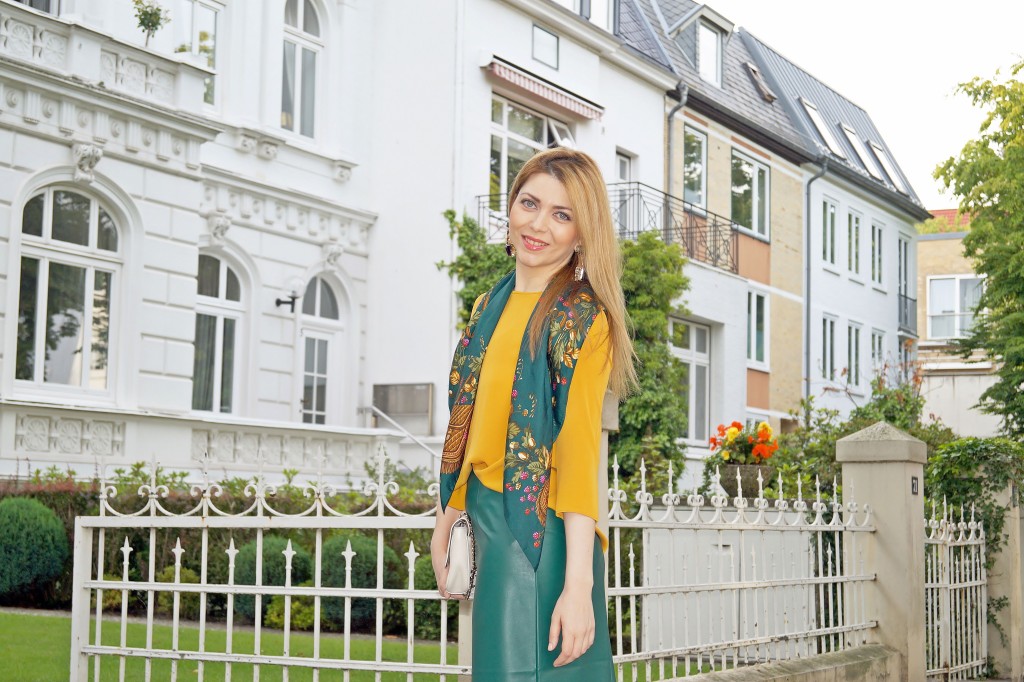 Manou Lenz Lederrock PU (ähnlich mbyM VIDRIK Lederrock hier und Christian Dior Vintage Lederrock), Anton Heunis Ohrringe, Cos Seidenbluse, Supertrash Pumps, Michael Kors Tasche, Renard Seidentuch
ENGLISH: Leather skirt – a must-have!
As you know, I was invited to Manou Lenz fashion show during Berlin Fashion Week in July (you can read it here). A week later I received a message that the label Manou Lenz would like to give me a shirt or leather skirt. I was just looking for a leather skirt, because it is a must-have for a basic wardrobe. Unfortunately, the skirts I ordered didn't fit me really and I had to return them. Thus, such great surprise gift even in an ideal color for me was just on time and fit me like a glove. Whether with or without a silk scarf, this outfit belongs to one of my favorite looks, also because of the color combination yellow-green-violet. My old silk scarf and my new Anton Heunis statement earrings in the same colors match perfectly the outfit.